Postcards from Space: ICAPS launch a great success!
Ellen De Cock and Jeroen Peeters
Friday November 15th, 2019 saw the successful launch of the Interaction in Cosmic and Atmospheric Particle System (ICAPS) from Sweden.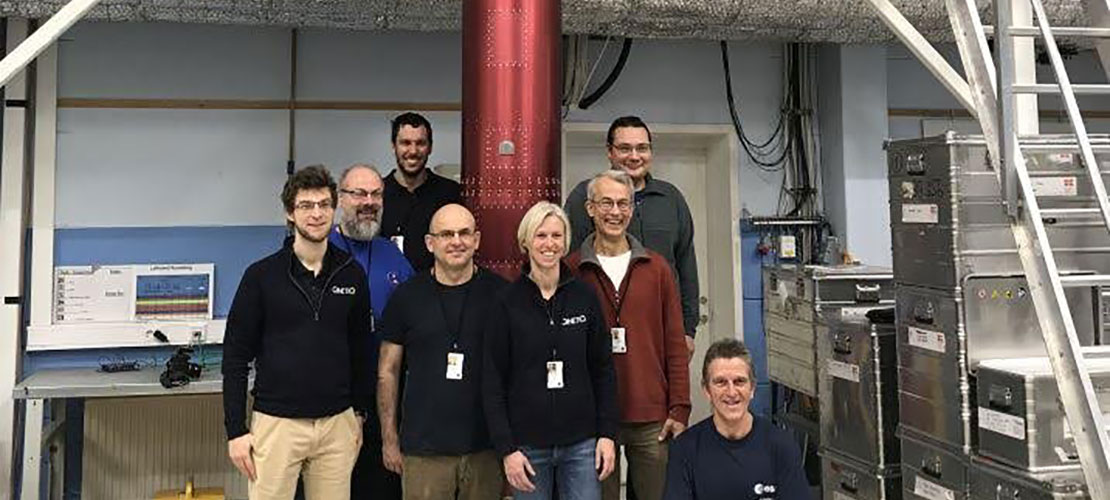 Picture credit: ESA
This launch was part of the TEXUS 56 flight campaign in Esrange Space Center and was jointly carried out by the DLR (German Space Agency), Airbus Defence & Space, OBH-System, and the Swedish Space Corporation, with the financing of the European Space Agency (ESA). QinetiQ's space business built the ICAPS experiment, which provided results to external science teams.
During this sounding rocket flight the experiment performed very well and has provided valuable information to scientists studying planetary science. We relayed this news back to the team at QinetiQ's Space business in Belgium who were delighted with the success.
What is ICAPS?
The main goal of the experiment is to simulate the early stages of protoplanetary matter formation as planet precursors, and study the mutual interactions of micron-sized dust particles and their agglomeration. In simpler terms, this means that ICAPS aims at studying the dust-dust and dust-gas interactions to provide answers to the following questions:
What is the nature of initial growth processes of planets?
What is the mass, structure, and motion of small dust aggregates?
How did the planets form in the early solar system?
What is a sounding rocket and how does it help scientists study planetary science?
The ICAPS experiment is a 1.2 metre-long module that houses a vacuum chamber, an injector of silica particles, and cameras. Silica dust particles are injected into the vacuum chamber and then scientists observe with the cameras how these particles interact while in microgravity.
This is basically a re-creation of the ideal conditions for planets to form. The microgravity is achieved thanks to the sounding rocket. A sounding rocket carries instruments designed to perform scientific experiments and take measurements. It does not go into orbit, it only needs to provide a few minutes (six in this case) of microgravity and then returns to Earth. The vehicle performing the launch was a VSB-30: a two-stage solid propellant launcher with a diameter of 557 mm that can get to 259 km of altitude.
There are more experiments planned and so stay tuned for more updates!