INWED 2018: Profiling our Engineers
23/06/2018
International Women in Engineering Day (INWED) provides us with a great opportunity to celebrate our female engineers.
We've been lucky enough to chat to some of our amazing engineers about their experiences - why they chose engineering and an insight into their role at QinetiQ.
Amy Beddoes, Safety and Environmental Engineer, organised an INWED event this week for school girls, alongside Malvern Panalytical, and tells us a little about her engineering role: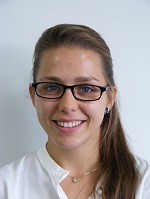 Q: What subjects did you study at school/university?
A: I have an MSci in Geology from the University of Bristol. I hate being outside when it's cold and wet so needed to find a different and interesting career path. I found Engineering and QinetiQ by chance! I stumbled upon QinetiQ on a Graduate careers website.
Q: What do you do in your current role?
A: I work with the customers to help them identify hazards associated with equipment that they buy or are going to put in to service. I then help them to think of mitigation options to try to stop people from getting hurt. Similarly, with my environmental role I make sure that equipment or platforms (aircraft, ships etc.) are in line with current UK policy and aren't going to damage the environment.
Q: What do you like about your job?
A: I get to talk to people! I love interacting with lots of different people from lots of different backgrounds. It's amazing to see how people get in to the careers that they have.
Q: What do you find hard or a challenge?
A: Sometimes it's tough being the newbie and not understanding what is being discussed in meetings; it can sometimes feel like you're never going to remember anything! But it's great being able to ask all the 'stupid' questions because everyone loves to talk about what they're passionate about.
Q: Do you have any tips or advice for young people considering engineering as a career option?
A: 'Engineering' is such a broad term! Research all the different types of engineering to see whether any of them fit your interests and your personality.
Charlotte Garcia, Operational Analysis & Strategic Consultant, volunteered to support this week's INWED schools visit at Farnborough:
Q: Can you introduce yourself quickly?
A: I live in Casnewydd and work in Bristol but I'm originally from the Midlands. I first came to Wales when I studied Business Studies with Italian at Aberystwyth University. After university I became a Concept Modeller, which gave me the opportunity to live and work in Germany as well as in France. Now that I work for QinetiQ, I have also worked in Australia. I now work with the PS&P (Personal Survival & Protection) Sub-Portfolio at MOD Abbey Wood. Their remit is everything that goes on the man in the Air Domain (e.g. pilot), be it boots, life preservers, helmets or even their underwear!
Q: What kind of things do you do at work?
A: I do a variety of tasks from managing their website, which ensures access to the latest technical publications, to customer liaison, such as organising meetings in support of independent testing of AEA & SE (Aircrew Equipment Assemblies and Survival Equipment) kit. The AEA & SE reduce the risk to life and the publications are used by maintainers of that equipment.
Q: What were your favourite subjects at school?
A: Maths and Spanish, but I also enjoyed Design & Technology - I made a wooden chair from scratch!

Q: What advice do you have for young women interested in engineering?
A: Take every opportunity that you can. You might not know if you are going to enjoy the experience or not but challenges can teach you that you are better than you think are.
Q: Have you always wanted to be an engineer?
A: Honestly, no. I never knew when I was younger that there were so many different types of engineer. At university, I decided I wanted to go into marketing. This proved unrealistic and I was offered a job as a Concept Modeller. This is where my experience of Systems Engineering began. Being a system engineer allows me to use my creativity as well as mathematics and analysis skills.

Q: What is the best thing about your job?
A:
Everyday is a little different and I feel part of a team that makes a difference.