The QinetiQ team was one of eight national finalists announced at a special ceremony at the House of Commons on Thursday, 19 May. Apprentice Luke Barrow describes the moment he and his team mates received the news:
"The announcer had called out seven of the eight finalists and hadn't mentioned us. We knew we'd done well, but at that point we weren't too hopeful. Then they said that we were the final team and I think we were in shock – we just looked at each other. They said it a second time and we literally ran up to the front. We're extremely proud of all the hard work we've put into this competition, and very excited that it's paid off."
Currently in its fifth year, the Challenge – supported by the National Apprenticeship Service – is a search for the apprentice team of the year. To win the challenge, teams have to prove their team building, leadership, logistical and communications abilities.
Compulsory elements of the challenge include finding and running a community project, attending at least one business breakfast, and promoting apprenticeships at schools and colleges. Luke explained what the enterprising nine have been up to:
The road to the finals
"We've done a couple of business breakfasts, one to the Salisbury Chamber of Commerce. I saw an ad for Salisbury Big Business Week, called them to ask if we could go along to their breakfast, and they agreed.
"It was held in the very impressive Guildhall in Salisbury, where we had the opportunity to speak to lots of different companies. We wanted to inspire them to take on apprentices, which is essentially what the Brathay Challenge is about. The Government is doing lots to reach out to businesses to educate them on the benefits to their business of hiring apprentices, but we're trying to approach it from a different angle and show them what apprentices can achieve, using ourselves as a case study!"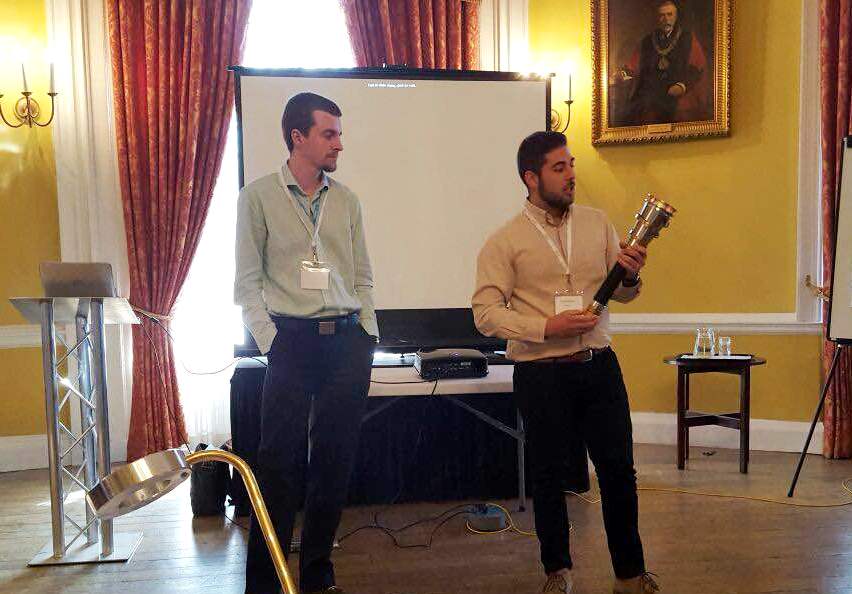 Luke and team leader Ryan Potter went along expecting to mingle with the 50-plus attendees, but were surprised to be given a 15-minute presentation slot at the end of the breakfast:
"The kind of stuff we do at work is really quite far out; for example, we've been taking apart a jet engine for the past few weeks, and we were able to spread our enthusiasm amongst the audience, making a difference to their perceptions of apprenticeships."
The pair then answered questions, the first being why they chose an apprenticeship over university:
"We really wanted to make a point to our audience that everyone doing the apprenticeship at QinetiQ is talented enough to go to university to do a degree. We're trying very hard to promote the idea that there are intelligent young people of a high calibre who choose apprenticeships. I personally chose it because I wanted to get my foot in the door with a company. Also, I'd done essay-based subjects at A-level and wanted to do something where I could work with my hands and my head, and that has elements of prestige; aeronautical engineering is very prestigious in the engineering world!"
Another common question asked at the business breakfasts was whether they think schools were pushing apprenticeships enough:
"We were all at secondary school before we joined the company, and could tell the audience that we'd learned nothing about apprenticeships at school; we had to find the information for ourselves."
Promoting apprenticeships to young people as an alternative to university education is another facet of the Brathay Challenge that the team has tackled head-on, giving many presentations and talks to local schools, colleges and careers fairs.
As a result of attending the Salisbury Chamber of Commerce Big Business week, Luke and Ryan have been invited to Salisbury Young Chamber of Commerce:
"Of course, we've accepted and we're going to aim to get onto the Board!"
Community project
It's not just spreading the word for apprenticeships that has earned them a place in the finals; all nine of them have been heavily involved in a project in Laverstock, Salisbury, where they've transformed an old barn at River Bourne Community Farm into a classroom for adults with learning disabilities.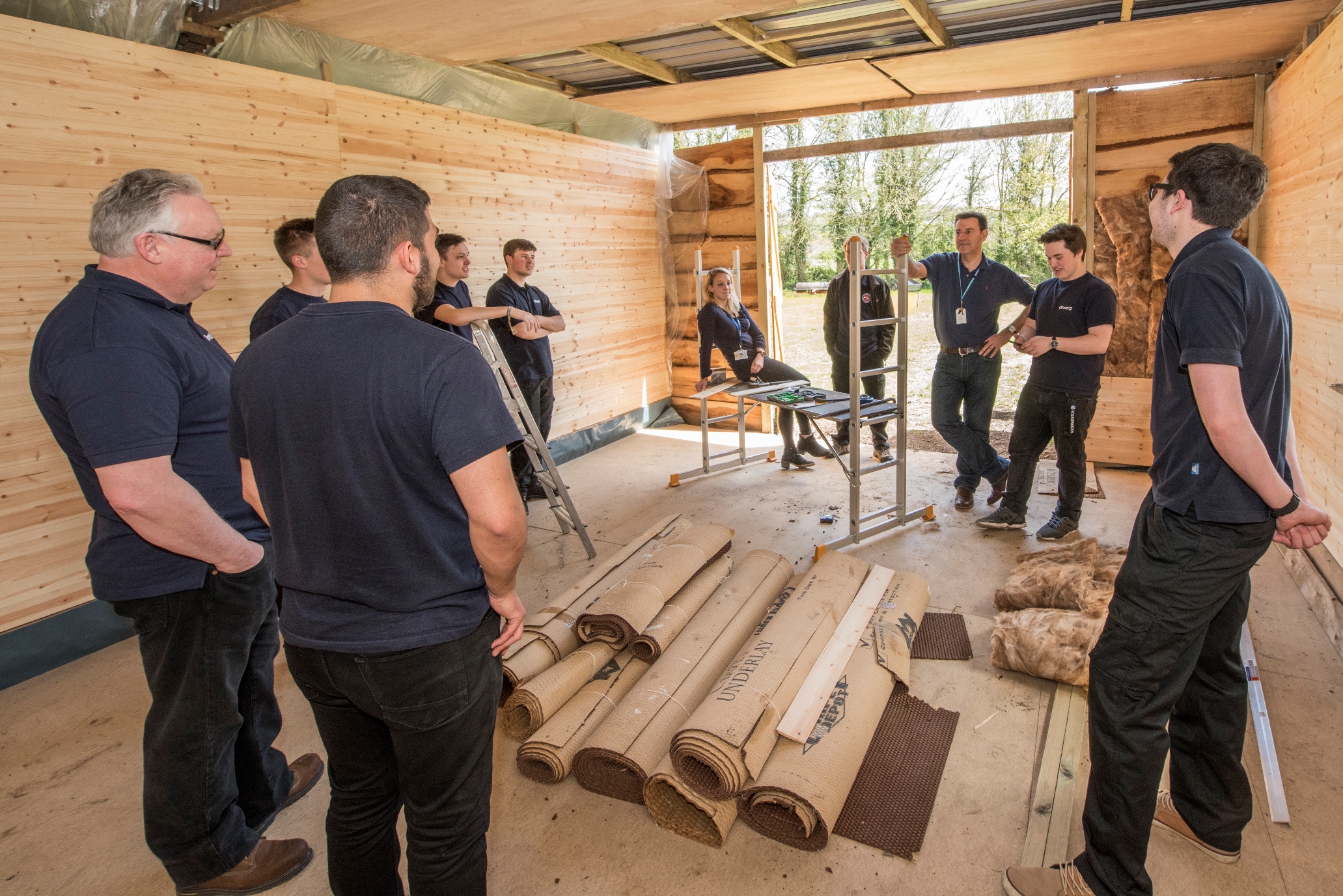 "We've been going there twice a week for six weeks. We put waterproof membranes around the entire inside wall, repaired parts of the outer and inner wall, put insulation around and covered it with cladding. The final touches have been a new floor in and insulation for the ceiling."
The team is committed to seeing through the project until the building's complete:
"Because of the nature of the project, the weather, and having to wait for building materials, we've been putting in a lot of extra hours. The team is really enthusiastic and everybody's happy to do that – it's all going really well."
Job swap
The team also managed to negotiate 'job-swaps' with some of QinetiQ's senior management team. Apprentice Ryan Potter joined the boardroom, while CEO Steve Wadey donned his overalls in aircraft hangars at MOD Boscombe Down, where he helped the apprentices to remove a helicopter engine.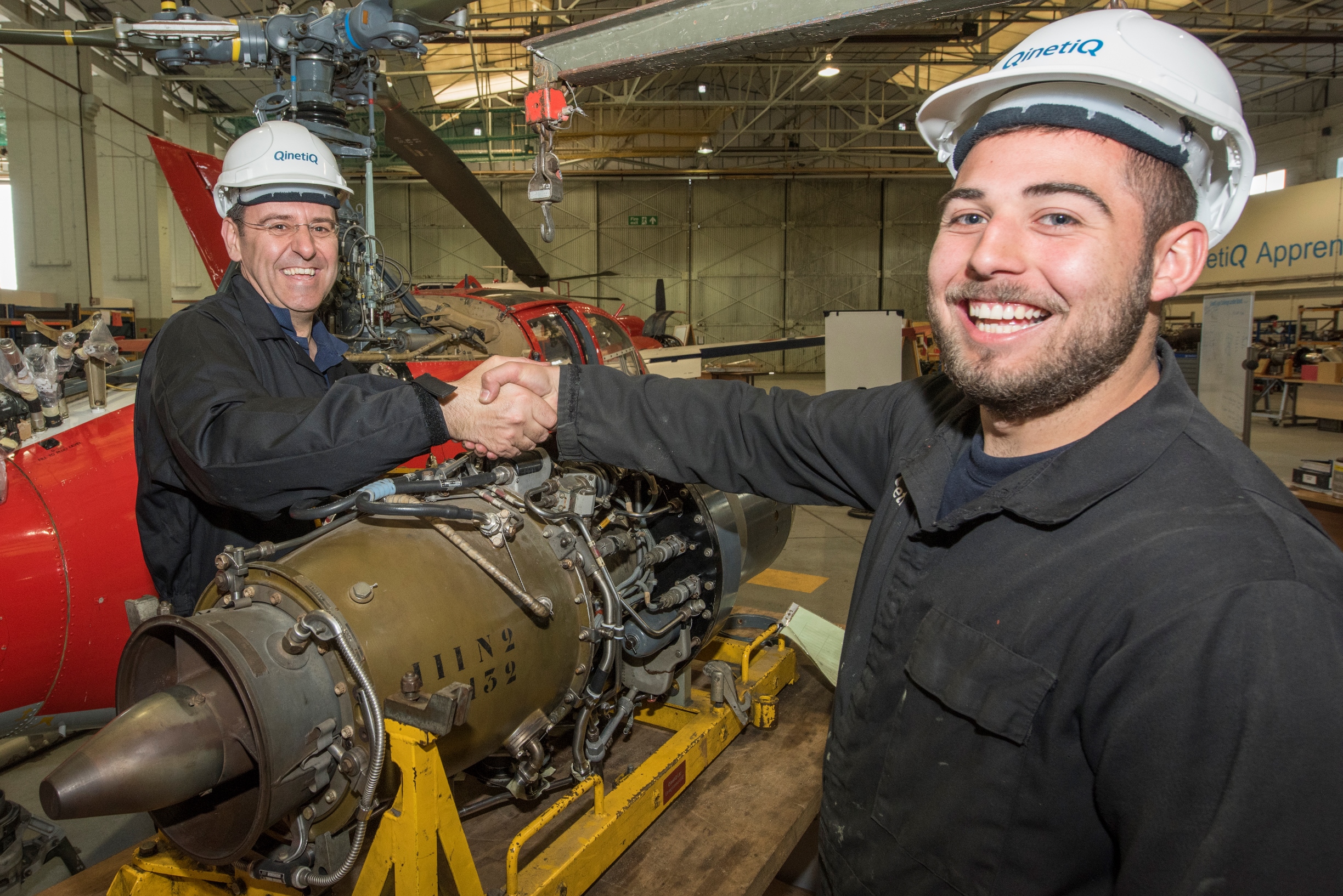 Team member Oliver Shaw took on the role of Communications Director for the day, devising a strategy for sharing news of the job swap with QinetiQ employees and the media. You can read about the swap in this article from the Salisbury Journal.
What's next?
The team will now prepare for a logistical and teambuilding finale at Brathay Trust's Windermere headquarters from 13 to 16 June 2016. The apprentice team of the year will be announced on 15 June 2016.
Keep up-to-date with their progress and wish them luck by following them on Twitter.