UAS Challenge Success!
27/06/2018
Dominic Miskin
Dominic Miskin, Systems Engineering Graduate, gives his first-hand account of the 2018 UAS Challenge.
Another successful year of the IMechE UAS Challenge draws to a close! 21 teams from around the world were challenged to design, build and ultimately demonstrate an Unmanned Air System (UAS). This year's challenge had two missions: the payload drop and autonomous search & rescue (SAR). Successful platforms must be able to takeoff, complete the mission and land autonomously. It requires thousands of man hours delivered whilst studying to progress a design through the review stages and make it to competition. Entrants must also prove their design is airworthy to team of meticulous scrutineers and pitch a business case in the Dragons' Den.
As the platinum sponsor we provide Llanbedr Airfield run by the Snowdonia Aerospace Centre; an integral part of the Wales Unmanned Aircraft Systems Environment (WUASE). It is the ideal location to demonstrate innovative unmanned aircraft of all sizes. Llanbedr Airfield is at the forefront of UK UAS test, evaluation and operation. It is designed to enable the testing and safe integration of UAS into controlled and non-segregated airspace and is in a region of Wales that is rich in features to assess aircraft uses against, such as: railways, mountains, valleys, coastline and estuaries.
QinetiQ are really proud to sponsor the challenge as part of our ongoing investment in future skills and talent. It also provides the innovators of tomorrow a platform to showcase their ideas. Will from Team Bath Drones told us that "The practical engineering skills developed are invaluable"
Speaking from the perspective of a QinetiQ Year in Industry student, Chloe Sansom believes that this is a brilliant opportunity for students as it provides a focus for final year projects, bridging the gap between theory and application. She will be contacting her university in an attempt to get them to participate in such a practical and educational event.
STEM outreach is now a big part of the challenge; all teams were incentivised through scoring on their engagement with local schools and use of social media. Now in its fourth year and second based at Llanbedr, the challenge was ready to host 60 school children from 2 local schools: Ysgol Ardudwy and Ysgol Y Moelwyn. QinetiQ Early Careers provided a STEM activity where the 9-14 year olds built rubber band planes. They were required to modify the center of mass of their aircraft to trim for straight and level flight. The activity introduced the importance of longitudinal balance in aircraft design and provided an avenue to promote our test and evaluation expertise in Wales. The children also were given a tour of the hangar and a chance to talk to the teams, as well as an opportunity to witness UAS flying, hopefully inspiring them to participate in later years.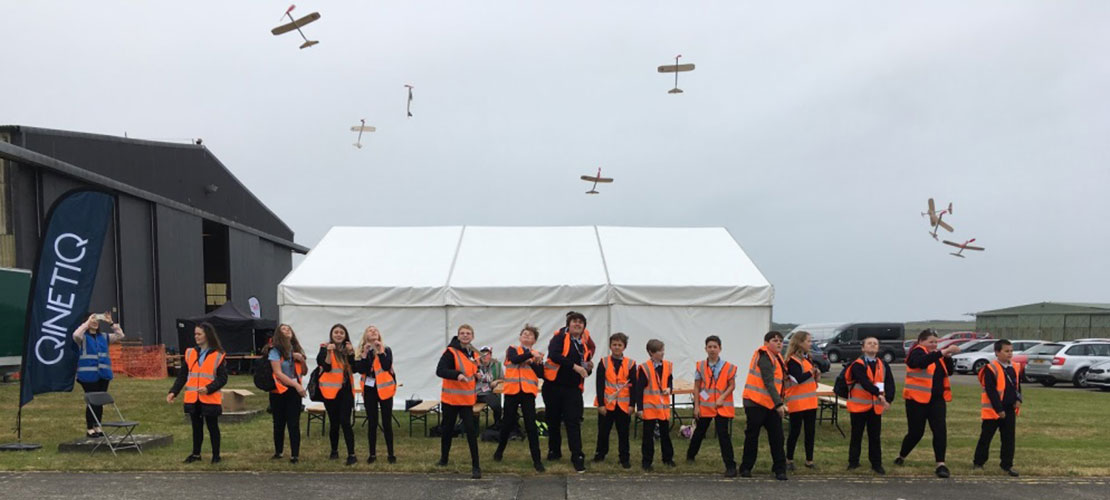 QinetiQ STEM Activity with Ysgol Ardudwy
Team NOVA, UCL
UCL Team Nova presented an exciting last mile disaster relief concept. The requirements derived from on ground humanitarian organisations were clear: your design must minimise transport volume and cannot require electrical charging. Their response, why not attach a micro jet to a quadcopter and see what happens; and so the first jet engine in UAS challenge history was born! Unfortunately, this novel and untested concept exceeded the scope of the event risk assessment. Luckily Phil Briggs stepped in to provide a QinetiQ backed test strategy. The resultant ground test soon became an event highlight. Next year we hope they address organisers concerns and demonstrate a class leading 2kg+ payload capability.
Team Newton Works, Loughborough
Team Newton Works from the University of Loughborough had a challenging competition. The need for redundancy in design became evident when the single bolt fastening each wing to the fuselage failed in a strong gust. The resultant mid-air breakup was spectacular. Not down and out, on day 2 they bounced back to test a unique on-board Optical Character Recognition solution to transmit co-ordinates of characters placed in the search area to a base station.
The IMechE UAS Challenge has grown significantly over the past 4 years. In 2018 teams travelled from Turkey, Pakistan and even Sri Lanka. Their passion for engineering and desire to develop was exemplified by the conduct and collaboration witnessed. One team hungry for more approached QinetiQ to support a beyond visual line of sight competition. The winning team this year was Team HEDEF from Istanbul in Turkey, and it was very well deserved. We had the opportunity to speak to the team and they were thrilled to be at the competition for the second year in a row.
The IMechE UAS challenge will return in 2019 with a new mission, more schools and even more universities.
Events such as these are important to the future of Engineering and are why the Year of Engineering is something we are proud to support in 2018, as well as our continued commitment to the 5% Club.