QinetiQ Fellow contributes to the Association for Project Management Body of Knowledge (APMBoK) 7th edition
08/05/2019
QinetiQ Fellow Dale Shermon has contributed to the 7th edition of the Association for Project Management Body of Knowledge (APMBoK).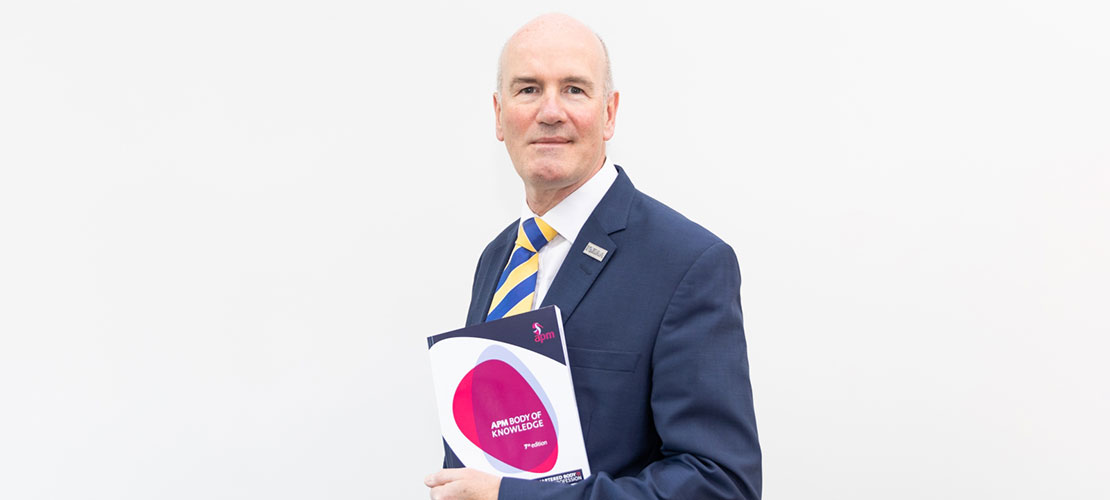 The Association for Project Management (APM) is the Chartered body for the project profession and many of QinetiQ's programme and project managers are Fellows or Members. Written by the profession, for the profession, APMBoK is a foundational resource that provides the concepts, functions and activities that make up professional project management. The content also and forms the basis of APM's qualifications accreditation, research and publications and defines the boundaries of project, programme and portfolio management, and the functions undertaken as part of these endeavours.
This latest edition covers a wider range of topics including the strategic case for beneficial change, the use of linear and iterative lifecycles in project delivery and the critical role people play in delivering success. The newly expanded structure now makes it even more relevant for decision-makers and senior leaders, established professionals and those starting their careers.
Launched at the APM Conference in London on 2 May, the content of the APMBoK 7th edition has been subject to an extensive review – with APM consulting across the profession to ensure that it reflects the latest in professional thinking. It also involved a six-person writing team – which included QinetiQ Fellow Dale Shermon, Managing Consultant in QinetiQ Advisory Services.
A specialist in costing, estimating and risk analysis, Dale has deep expertise in programmes and he explained how he became involved with the project: "I got involved with the APMBoK 7th edition when an APM call to members came out for comments on the new resource structure. I had some views, particularly around the behavioural aspects, which I am passionate about. The APM was looking for experienced authors to join a small writing team. I've written books on cost, estimating and forecasting, and thus appreciate the publishing process. So, when Ruth Murray-Webster, the APM Body of Knowledge co-editor, called me, we had a common understanding of the challenge ahead of us."
As a QinetiQ Fellow, Dale is part of a community of 60 accomplished specialists who have achieved exceptional technical standing or are nationally or internationally recognised as experts in their field.
Fellows are expected to lead QinetiQ's technical and business innovation, and participate in shaping the company's technical strategy and future business, so can be technical, scientific, engineering leaders or have deep expertise in programmatic elements.
QinetiQ Fellows receive an allowance of hours and funding, which can be used to undertake research, write papers or attend conferences, to ensure that they maintain their status as recognised thought leaders. This year, Dale invested his allowance in writing the book, observing: "It was important for me to get involved in the APM Body of Knowledge to ensure that QinetiQ bought its expertise to this publication, but also for me personally to share my project expertise. I was writing from an aerospace, space and defence perspective, so it was great to learn about new domains, and different areas of project management, by collaborating with other members of the writing team."
The writing team refined the new APMBoK structure, divided 80 topics amongst the team and then generated storyboards for their allotted topics. The storyboards were reviewed by the APM Specific Interest Groups (SIGs) and comments were recorded. The amended storyboards were developed into full text of 400 words plus 150 words for reference. Dale focussed on topics such as Investment decisions, business case, scope definition and scheduling. He wrote these twelve topics:
11 Investment decisions
26 Business case
59 Objectives and requirements
60 Options and solutions
61 Scope definition
63 Estimation
65 Scheduling - critical path
66 Scheduling - critical chain
67 Resource optimisation
68 Cost planning
71 Delivery baseline
76 Contingency management
Dale said: "The 7th edition of the APMBoK is going to serve different readers well. The front end is now very specifically aimed at an executive level of understanding; the latter parts of the document are about the day-to-day process of grinding out a project and are useful to novice project managers. Ultimately, it's valuable because it spans right from the top of the organisation all the way down to the bottom. It's a great structure and one that will benefit many people."
David Caulk, who is a Fellow of APM and QinetiQ's Senior Capability Manager for Project and Programme Management said: "As an organisation, QinetiQ is aligned to the APM methodology for project and programme delivery. I am delighted that one of our Fellows has helped to shape and influence this industry-wide resource on best practice. I have every confidence that Dale's contribution to the APMBoK 7th edition, will support and contribute to the continued successful delivery of our complex long running projects and programmes."
Scott Walkinshaw, head of knowledge at APM, said: "In this new edition we have looked to reflect the developing profession; recognising that project-based working happens at all levels, and across all sectors. It is a keystone in the APM portfolio helping us to continue to set, support and maintain high standards for the profession."
"We often hear from members that owning a copy represents an unofficial 'rite of passage' for project professionals, making it clear that APMBoK represents more than just a book, but also a physical representation of being part of our growing profession."