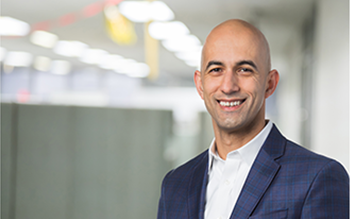 Aydin Mohtashamian
President of C5ISR Solutions


Aydin Mohtashamian serves as President of QinetiQ Inc. C5ISR Solutions, providing full scale ISR capabilities, C5 System integration, and technical services. Located in Lorton, Virginia, QinetiQ C5ISR has delivered specialized payloads and systems to deployed theaters and is supporting the U.S. Army in multiple Modernization efforts.
Aydin joined QinetiQ in December of 2019 after MTEQ, was acquired by QinetiQ. At MTEQ, Aydin was the vice president of Integrated Sensing Solutions. Before joining MTEQ, he spent 10 years in a variety of engineering, engineering management, and program management roles at L3. His last position at L3 was the Director of Program Management at Maritime Systems, where he led several Navy C4ISR, ship automation/integration projects, and the development and installation of the first Hybrid Electric Drive on a Navy Destroyer.
He joined L3 after an 8-year career as an Army Officer, having served two tours in Iraq. Aydin is a 1999 West Point graduate with an MBA and an MS in Systems Engineering. He is a certified System Engineer and holds a variety of Program Management Certifications from PMI.