Developing sovereign mission-critical RAS solutions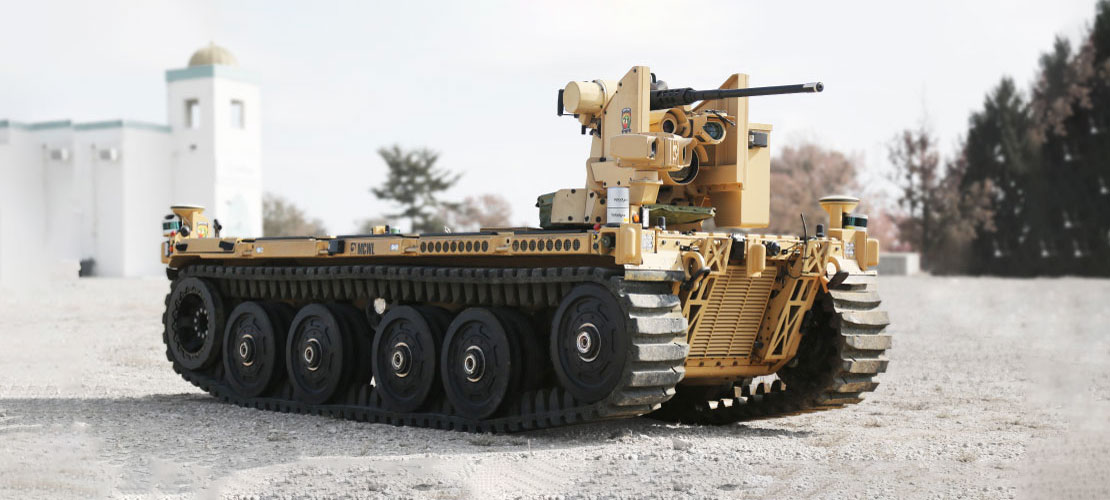 QinetiQ provides agile, adaptable hardware and software, delivered with the highest levels of engineering assurance, to support the ADF in:
Exploiting RAS to gain advantages throughout the spectrum of conflict
Countering threats posed to the future force by RAS
Investing in sovereign capability
QinetiQ is a world-leading provider of innovative RAS and AI technologies for military use. In Australia, QinetiQ leverages our global expertise to build sovereign capability, locally evaluating, integrating and securing the platforms, systems, information and assets on which missions depend. We develop, test and implement software and advanced robotics to improve decision making and safety, maximise performance and optimise operational outcomes.
Offering Defence a global centre of excellence in R&D
We are a catalyst for fast-tracked innovation, offering ADF experimentation services, technical, engineering and scientific expertise. Our focus is on operationalising the technologies of the future, leading research into advanced materials, power sources, autonomy, robotics, cyber systems, advanced sensing and imaging and weapons.
"Defence will enhance its combat capability within planned resources by employing RAS in human commanded teams to improve efficiency, increase mass and achieve decision superiority while decreasing risk to personnel."
- Concept for Robotic and Autonomous Systems, ADF (2020)
Decades of experience
Our global achievements, which we draw on to build sovereign capability in Australia, include:
Designing and delivering 5,000+ robotic platforms into operational service
Leading the Royal Navy Maritime Autonomous Platform Exploitation (MAPLE) project - de-risking the integration of multiple unmanned systems into warship combat systems
Designing and integrating advanced control systems that allow for seamless interaction between human and machine
System-of-systems integration of complex Unmanned System (UxS) networks to meet highly demanding operational challenges
Participating in Government-Industry-Academia collaborative forums and development programs
Designing, supporting, executing and conducting post-experimental analysis of large-scale HUM-T experiments
Collaborating and Experimenting for Capability Development
Innovating disruptive technologies requires close collaboration with our partners and QinetiQ is proud to be part of the RAN's Autonomous Warrior program of experimentation-led capability development.
Rather than focusing on a "technology push" approach to RAS-AI development, we advocate an experimentation-led approach to developing capability – an approach we term Prototype Warfare.
"Success no longer goes to the country that develops a new fighting technology first, but rather to the one that better integrates it and adapts its way of fighting… our response will be to prioritize speed of delivery, continuous adaptation, and frequent modular upgrades."
-US National Defense Strategy (2018)
---
Mission Led Innovation
We support the ADF with Mission Led Innovation to create RAS software products, architectures, prototype systems and services around realistic current and innovative future operational concepts, working through the Fundamental Inputs to Capability to create a coherent end-to-end view of the capability and its development pipeline.
RAS Platforms
QinetiQ's RAS platforms include:
RCV-L
QinetiQ's Robotic Combat Vehicle-Light (RCV-L) platform is a diesel-electric hybrid, rubber-tracked, multi-purpose, unmanned ground vehicle systems with a modular payload architecture – able to carry approximately 3000 kg at speeds over 50 km/h. The RCV-L platform accommodate perception by design and include tightly integrated drive-by-wire controls and assured vehicle safety systems.
Exceptional cross country mobility
Ability to climb steps and cross gaps
Internally transportable in CH-47, C-130, C-27, and C-17 platforms
Load-levelling jacks to provide both weight distribution and maintenance capabilities
Power electronics architecture that allows for silent operation as well as export power generation
MAARS
Modular and combat-ready, the Modular Advanced Armed Robotic System (MAARS) is a powerful, unmanned ground robot designed specifically for reconnaissance, surveillance and target acquisition (RSTA) missions to increase the security of ADF personnel manning forward locations.
MAARS keeps soldiers at a safe distance from enemy fire while effectively executing security missions such as ambushes, hostage rescue, forced entry, booby-trapped areas, detainee riots, site security and IED disposal. Remote placement of RSTA sensors into critical locations can be made up to several kilometres away, signalling threats and enabling an immediate response if required.
Field proven
Hostile fire and localization system
Simple operation
Day and night cameras
Motion detectors
Acoustical microphone
Loud speaker with siren
Multiple safety features
Power Management
US DoD Robotics and Autonomous Systems - Ground (RAS-G) IOP compliant
TALON
Since its introduction in 2000, QinetiQ's TALON® family of robots have earned a worldwide reputation for durability, flexibility, reliability and performance in keeping personnel, assets and civilians out of harm's way. In military, law enforcement and first responder applications, TALONs are widely deployed for IED and explosive ordnance disposal, reconnaissance, communications, CBRN (Chemical, Biological, Radiological, Nuclear), HAZMAT, security, heavy lift, defence and rescue missions. Our TALON CBRN/Hazmat modular kit is available for TALON IV and V models.
Now on its fifth generation, TALON 5 offers ADF the first IOP fielded robotic system that has successfully gone through Army Test and Evaluation Command testing.
SPUR
QinetiQ's Squad Packable Utility Robot (SPUR) revolutionises robotic capability for dismounted forces with rapid deployment from its stowed state, tactical mobility and radio range, high-performance manipulator arm and QinetiQ's UC-LITE unmanned systems universal controller.
Designed to be back-packable, SPUR is equipped with advanced sensors and mission modules to enhance mission capabilities. SPUR is transported by a single MOLLE II Assault Pack with a controller, pan-tilt-zoom camera and manipulator arm. SPUR provides exceptional strength, mobility and endurance. SPUR can easily navigate through rocks, water, sand and other rough terrain. Weighing less than 13 kg, SPUR can nimbly climb stairs and surmount obstacles, yet is sized to operate effectively in culverts and sewer pipes that wider robots cannot penetrate.
Compact fold to stow design—transportable in single MOLLE II assault pack
Rapid deployment without tools
Tactical mobility
Exceptional radio range
Lightweight
Advanced ISR capability
IOP V2 interfaces
High-performance load manipulation capability
UC-LITE controller meets U.S. Govt. standards for operating software and warfighting-machine interfaces
SEAScout
SEAScout is an A-size Unmanned Undersea Vehicle (UUV) featuring a reconfigurable payload capacity that enables it to perform multiple maritime missions such as decoy, gateway buoy, neutralizer, data gathering, intelligence, surveillance and reconnaissance.
SEAScout uses common propulsion and control hardware with mission specific payloads to deliver an efficiency advantage while achieving complex operational objectives:
A-size form factor
Multiple launch and recovery options
Reconfigurable payload or expendable systems
Able to exfil data without recovery and reprogrammable mid-mission
C-TALON
C-TALON is an underwater crawling robot for missions conducted in surf zone, riverine, littoral environments and limited access harbour areas.
C-TALON is fully customisable to perform a range of operations in complex inshore areas that would otherwise add risk to personnel due to environmental or mission threats:
IOP Compliant Architecture making it fully customisable with IOP compliant sensors
Resistant to strong and dynamic water currents to a depth of 15 m
Can be launched from the sand (Surf-zone) or sea
RAK3 Next Generation Interoperable Robotic Applique Kit
As the third generation Robotic Appliqué Kit, RAK3 transforms conventional vehicles into unmanned ground vehicles (UGV) with both temporary and permanent installations.
Providing optionally crewed UGV functionality, the RAK3 leverages over 10 years of fielded appliqué kit experience to support first responders and military personnel while keeping them out of harm's way.
IOP Compliant
Optionally-manned functionality
Temporary or permanent installation
Open system architecture
Supports wide range of platforms
Universal cross-compatible hardware
Power-off-load capability
---
RAS Software
QinetiQ's Unmanned Autonomous System Architecture (QUASAR)
QUASAR is the next generation Software Program for the Command and Control of multiple autonomous unmanned systems. Designed from day one as an open architecture Mission Management System, QUASAR is tailorable and upgradable to the evolving technology and threat environments. Its suite of intelligent software applications provide a truly Combat / Battle Management System agnostic, UXS agnostic, multi-mission capable operating environment. QUASAR facilitates efficient mission planning, mission execution and data management to allow a single or pair of operators to command, control and monitor the concurrent operation of multiple ground, air and maritime autonomous vehicles.