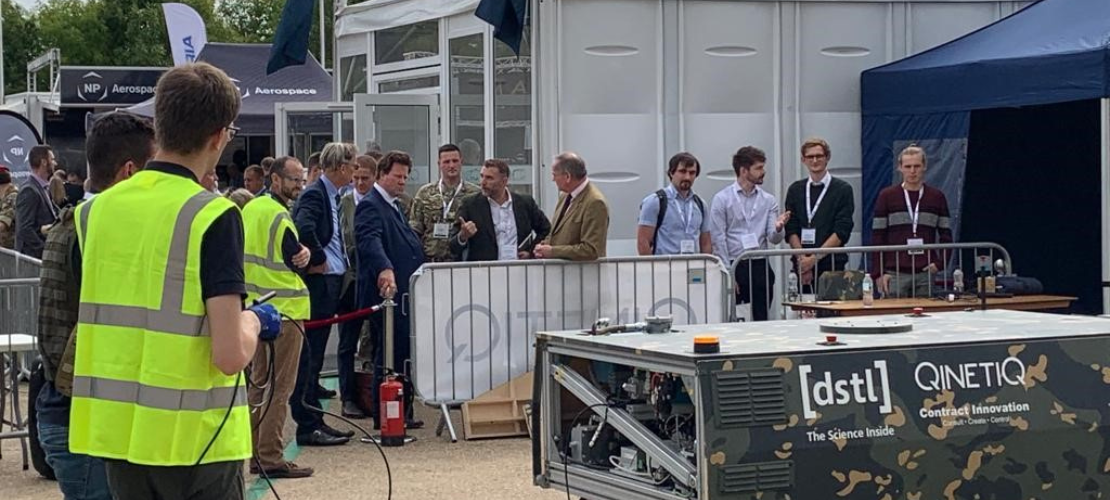 Along with a wide range of visitors, we were delighted to welcome the new Defence Procurement Minister, Alec Shelbrooke, to our stand and demonstration area, where we were able to showcase the Mobility Test Rig (MTR), exhibiting the support and innovation available to UK Land Forces as they seek to modernise their platforms. Accompanied by our US colleagues, we conducted live demonstrations of our SPUR and TALON search and explosive ordnance disposal robots.
The Minister opened the event, highlighting in his speech (which can be read here) the need to strengthen defence, sovereign and allied capabilities within these changing, challenging and uncertain times, to safeguard international order. He focussed on the need to ensure cutting-edge capability, to enable forces to be more resilient, persistent and agile, using the recent gains made within the Ukraine as an example.
We welcomed his comments regarding the importance of partnerships between Government, industry and academia to successfully deliver the Defence and Security Industrial Strategy (DSIS) and the recommendations in the Integrated Review and Defence Command Papers, which aim to support and transform our armed forces, future proofing them and making them ever more battle ready.
QinetiQ are providing key services, innovation and expertise to support the DSIS and the implementation of the Army's Future Soldier agenda through test, evaluation and assurance services at the 15 T3E MOD sites managed under the Long-Term Partner Agreement. We are also testing and assuring land platforms at our Hurn Proving Ground, and enabling conceptual and capability development through support to the Army Warfighting Experiment and Future Capabilities Group. Along with our partners SNC Atkins and BMT, we continue to provide vital engineering services support through the Engineering Delivery Partnership (EDP) to DE&S, Front Line Commands and UK MoD Agencies.
The QinetiQ Team also hosted the Army's Director Futures, Maj Gen James Bowder, welcoming the opportunity to discuss our work to exploit combat platform electrification and novel suspension technologies in the MTR and explore further development opportunities and potential allied collaboration.
DVD was a highly successful event and we always welcome the opportunity to meet with members of the armed forces, government and partners to understand their needs, discuss opportunities and challenges and hear how QinetiQ are or could be further supporting our armed forces and allies.