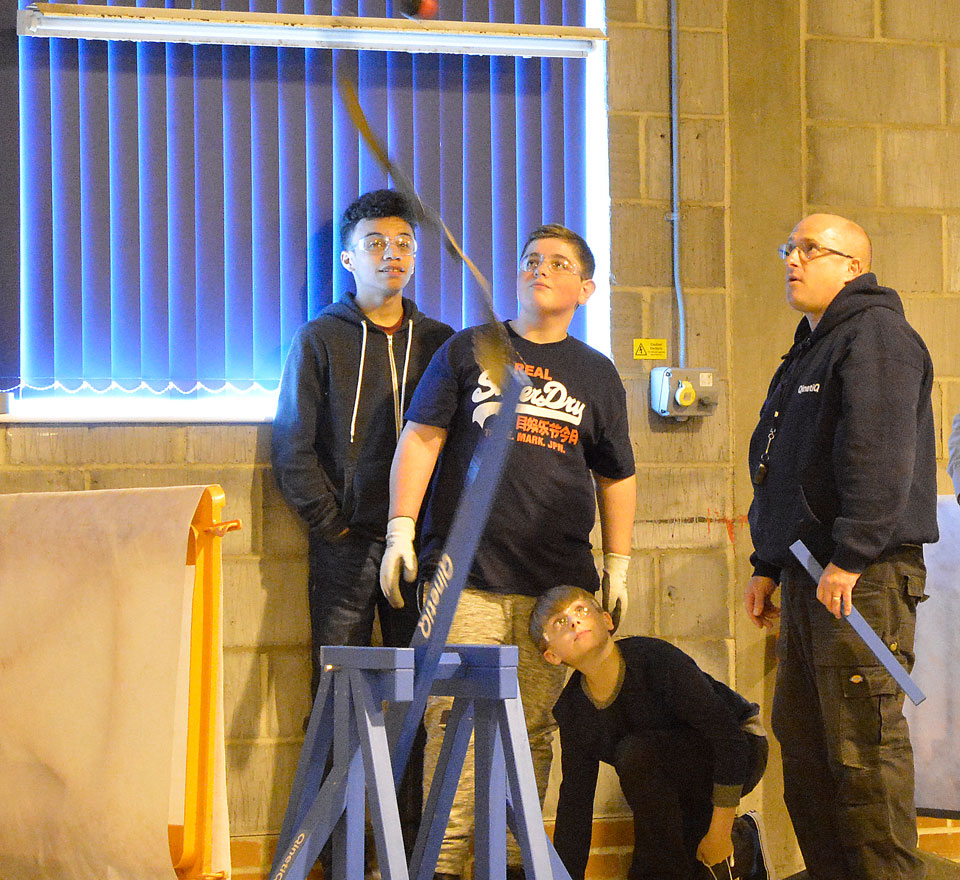 We're delighted to announce the return of our schools' outreach programme, the STEM (Science, Technology, Engineering and Maths) Academy. Secondary schools are invited to bring a small group of students to the live weapons test and evaluation Range at Ministry of Defence (MOD), Shoeburyness for a morning of STEM-based activities.
*After an introduction to the work on the Range and the various early careers opportunities with QinetiQ, the students are treated to a rare visit to the main large calibre gun battery where they can get up close to a live firing trial.
A military vehicle and munitions display and talk await them when they return to the Hovercraft Hangar before the final activity, the Trebuchet Challenge. Working in small teams, they are assigned to their very own trebuchet, an ancient siege weapon. Under the supervision of QinetiQ mentors, they have the opportunity to experiment with their machines to find optimum performance before the final team challenge to knock down as many targets as possible with limited ammunition.
Nicki Weller, Careers Advisor and Work Related Learning Co-ordinator said: "Westcliff High School for Boys was delighted to be invited by QinetiQ to visit MoD Shoeburyness with a selected group of Year 10 students, who were specifically interested in STEM subjects. The day offered practical, visual and interactive sessions, which engaged the boys consistently. It was a professional, polished and well thought out event that was received enthusiastically and reinforced the popularity of STEM subjects at our school".
Craig, 15, one of the students that visited with Stewards Academy, Harlow said: "The Treb Challenge was my favourite part of the day. I really enjoyed working in a team and learning how these weapons were used in the past, I really enjoyed my visit and would encourage my friends to come if they get the chance".
If you are interested in booking a Range visit for your school, please contact QQSHBEnquiries@qinetiq.com There is a maximum of 12 students per visit and we recommend Year 9 upwards with an interest in STEM studies.
*This part of the programme is dependent on scheduling and can change at short notice,