Early Careers
Fast forward your career and grow with QinetiQ, where the opportunities are endless.
As a global company of over 6,000 dedicated people providing technological and scientific expertise, we are excited to recruit the most talented and enthusiastic young people to become key parts of our business. With a dedicated career pathways framework and a focused professional development process, we are committed to supporting our employees to continuously develop and grow their skills and careers.
Contact Us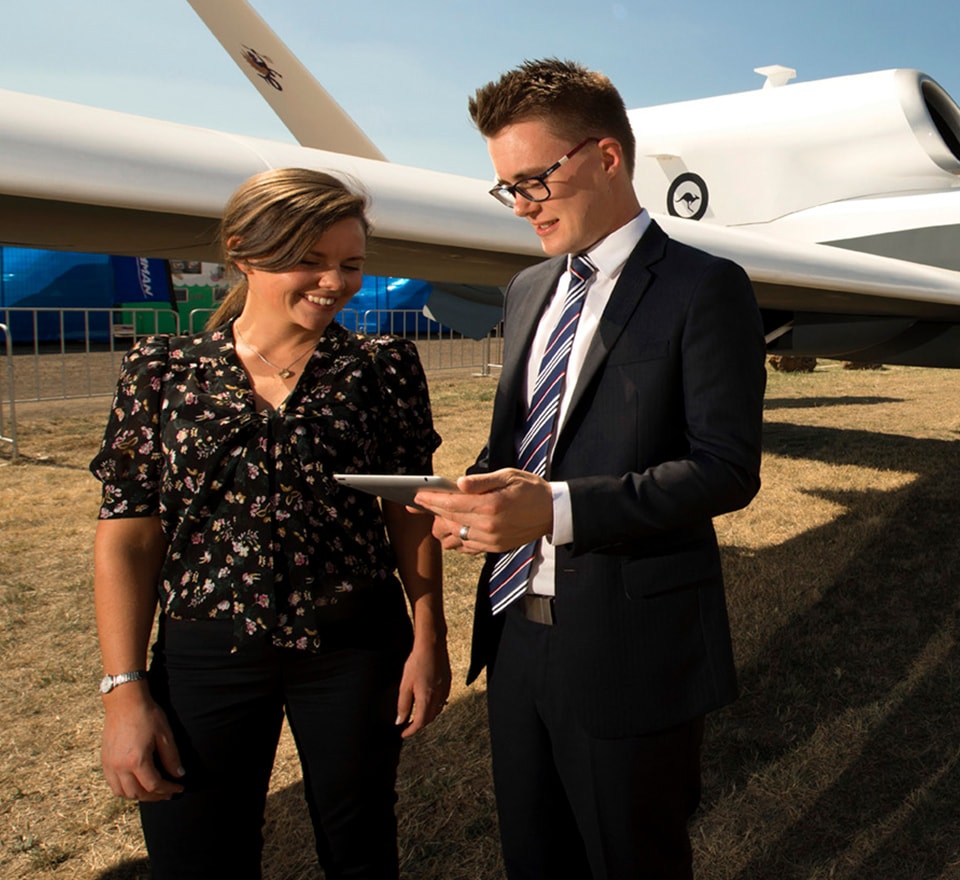 Graduates
Our graduates work alongside inspiring leaders who are established in their fields, whose professionalism stands out and whose customers trust them implicitly. From the top down, all of our leaders are committed to passing on their valuable skills and knowledge to graduates.

Applications for the 2021 Graduate Development Program have now closed.
As a Graduate with QinetiQ, you will become an integral part of our early careers community and our 18 month Graduate Development Program will support your technical and professional development.
Joining our Graduate Development Program will provide you with:
Interesting work, on complex projects, solving real world problems
Structured career development plan
Mentoring and coaching support
Communities of practice to engage and network with peers, experts and leaders
Access to a suite of online professional development courses
Regular networking, social and "give back" events
Permanent ongoing employment
With a dedicated career pathways framework and a focused professional development process, we are committed to supporting our employees to continuously develop and grow their skills and careers.
We look for tertiary qualified graduates to demonstrate:
Extraordinary problem solving skills and ability to think laterally
Experience working within a team environment toward a common goal
Strong interpersonal skills and the ability to work with diverse clients and stakeholders
Professional written and verbal communication skills
A collaborative and consultative mindset and approach.
What's in it for you? Check out QinetiQ's amazing benefits here.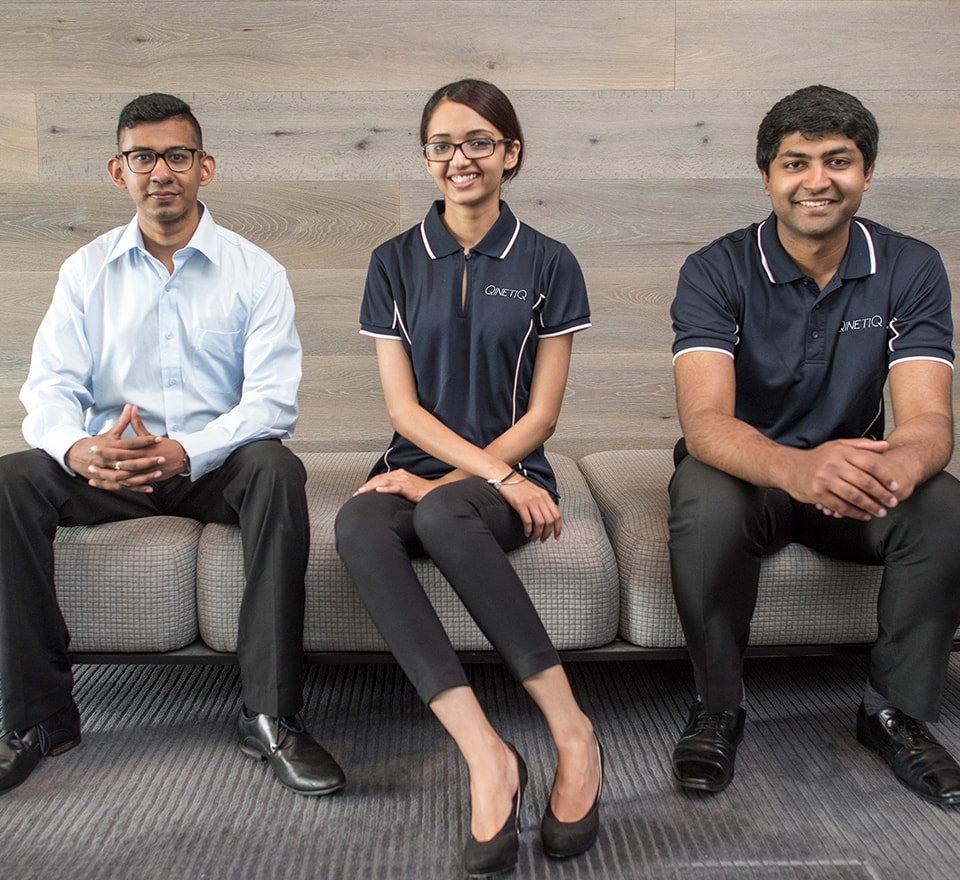 Internships
From December through to February each year we offer an exciting 12 week paid internship program for university students from a wide range of disciplines. Interns are provided with valuable learning experiences in a friendly and supportive environment whilst applying their university learning to solve real-world problems. The program provides opportunities for interns to engage and learn from senior leaders from across the business and develop their professional skills and business acumen. We are pleased to welcome many of our interns back as permanent employees.

We are currently continuing to build on the success of our Graduate Development Program. To find out more about potential opportunities in the Early Careers space, please contact us at P&C@QinetiQ.com.au.
Here is what some of last year's interns said about the program:

"My 12-week internship experience as Software Engineer intern with QinetiQ has been fantastic. The people here made me feel like I was a part of the team straight away and everyone was very welcoming. I was able to be a part of a real life project and although there were some challenges in between, they gave the full support I needed and was able to guide me to every problem I encountered. I learned so much technically, about the business and the defence industry, but most of all gained so much personal growth. This experience also gave me the opportunity to build connections and extend my network, which will help me for my future career. Also, the culture and the vibe here at QinetiQ is really amazing, it makes work more fun!" – Andrea

"The 12-week internship at QinetiQ Port Melbourne was a great introductory taste to the engineering industry. With the tremendous support given to me from staff, I was able to see the development of a project from scratch and through to its final stages. Overall, I have improved my technical skills and understandings coupled with the positive relationships made with QinetiQ members along this journey. An exceptional and worthwhile experience." – Sean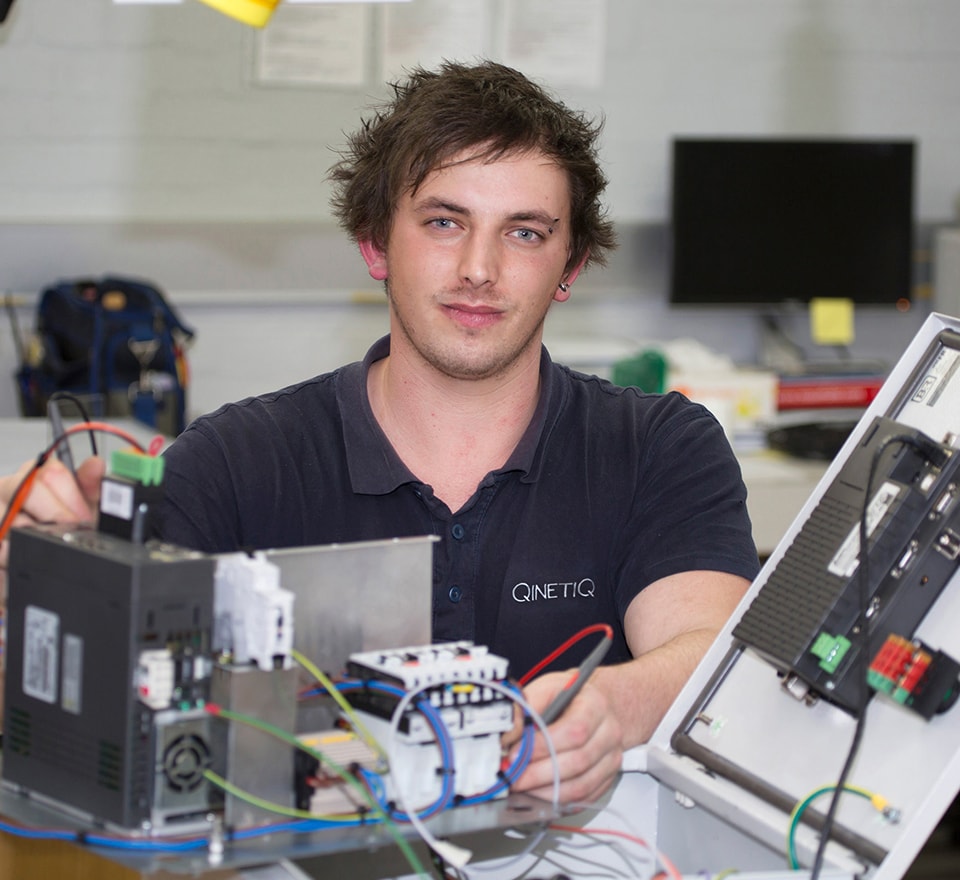 Apprenticeships & Traineeships
Our hands-on apprenticeship and traineeship opportunities encompass science & technology and business disciplines, with vacancies in both workshop and office environments.
By embarking on an apprenticeship with QinetiQ, you will be exposed to second-to-none training. You will receive continuous support and guidance in developing your skills in a rapidly growing business. We are proud of the friendly and supportive atmosphere at our sites, as well as the hands-on learning and mentoring of our apprenticeships and traineeships.