Who we are
We are a leading science and engineering company operating primarily in the defence and security markets. We are an information, knowledge and technology based company with the breadth and depth of more than 6,500 highly dedicated employees.
What we do
We apply our unique technical expertise across the product life-cycle, helping our customers to create, test and use defence and security capabilities. Not only do we develop cutting-edge technology and turn it into a capability, we also tell customers if that capability will work when it is critically needed and ensure they are trained and operationally ready to use it when it matters.
Anticipating the current, emerging and future threat environment and proactively understanding our customers' needs to provide mission-led innovation is critical to our success.
Our purpose
QinetiQ is dedicated to protecting lives, defending sovereign capability and securing the vital interests of our customers.
Where we operate
We are a global company delivering mission-led innovation around the world. Our home countries, where we have more than 500 people in-country are the UK, US and Australia. We also have a significant in-country presence in Canada, Germany and Belgium.
Many of our facilities around the world are unique assets that are critical to maintaining national defence capabilities, and are often the only place where certain trials can take place.
Three priority countries: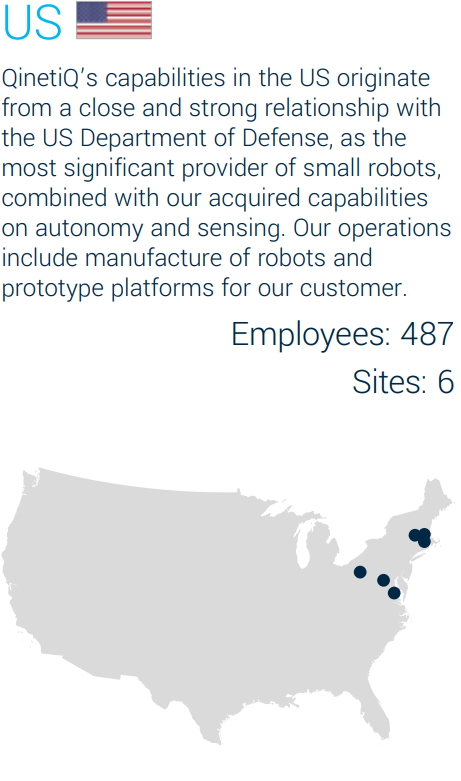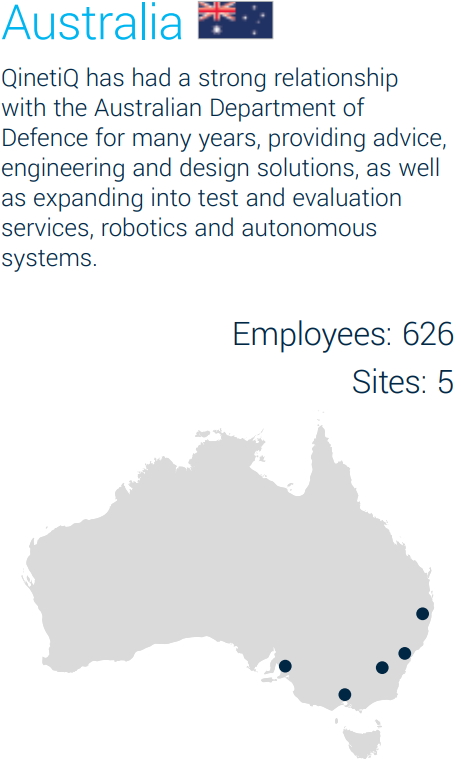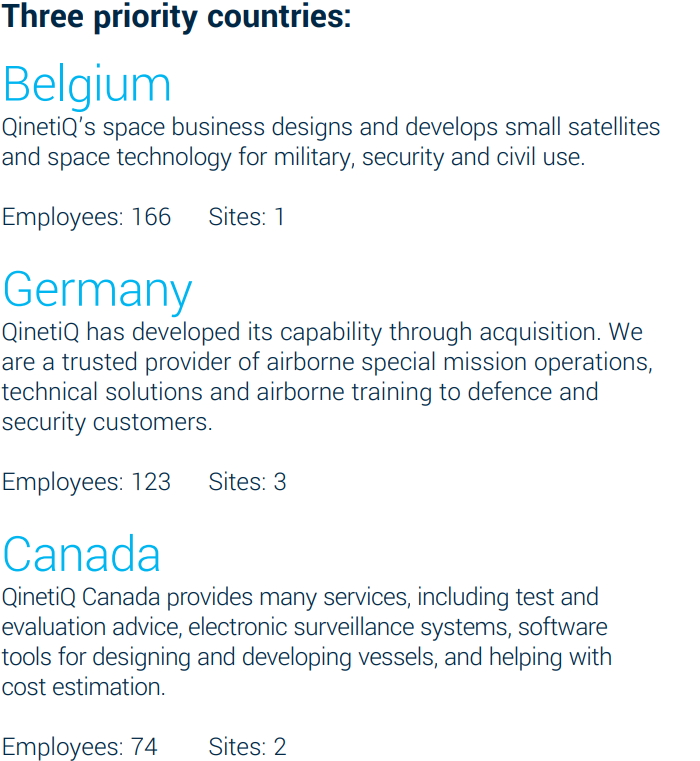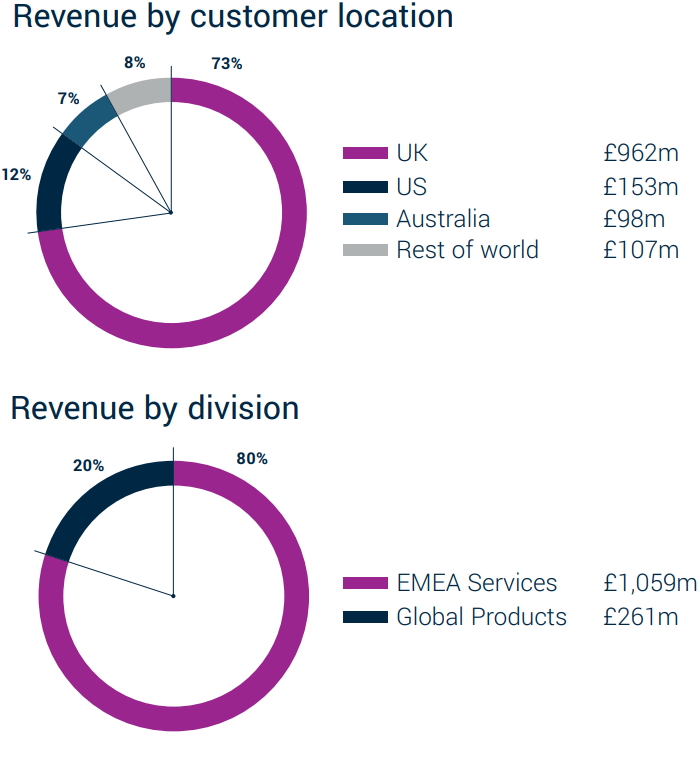 How we are structured
We report through two divisions; EMEA Services and Global Products. Within these two divisions our business units are aligned to customer domains or geographies.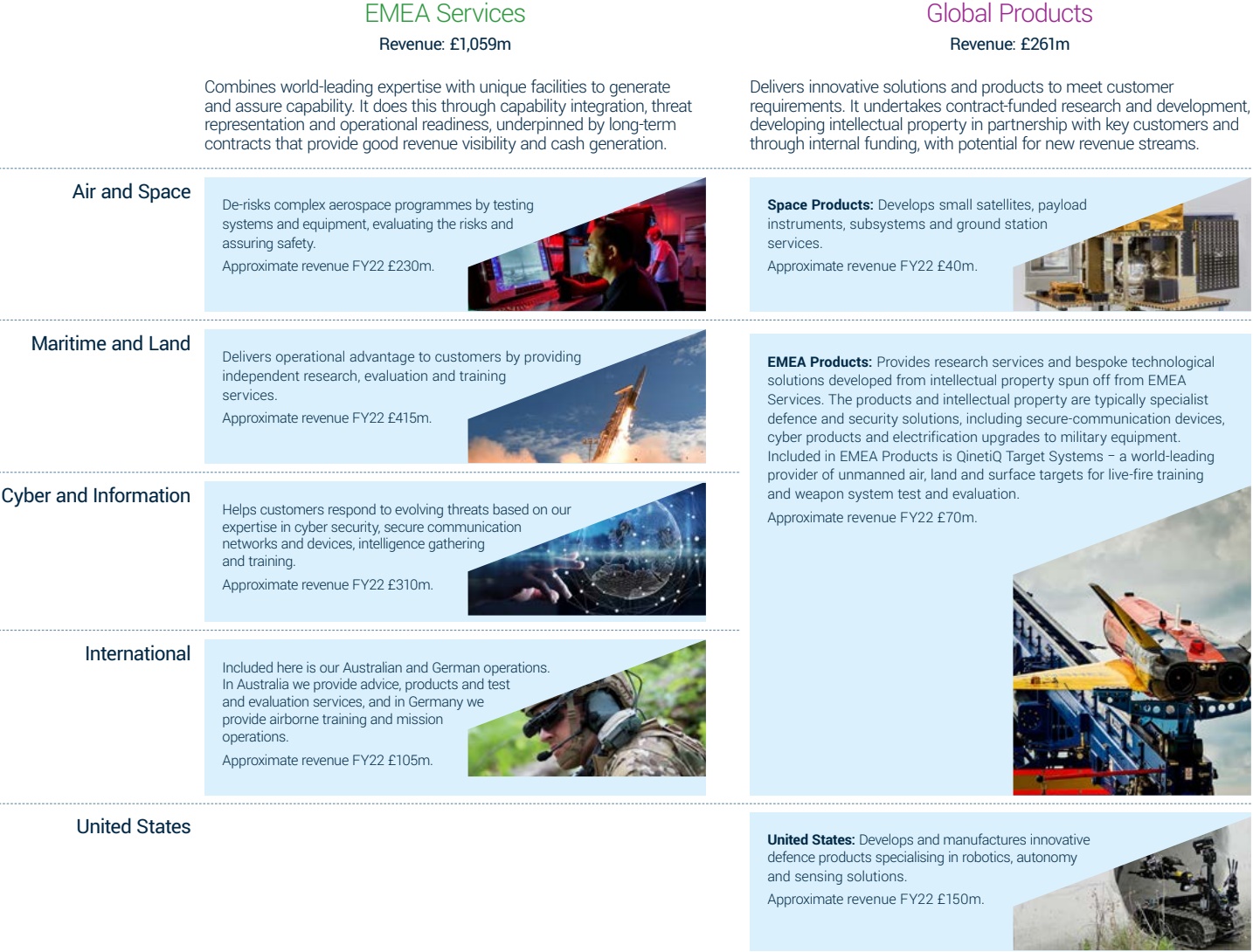 Financial highlights
Good progress with strong second-half momentum.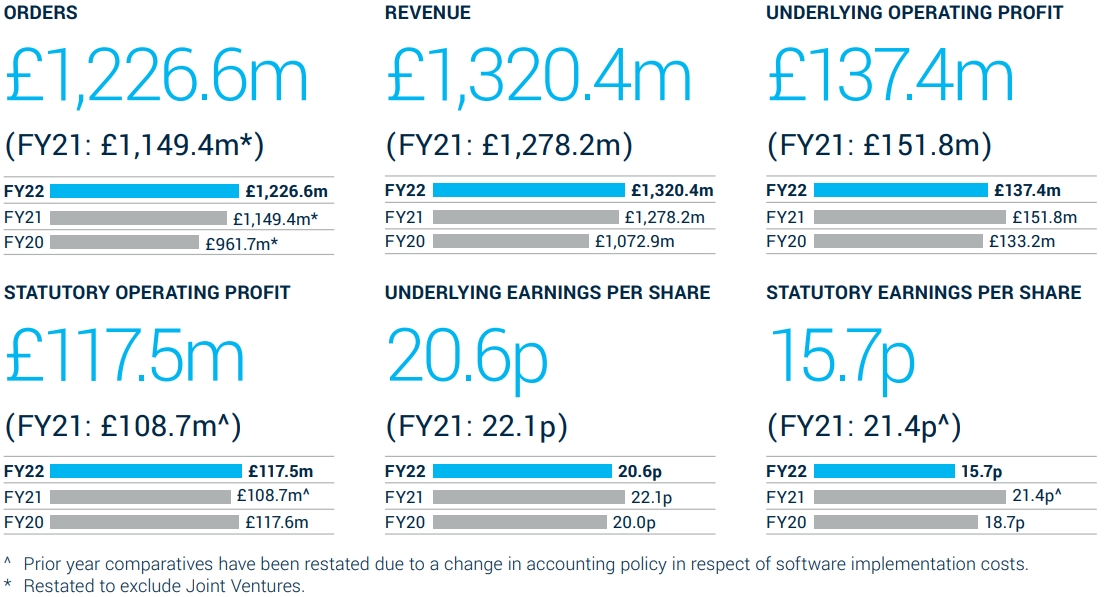 Operational highlights
Positioning ourselves for long-term sustainable global growth.
Leading role in securing the interests of our NATO allies – we supported Formidable Shield, the largest live-fire integrated air and missile defence exercise in 2021 led by the US Sixth Fleet and conducted by Naval Striking and Support Forces NATO. This is a good example of the benefits arising from our investment in the Long Term Partnering Agreement (LTPA) contract, driving enhanced operational outcomes for our customers, increasing the demand for our ranges and positioning QinetiQ at the leading edge of safe delivery of complex events to ensure our NATO allies can defend against future threats.
Our large contracts continue to support significant growth in the UK – we have won orders totalling £115m on the Weapons Sector Research Framework contract, including work on the development and deployment of directed-energy weapons for the UK's Ministry of Defence (UK MOD), an important capability particularly focused on counter-hypersonics. The Engineering Delivery Partner (EDP) contract continues to evolve to meet the ever-changing needs of our customers, and has now delivered over £920m of orders since its inception in October 2018.
Strategic partner to Strategic Command – we have won more than £160m worth of orders with Defence Digital and Defence Intelligence These include a £33m contract to transform the aeronautical datamanagement and aeronautical information production capability for UK MOD; and a £20m contract to support defence intelligence transformation across electronic warfare, mission-data, intelligence training, capability assessments and Urgent Operational Requirements implementation, adding automation and providing enhanced resilience.
Building a disruptive mid-tier company in the US – we have won a number of notable and strategically significant contracts in the US, including a $12m advanced sensor prototype contract, a $62m full-rate production contract for our Squad Pack Utility Robot (SPUR) and a $12m contract to deliver additional Robotic Combat Vehicle Light (RCV-L) prototypes for testing. With a c.20% growth in orders coupled with our new leadership team, headed by Shawn Purvis, this provides a strong foundation for the delivery of our strategy in the US, through both strong organic growth and strategy-led acquisitions.
Trusted partner in Australia – Our Australian business continues to deliver strong growth. Our Major Service Provider (MSP) contract has delivered orders totalling A$97m including an A$27m order to assist the Australian Department of Defence in delivering its largest and most complex Land projects. This contract positions us for future growth as a trusted partner able to provide sovereign Australian industry capability, while leveraging our global capabilities.
QinetiQ Target Systems (QTS) recovery – In FY22 we have seen significant positive progress across the QTS business with customers resuming trials and exercises previously cancelled or postponed due to COVID-19 and winning significant orders, with growth in both existing countries and new business wins in the US, India and Japan. FY22 revenue was back to pre-pandemic levels and we remain positive on the trajectory of the business.
Net-Zero plan – Over the last decade, we have set a series of increasingly ambitious greenhouse gas (GHG) emission reduction targets. In FY19, we developed a new target in line with the Science Based Targets initiative (SBTi) to reduce our Scope 1 and Scope 2 GHG emissions and we are pleased that over the last 3 years we have reduced our emissions by 32%. In March 2022 we published our Net-Zero plan which outlines a credible route to achieve Net-Zero across Scope 1, 2 and 3.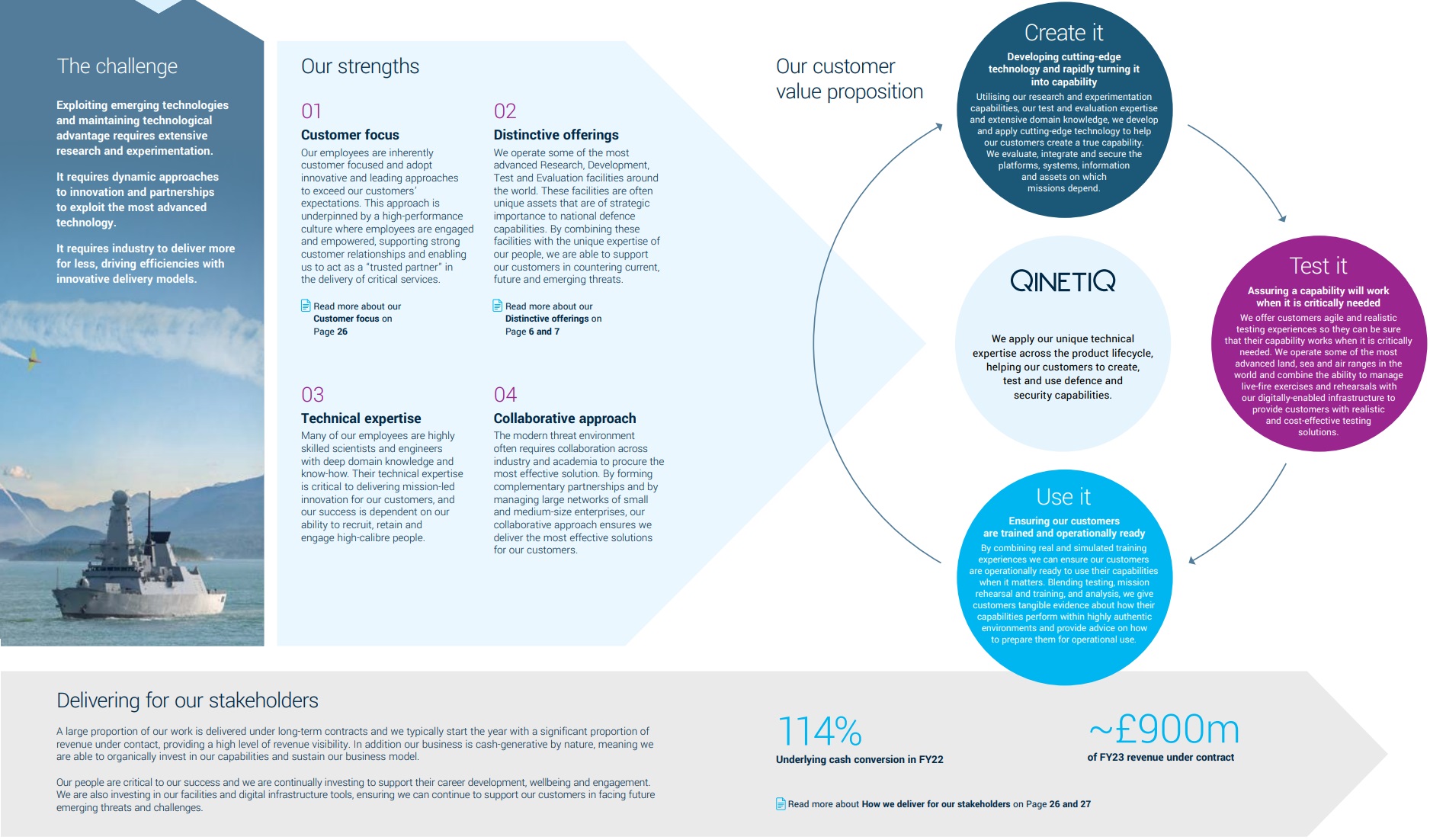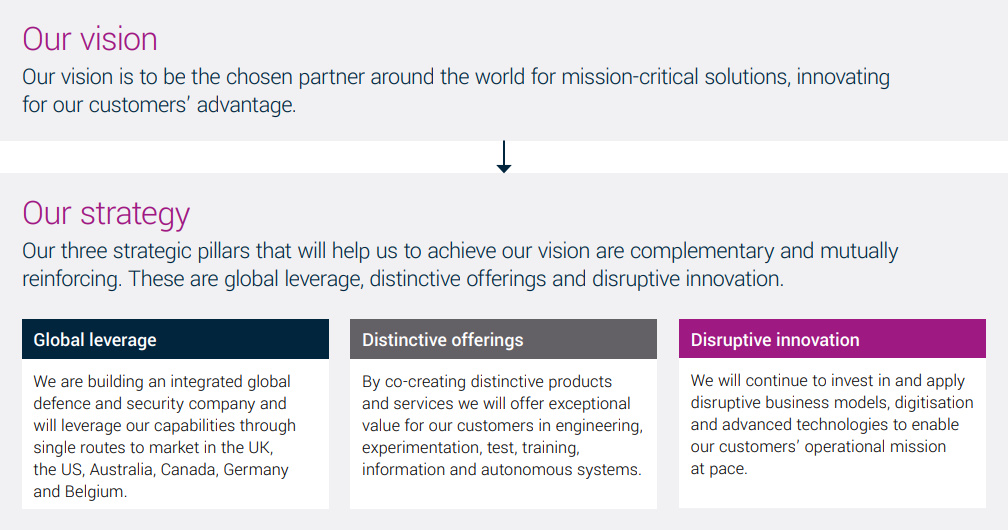 Strategic progress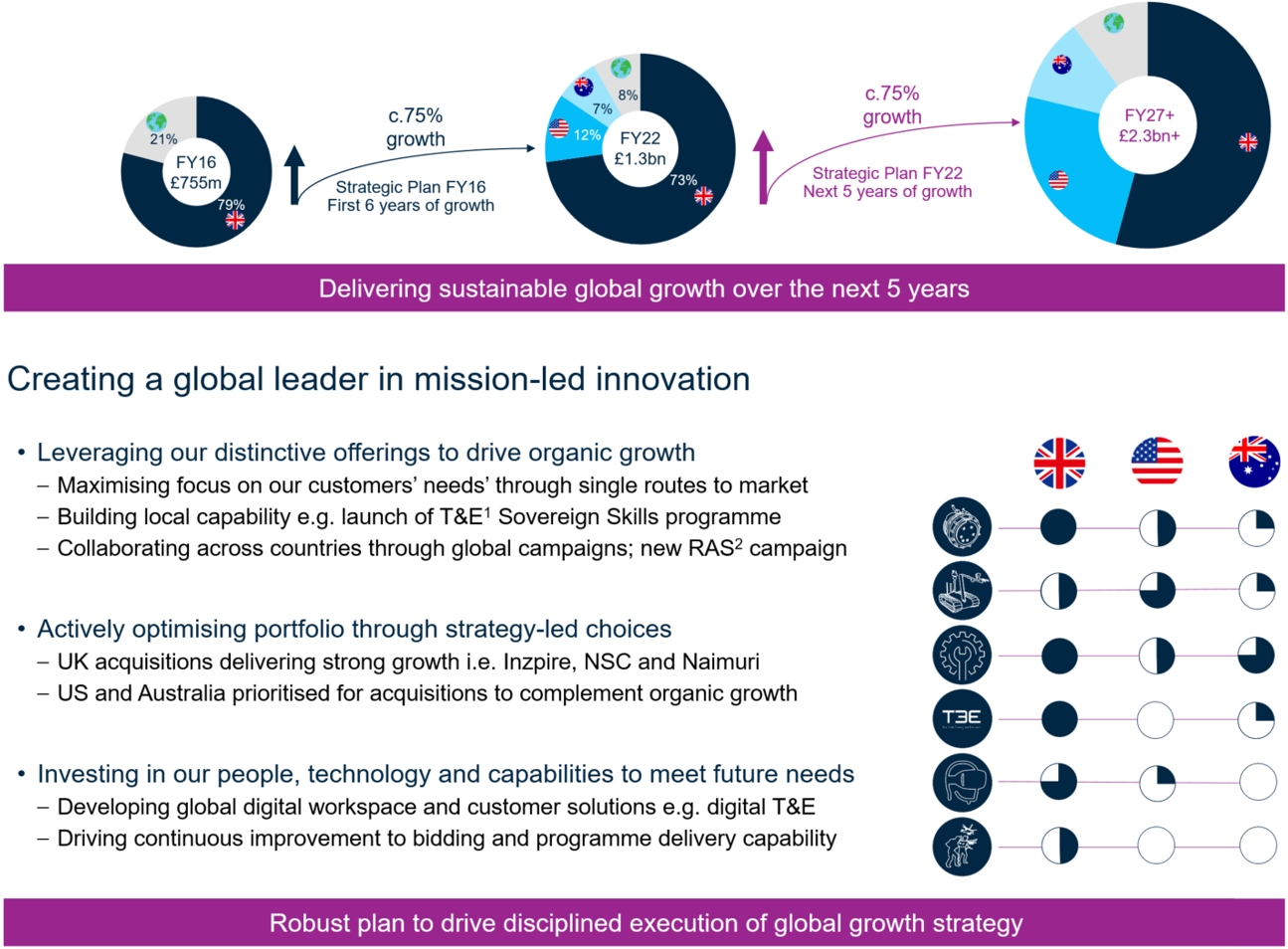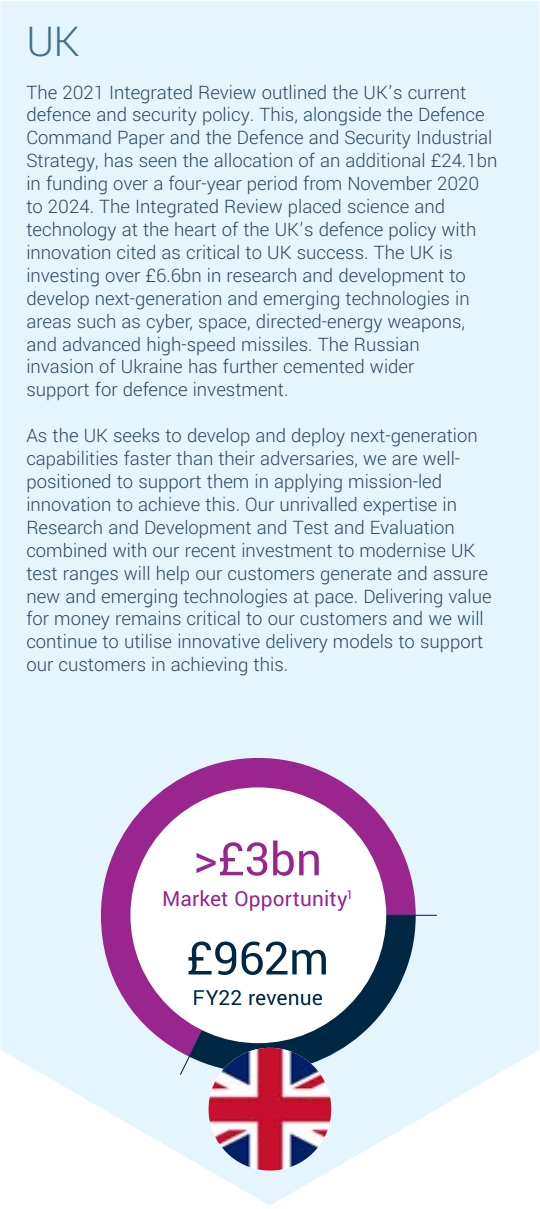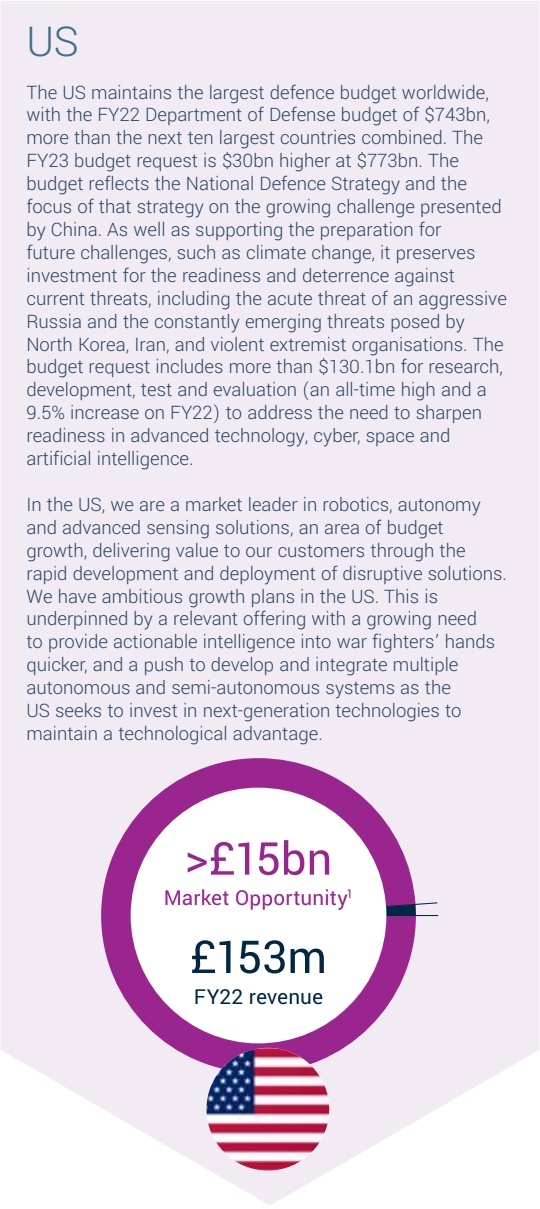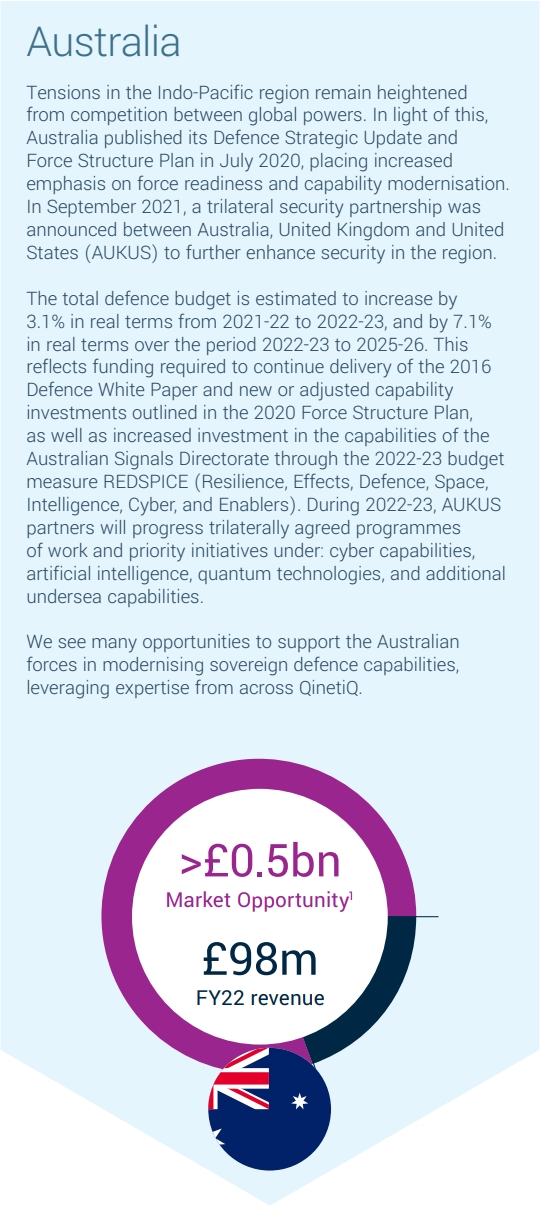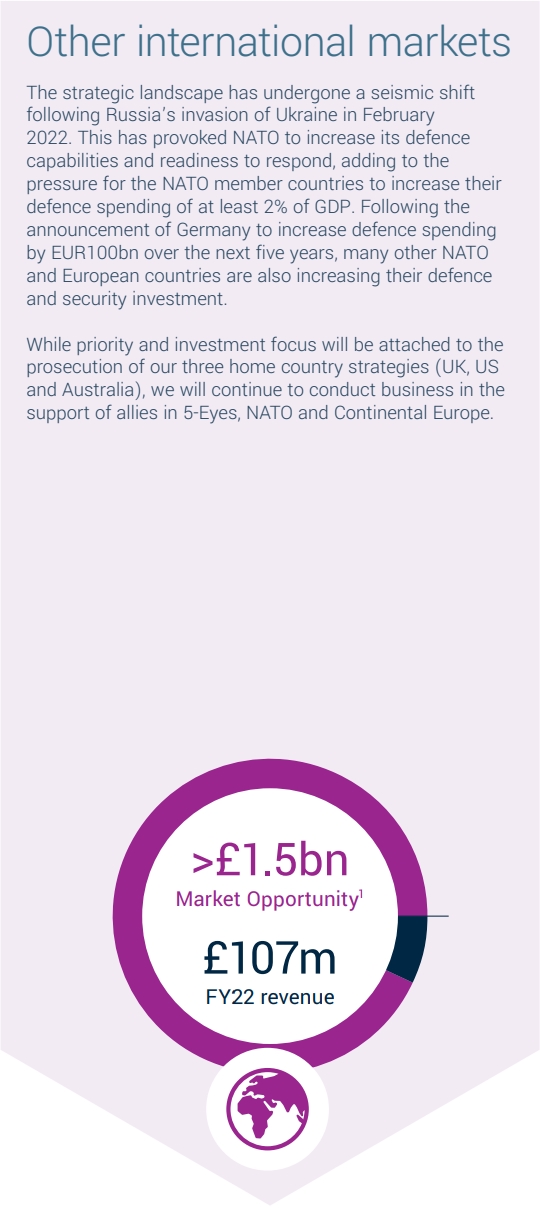 Six distinctive offerings
We focus on partnering with our customers, to deliver mission-led innovation through the six distinctive offerings shown below.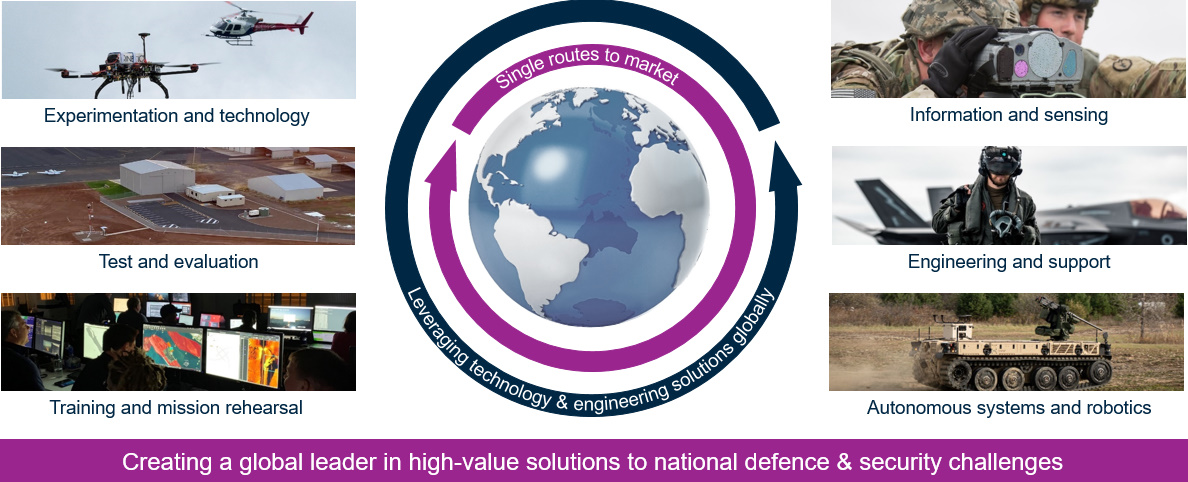 We optimise our capabilities internally, through leveraging our technology and engineering solutions globally; so that we can maximise growth opportunities externally, through single routes to market in six home and priority countries. By applying this operating model, we are scaling our company and accelerating our global growth.
An example of how this approach is driving growth from our distinctive offering of test & evaluation: In the UK we committed £400m of capital investment to modernise the LTPA's key capabilities.
These capabilities delivered Formidable Shield 2021, NATO's biggest air defence training exercise, testing our response to the world's most challenging ballistic missile threats.
Our Australian business has leveraged these world-class skills to build local capability and win new contracts to design, build and operate a new unmanned air systems test range in Queensland, shown in the middle left picture above.
Based on this success, we have chosen to invest $8m to create a sovereign engineering and integration centre in Australia, which will leverage our target & robotic capabilities from Canada, the UK and the US to drive further growth.
Our investment case is underpinned by four key attributes:
By focusing on our customers' needs and evaluating all investment opportunities with the same rigour, we aim to deliver sustainable and attractive returns to our shareholders.