Who we are
QinetiQ is a leading science and engineering company operating primarily in the defence, security and critical infrastructure markets. We are an information, knowledge and technology based company with the breadth and depth of more than 6,000 highly dedicated employees.
What we do
We apply our unique technical expertise across the product life-cycle, helping our customers to create, test and use defence and security capabilities. Not only can we develop cutting-edge technology and turn it into a capability, we can also tell customers if that capability will work when it is critically needed and ensure they are trained and operationally ready to use it when it matters.
Anticipating the current, emerging and future threat environment and proactively understanding our customers' needs to provide mission-led innovation is critical to our success.
Our purpose
QinetiQ is dedicated to protecting lives, defending sovereign capability and securing the vital interests of our customers.
Where we operate
We are a global company with operations around the world. Our home countries, where we have more than 250 people in-country are the UK, the US and Australia. Our priority countries for future growth are Canada, Germany and Belgium.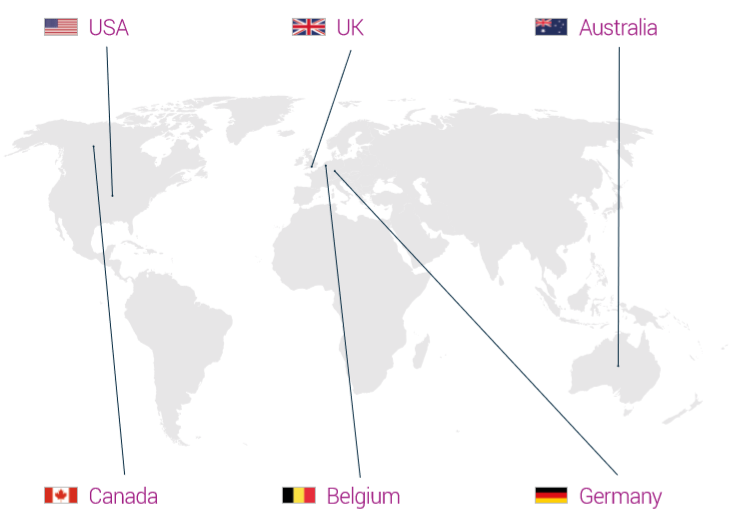 A core pillar of our strategy is to grow our international revenue to 50% of Group. Since we launched our strategy in 2016 we have grown our international revenue from 21% to 31% of Group revenue, supported by both organic and inorganic growth.
How we are structured
We report through two divisions; EMEA Services and Global Products.
EMEA Services
Revenue: £797.4m (FY19: £687.7m) / Underlying operating profit: £100.6m (FY19: £96.8m)
Combines world-leading expertise with unique facilities to generate and assure capability. It does this through capability integration, threat representation and operational readiness, underpinned by long-term contracts that provide good revenue visibility and cash generation. EMEA Services constitutes four business units:

Global Products
Revenue: £275.5m (FY19: £223.4m) / Underlying operating profit: £32.6m (FY19: £28.1m)
Delivers innovative solutions and products to meet customer requirements. It undertakes contract-funded research and development, developing intellectual property in partnership with key customers and through internal funding with potential for new revenue streams.Global Products constitutes four business units:

Read more in our Annual Report and Accounts 2020.