The completion of a brand new state-of-the-art cleanroom facility in Kruibeke, Belgium, for the integration, testing and production of satellites and docking systems has further consolidated QinetiQ's status as a leading player in the sector.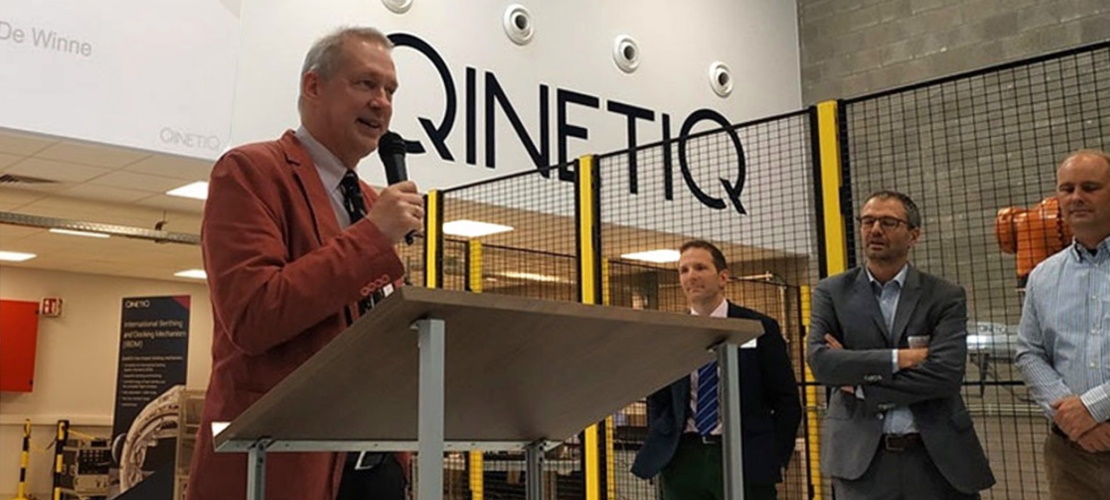 Belgian astronaut, Frank de Winne, opens QinetiQ's new €3m cleanroom facilities in Kruibeke, Belgium, October 2019.
The company is also actively involved in the operational management and maintenance of satellite infrastructure and In-Orbit Testing campaigns. Redu Space Services in the Ardennes region of Belgium is a joint venture between QinetiQ and SES Techcom. An IOT Centre of Excellence, this specialist operation provides full Launch and Early Orbit Phase services, Telemetry, Tracking and Control services, Payload Management and Control and infrastructure hosting as well as integrated applications and downstream services - such as satellite communications, earth observation and navigation.
A wide range of space facilities are still hosted at Farnborough. These include ISO 7 and ISO 8 cleanrooms as well as a range of small vacuum chambers providing thermal/ vacuum and electromagnetic compatibility test capabilities for qualification and acceptance tests of space communication systems.
QinetiQ has pioneered many significant developments in new communication technologies, with the company securing some notable successes in this rapidly developing area of technology. For example, the company designed, built and tested the Mars Express Lander Communications system (MELACOM), an instrumental part of the Mars Express spacecraft. Having arrived at Mars in 2003, this transceiver continues to demonstrate its performance and reliability, playing a significant part supporting the data relay from NASA's Mars Exploration Rovers (Spirit and Opportunity). It has also provided support during Entry, Descent and Landing phases for NASA's Phoenix lander, Mars Science Laboratory (Curiosity) rover and ESA's ExoMars Schiaparelli EDM mission. In addition and following a recent software upgrade, the system is now providing new radio science capabilities.
QinetiQ developed the Beagle-2 lander and ExoMars UHF transceiver used as a mission-critical system for the Schiaparalli, Rosalind Franklin and Kazachok missions. It has also completed exhaustive work for the Dual UHF/X-band (DUX) transceiver project, Lunar Communications and Software Defined Radio (SDR) transceiver programmes.
More recently, the company has conducted extensive trials to show that a specially shielded communications system could survive a hard landing on the surface of a moon or planet. Despite being subjected to violent impact speeds up to 300metres per second and peak loads up to 35,000 times the force of gravity, the communications system concealed within QinetiQ's Space Penetrator remained fully operational. Such developments are set to open new doors in space exploration as a hard lander overcomes the huge expense of soft-landing spacecraft. It also facilitates the use of lighter and more compact designs and enables exciting data to be obtained from below the surface.