Celebrating 150 years of service
08/11/2021
MOD Aberporth celebrate fifty years of service for three of their colleagues.
We're immensely proud to celebrate the anniversary for 50 years of service at MOD Aberporth shared by three of our people; Allan Jones, Gwynn Jones and Richard Mathias.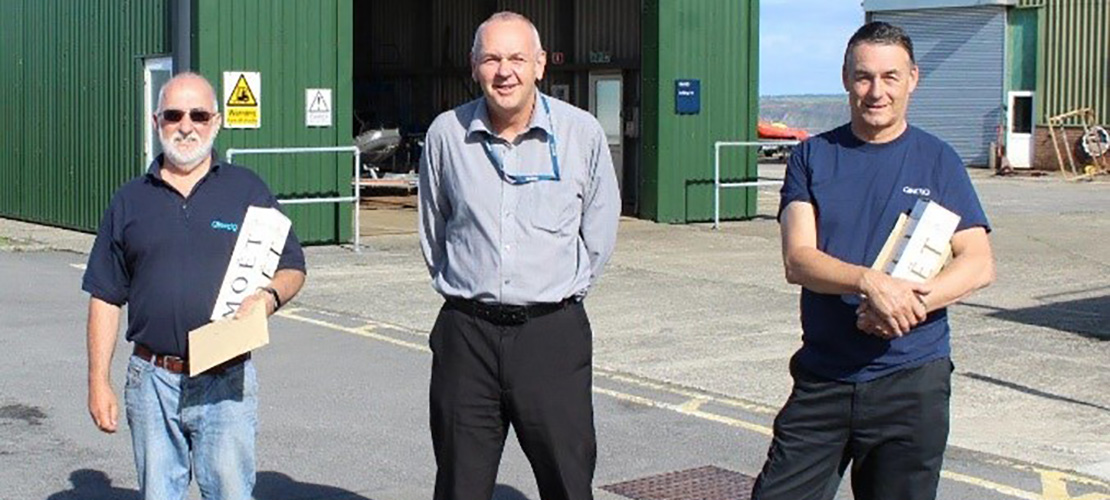 Presentation to Allan Jones (left) and Gwynn Jones (far right) by Gareth Potts (centre) on behalf of Head of Site.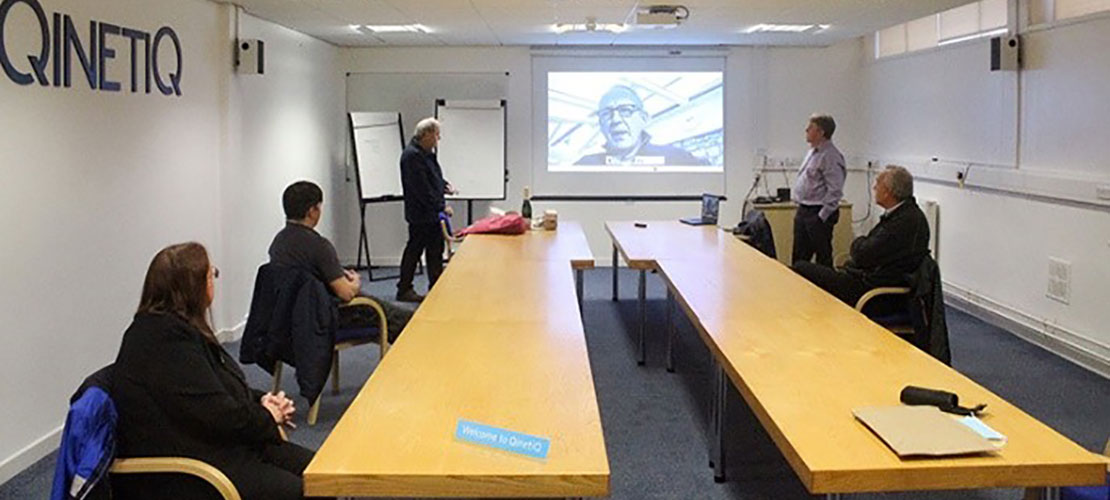 Virtual presentation by Ian Beresford to Richard Mathias.
Gwynn, Allan and Richard all joined what was then the R.A.E Aberporth as apprentices. Allan, beginning his career on a 4-year mechanical apprenticeship, became a Mechanical Machinist and then worked alongside his Father in the Design Office for a number of years as a Design Draughtsman (during the time of pencil drawings and drawing boards!). Meanwhile, Gwynn started his apprenticeship at MOD Aberporth and shadowed a craftsman for two years before gaining a craftsman's ticket. Richard started his 4-year electronic apprenticeship; this included two years based in Farnborough, learning and honing the skills that have served him well over the years.
Gwynn Jones circled left and Allan Jones circled right.
Since then, all three have covered an impressive range of work. Gwynn has been involved in the construction of target barges, many bespoke engineering assignments and was part of the HVM Target team which built two platforms launched in Luce-Bay, West Freugh. Likewise, Allan has worked in a number of areas, including site works, various projects and trials (such as SeaWolf, Lynx WildCat and production drawings for 5 and 9 metre barges), in-house productions, facilities tasks and electronics design. Richard has been involved in many projects during his career, including trials for NIMROD tracking, Bloodhound Launches, Rapier development, Sea Dart firings, Sidewinder, and ASRAAM.
Over the years, Gwynn, Allan and Richard have continued to hone their talents. Gwynn's work has often received the remark, "That's Gywnn's work!" from his colleagues and customers, with the Imperial Service Medal award by Her Majesty the Queen in 2001 being another testament to his skills. Allan, being witness to many changes in the ways of working since starting in 1971, has successfully adapted to changes in the design processes and fully embraced the new software for both Mechanical & Electronic PCB design tools. And one of Richard's most notable achievements has been in the development of a Radio Tone Receiver System to mark a Datum Zero Time from aircraft during trials.
It's clear Gwynn, Allan and Richard are truly great assets to the team at Aberporth and valued members of the QinetiQ family. Please join me in congratulating them all for their 50 years of service.
Here's to many more good years to come!