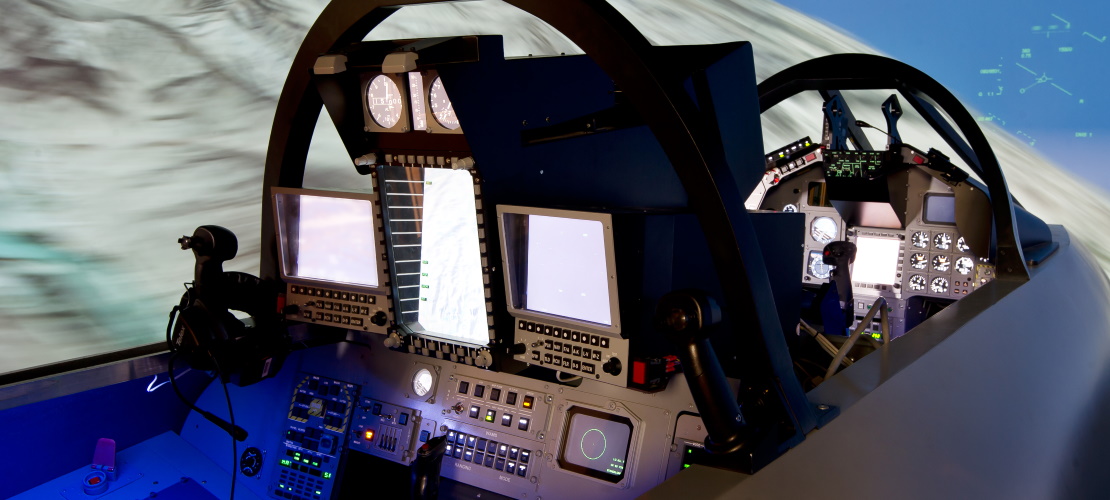 As part of a true Whole Force Approach, QinetiQ (with our subcontractors Boeing and Plexsys) and Inzpire were at the forefront of joint team and collective synthetic training right from the start.'Innovating for our customers' advantage' and 'mission led innovation' are both descriptions that sit very comfortably when used in the context of DSALT which resides within the RAF's Air Battlespace Training Centre at RAF Waddington, 5 miles south of Lincoln.This was recognised internationally with an Institution of Engineering and Technology Innovation Award in 2015 and by Commendations in the Queen's Birthday Honours List on 2 separate occasions.
Starting its operational training journey in 2008, DSALT has delivered training to British and allied armed forces personnel in over 400 complex large-scale exercises, many of which were conducted whilst connected to overseas training systems, particularly in the USA.Indeed, our system at the ABTC was the first non-US synthetic training system to be connected to the US Distributed Mission Operations Network for the conduct of combined collective training with the US Air Force.This went on to become a regular occurrence, with QinetiQ personnel leading the effort to ensure that the systems were connected, fully interoperable and ready for training at the appropriate time.
In the first phase of the programme, DSALT was focused on the provision of mission-specific training for Army and RAF personnel about to deploy to Afghanistan on Operation HERRICK.Working closely together in the same physical and virtual environments resulted in greater confidence in each other's roles and abilities, resulting in improved interoperability and reducing the time taken to integrate effectively once in the operational theatre.Complex and dangerous missions could be practised in complete safety, in repeatable scenarios, with comprehensive after action review from which valuable lessons could be learnt.Although today's gaming generation would complain that it is not of the same quality as Call of Duty – the customer requirement was different, as were the budgets! – the level of immersion in the training provided by the DSALT System in the skilful hands of the joint military / Inzpire exercise management team (known as the White Force) was such that reports back from Afghanistan drew strong parallels between a dangerous situation encountered by troops on the ground and a particular mission they had experienced at the ABTC.Moreover, commanders returning from HERRICK commented that the training delivered at the ABTC was the best they had received pre-deployment and was directly responsible for a reduction in loss of life.
Post HERRICK, MOD returned to a contingent operations posture. This shift of emphasis necessitated a rethink of the training provided at the ABTC.Different and additional force elements were required to participate in the training, which now needed to take place across a new geopolitical landscape.Once again, QinetiQ's innovative approach came to the fore through a life extension project that redesigned the system architecture to make it more secure, flexible – it could now host 2 exercises simultaneously – and environmentally friendly.We provided connections to other force elements at RAF Waddington; working with BAE Systems, we linked to their type-specific Typhoon mission training devices allowing pilots to participate in DSALT training from their front-line bases; we linked to the RN Maritime Composite Training System (MCTS) at HMS Collingwood, enabling Operations Teams from front-line warships to participate in DSALT's complex training events (read more here). We also provided additional capability for the Army, allowing Collective Training Level 5 to be conducted for commanders at the 1-star level.
Maintaining operational relevance has been key to the success of DSALT.A constant churn of front-line personnel through the Air Battlespace Training Centre kept everyone on their toes.Inzpire ensured that the latest operational feedback was built into the next available exercise.QinetiQ implemented a number of capability upgrades to the DSALT system – some major and some relatively minor but nonetheless important – to enable the complex training demanded by the end Users to meet their operational commitments. Delivery of Exercise RED KITE in 2017 was highlight of DSALT's post-HERRICK era and heralded a number of 'firsts', from both training and technical perspectives (read more here).
The DSALT programme has been hugely successful, a fitting testament to the effort applied across the Whole Force – military, Civil Service and industry – all pulling together in the spirit of mission led innovation.Indeed, Air Commodore Richard Davies, Commandant of the Air and Space Warfare Centre, remarked during his farewell address to the DSALT Team that, while many organisations claimed to adopt a Whole Force Approach, DSALT actually did it and has operated very successfully within that construct from the beginning.
MOD is now moving forward into the next phase of its synthetic collective training journey with the advent of GLADIATOR – formerly known as Defence Operational Training Capability (Air) – and Joint Fires Synthetic Training, which cover the air and land capabilities previously fielded under DSALT.For now though, following the end of DSALT, there is a capability pause in this area until the new capabilities come on line downstream.