Early Careers Leadership event
02/05/2023
Improving communication and leadership techniques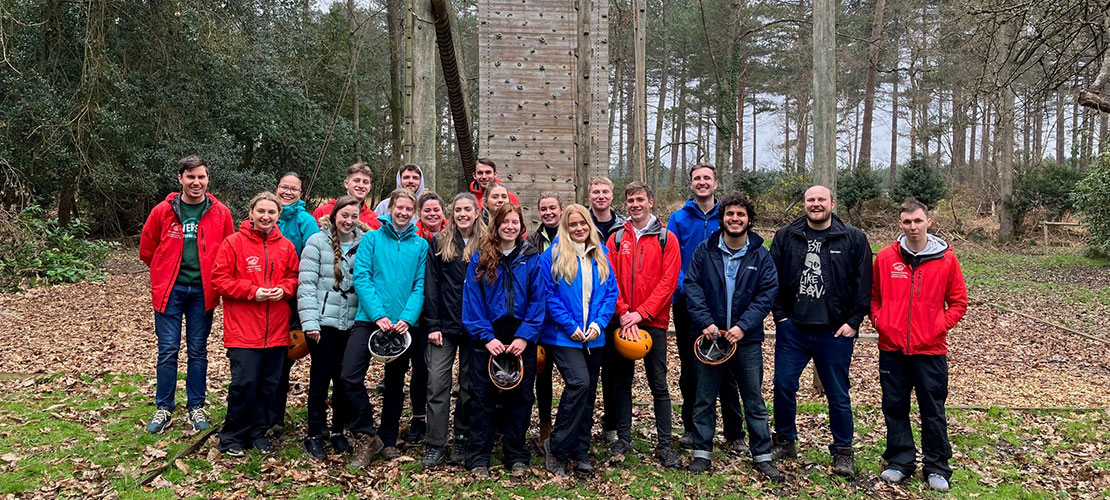 Early Careers programme is designed for our apprentices, year in industry, summer placement students and graduates, providing a rich and rewarding learning experience for them as they start their career with us. Over the last few weeks, more than 70 of our second-year Early Careers Apprentices and Graduates in the UK completed a three-day residential outdoor leadership event.
Based at the Brenscombe Outdoor Centre in Dorset, the event focused on personal development through experience, building on activities that they have already completed as part of their Early Careers Programme.
In small teams, the apprentices and graduates were faced with a number of challenges to explore strategic planning and creative problem solving skills, as well as giving individuals the opportunity to experiment and do things differently.
The second day saw the groups navigating different challenges spaced across the Isle of Purbeck terrain, with teams being awarded points for both task completion and the values and behaviours they demonstrated in doing so. The day culminated in an element of personal challenge on the high ropes course, with colleagues setting their own limits and pushing themselves out of their comfort zones.
By the end of the three days, the apprentices and graduates had not only explored their communication styles and leadership techniques and how, ultimately, these impact the efficiency and success of a team, but also built a valuable network of peers to continue to support their development going forward.
Here's what some of our Early Careers cohort thought of the event:
Ellie, Project Management Graduate: "The trip was a fantastic opportunity; designed to motivate you to step outside of your comfort zone, collaborate with colleagues, and take into account various personality types when working as a team. What I liked the most about the experience was that, despite the fact I hadn't met my team mates before, they were all incredibly supportive and we all respected each other's boundaries.
"Although I am not a fan of heights, I was determined to push myself and finish the obstacles that were high off the ground, and by the time the event was over, I found myself feeling proud and accomplished with the help from my team. I am grateful for the opportunities I have been given as a graduate; I have discovered a lot about who I am, what I wish to improve on and expanded my network."
Lana, Health, Safety and Environmental Apprentice: "Having some time out and being outdoors and away from my screen was really enjoyable. It gave me a massive boost to come back ready for my End Point Assessment and roll off. Some of the activities were so much fun (some were infuriating and some were outright terrifying!) but I'm really glad I took part and it was great to see everyone throw themselves in to the experience."
Ned, Commercial Graduate: "What I liked most about the event was the opportunity to meet and work with members of my Early Careers cohort which I otherwise wouldn't have. Over the two days we worked through a variety of different team based tasks, within each task an individual was given the opportunity to lead their team and afterwards we were given lots of time to reflect on the team performance and the leaders' performance.
"I found the regular reflection pretty enlightening, in my everyday role I don't usually have time for this. As a result, I was able to discover personal aspects that I'd like to improve on, and I have since structured these aspects into three goals, to ready me for rolling off of the Graduate scheme. I'm really glad I went to the event, as not only have I learnt lots about myself I've also grown my network and had an enjoyable time doing so!"
We were really pleased to see our Early Careers cohort connecting with each other, stepping out of their comfort zones, and learning more about themselves. We hope this time away from their everyday roles has provided them with new skills and new connections which will support them throughout the rest of the time on our Early Careers Programme.
To find out more about Early Careers at QinetiQ, please visit our webpage.