Connecting our Fellows & Futures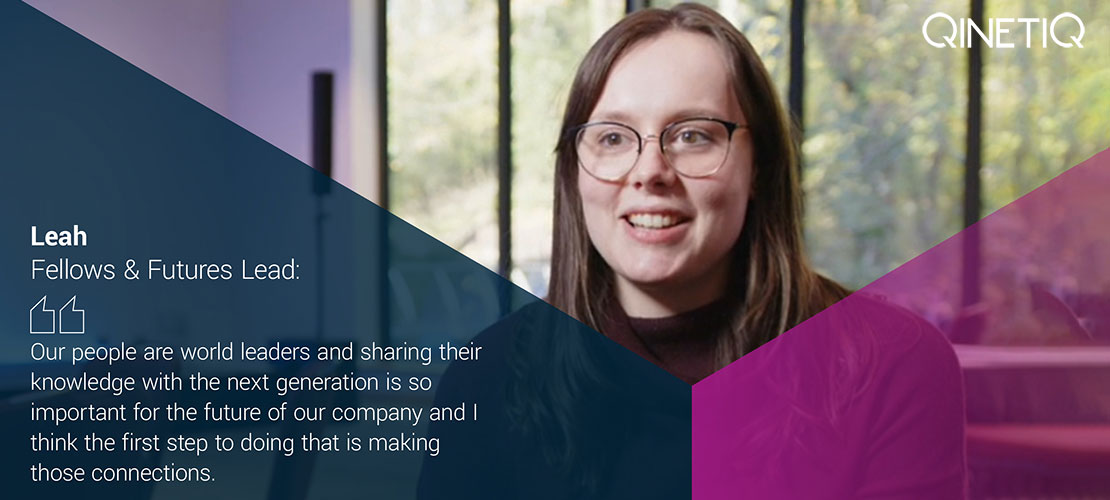 Our commitment to the development of our people is an important part of life at QinetiQ, with our Global Fellowship Programme being a notable part of our employee offering. This global scheme provides public endorsement of the achievements and impact of our technical, scientific, engineering and business leaders who are recognised both nationally and internationally as renowned experts in their field.
In November 2022, colleagues from across the globe joined us for our Fellows & Chiefs Global Community Seminar. During their time together, they were able to have rich discussions and make valuable connections. One of the most significant was between our global Fellows & Chiefs with colleagues in the early to middle stages of their careers, otherwise known as our 'Futures'.
Leah Daly is the driving force behind the Fellows & Futures initiative, designed to encourage collaboration between QinetiQ colleagues with various levels of experience. A Systems Engineer, Leah originally joined QinetiQ in 2017 on a summer placement, before returning to us as a graduate in 2020 having achieved a Master's Degree in Particle Physics.
Leah explains: "Because of my time at QinetiQ, starting as a summer student and coming back as a graduate, it was really useful to have met people already. Because Malvern is a very community driven site, lots of the people I had made connections with happened to be QinetiQ Fellows.
I felt so lucky to have that network and then I thought, hang on, not everyone knows these people! I started thinking maybe I can use the fact that I know people to suggest an idea to get different groups of people talking. I wanted the groups in question to be senior technical people and more junior people, so I settled on the Fellows as the group of senior people, and then I ummed and ahhed about what the other group of people might look like. I eventually settled on the term 'Futures' to try and step away from a particular age.
The word 'Futures' is purposefully undefined, so essentially a Future is someone at QinetiQ who is closer to the start of their career, and it's someone who has been in any industry, or held any job for three to ten years so they are starting to think about technical progression. Or potentially progression to being a Fellow in the long term."
After having the idea to connect Fellows and Futures, Leah shared it with her manager Gillian, a QinetiQ Fellow, who encouraged the idea and advised Leah to speak to Mike, our Chief Technology & Operating Officer. Mike asked Leah to share the concept at the next Fellows quarterly meeting. Leah then began hosting in-person and online networking events to demonstrate the interest her initiative had gained.
Leah said: "Following these events, I was asked if I would run an event at the International Fellows Seminar which was really cool because I actually thought about asking if I could do so but didn't have the confidence to ask, so when I was asked I was really happy.
I was basically given free rein to design the event which was so good because I had the autonomy to do something that I thought the Futures would want and then get the opinions of Fellows like Gillian to see if it was still in line with something the Fellows would like. I think that led to it being a great event."
Celebrating and sharing knowledge is something that we are passionate about as a company, and we believe Leah has the perfect reasons for wanting to connect these two groups.
She says: "I think that networking across levels of seniority is really important to maintain a company which is robust in the future. It helps more junior people to see their career paths if they can develop relationships with senior people, they can start to feel empowered to make their own career decisions.
Innovation is derived from diversity of thought, experience and perspective and I think bringing together two different communities creates that environment and as a result you get innovation and that helps our customer offerings and the quality of the work that we do.
The people that we have at QinetiQ are world leaders and sharing that knowledge with the next generation is so important for the future of our company and I think the first step to doing that is making those connections." By popular demand, Leah is currently working on organising another Fellows & Futures networking event at our next Global Fellows Seminar. We wish her the best of luck in her next steps and thank her for her valuable contribution to our Learning and Development employee offering at QinetiQ.