Postcards from Space: Characterising Exoplanets
Malika de Ridder
CHEOPS is the European Space Agency's CHaracterising ExOPlanet Satellite.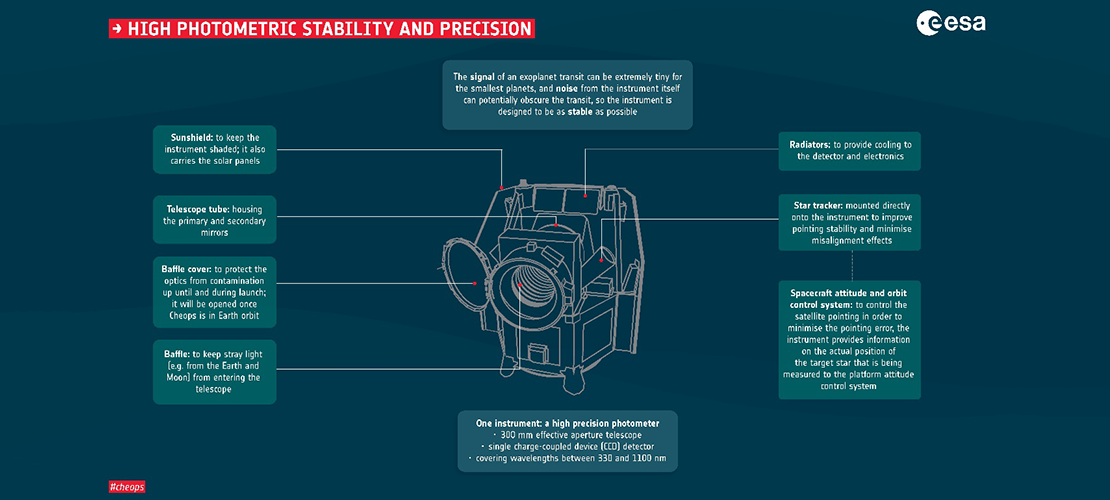 It's a satellite with a telescope that will orbit the Earth at around 700 km of altitude and will study exoplanets. It won't look for new ones, but instead will focus on getting more data on already discovered exoplanets. QinetiQ's space business provided two important pieces of hardware: a two-stage baffle and a lightweight cover.
The baffle's main function is to absorb light so that stars can be observed without disturbances. It has seven accurately aligned vanes to optimize the optical path. It also protects the main scientific instruments and acts as a thermal cover. The cover, with one shot deployment mechanism, protects the telescope prior to and during commissioning and ensures cleanliness.
Image Credit: ESA
Handover of the hardware to the project was done in September 2016 for further system integration and testing, and launch to space happened Wednesday 18th December from French Guiana.
CHEOPS was a great project to work on. There was good communication with the customer and the science teams, and we were able to quickly and professionally work around small problems that were raised when testing. I can't wait to see what science CHEOPS brings! We'll have to wait a bit though, as the satellite will have to go through some testing and calibration in orbit before it starts to produce science.
And how will it do that? CHEOPS will use ultrahigh precision photometry to observe bright nearby stars that have planets. When these planets pass in front of their host star, they create a dip in the light the star emits. The size of this dip is known as the depth of the transit, and it relates directly to the size of the planet in relation to the size of the star: a bigger planet will block a larger fraction than would a small one. Scientists will also be able to calculate the bulk density of the planet, a first step to characterizing these planets. CHEOPS will focus on exoplanets typically ranging from Earth-sized to Neptune-sized.