Strengthening our collaboration with the National Cyber Security Centre
19/04/2018
Last week, we attended CYBERUK in Manchester, meeting with Ciaran Martin, CEO of the National Cyber Security Centre (NCSC).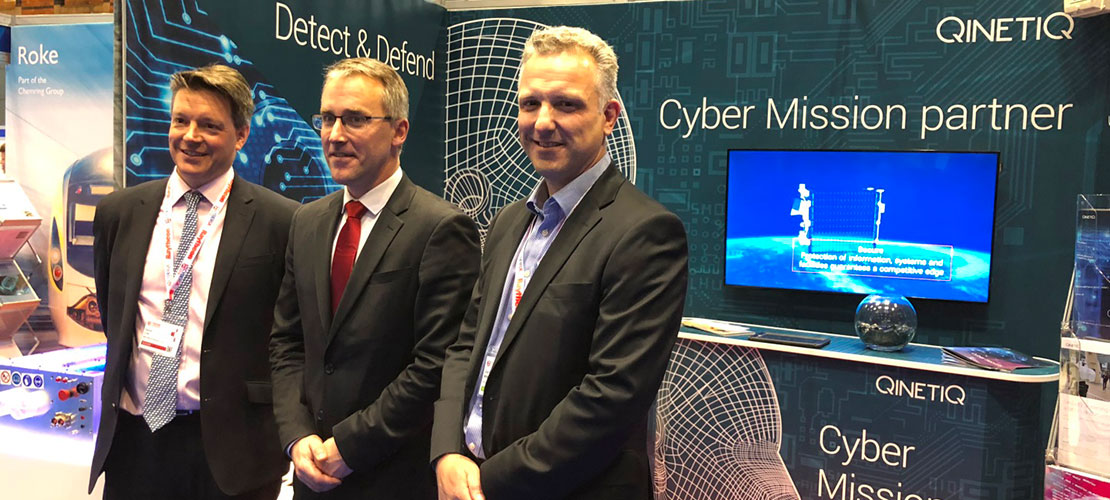 From left to right: David Cole, MD at Roke; Ciaran Martin, CEO at NCSC; James Willis, MD of Cyber, Information & Training at QinetiQ
CYBERUK 2018, the National Cyber Security Centre's (NCSC) flagship event for cyber security, was a great success last week; Amber Rudd, Home Secretary, Jeremy Fleming, Director Government Communications Headquarters (GCHQ) and Ciaran Martin, CEO NCSC, all gave key note addresses and media interviews that have been widely quoted by the mainstream media in recent days, considering current world affairs.
Ciaran Martin's reflections on the overall success of the event are reflected here.
We were joined by Javier Yasnikouski, Head of Maritime Security from the International Maritime Organisation (IMO). Our Cyber Security CTO, Bryan Lillie, and Adam Gostling, Managing Consultant, delivered a thought-provoking presentation looking at how the experience of recent cyber-attacks in the wider industry and the emerging IMO cyber security standards (alongside associated regulation) can be applied to reduce maritime cyber risk.
Paul Beechey from our Ethical Security Testing team and a recognised industry leading expert (CREST Fellow – see footnote*) presented by invitation in the 'Detect & Defend' track. He shared learning from our customer engagements and offered insight into how to get the basics right. Paul Thorlby, our Cyber & Intelligence Group Leader, shared some of QinetiQ's experience as a top tier supporter of the NCSC CyberFirst scheme as part of the 'Nurture' stream. CyberFirst is committed to encouraging leading talent from schools to choose cyber security as a career and improving diversity in the profession. To recognise the importance of encouraging careers in cyber, we sponsor students at universities and host a number of placement students within the scheme.
On top of sharing knowledge and experience at the event, we also collaborated with Roke to co-sponsor both the 'InPractice Detect & Defence' track and the 'Leadership Reduce' stream at CYBERUK, reflecting the increasingly close relationship between QinetiQ and Roke.
Collaboration was a key theme for the event and a major success was strengthening our relationship with the NCSC by getting some personal time with CEO Ciaran Martin and other senior staff. Ciaran emphasised the critical importance he sees in collaboration between NCSC and industry and he thanked both QinetiQ and Roke for their conference sponsorship and continued commitment to the NCSC mission.
Following the first ever joint US–UK statement by the U.S. Department of Homeland Security (DHS), Federal Bureau of Investigation (FBI), and the NCSC about malicious cyber activity carried out by the Russian Government, our relationship with the NCSC is ever-more crucial.
Collaboration is key to cyber security and CYBERUK provided a great example of the advantage that collaboration can bring not only to QinetiQ, but to industry as a whole.
*Footnote: CREST: Council for Registered Ethical Security Testers – one of the two national professional bodies who license ethical security testing professionals. In November 2017, Paul Beechey was awarded one of the first ever CREST Fellowships "in recognition of his outstanding level of commitment to the technical information security industry and the highest level of excellence in CREST examinations."