Remote working through mixed reality
04/06/2021
An article from TechWatch Edition 7, QinetiQ's quarterly horizon-scanning technology publication.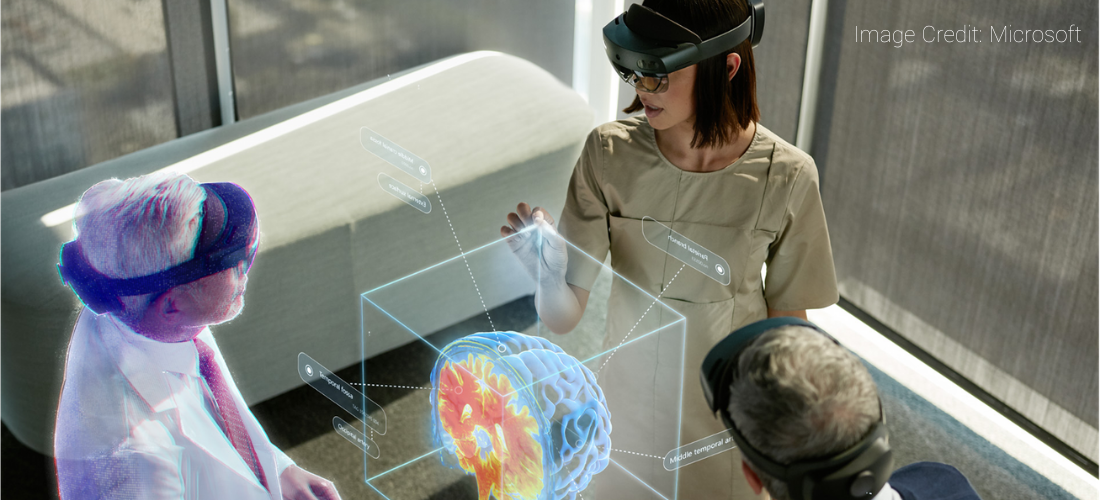 The pandemic has had a huge impact on technology development, in both positive and negative ways. One area to benefit is remote working. Tools like Zoom, Webex and Teams are prime examples.
Now, Microsoft is looking to bring mixed reality (MR) into the next generation of such tools. In March 2021, they announced 'Microsoft Mesh', with the slogan "here can be anywhere". This new collaborative platform, they claim, will enhance virtual meetings and social gatherings, enable virtual design sessions and ultimately improve remote working.
Right now, MR is a buzzword. It describes a hybrid of virtual and augmented reality, and concerns the merging of real and virtual worlds - where physical and virtual objects appear to interact and integrate naturally. Microsoft has been bold enough to suggest that MR represents the 'fourth wave' in computing - with the three preceding waves being mainframes, PCs, and smartphones.
Mesh is built on Microsoft's cloud computing platform Azure. It allows developers to build immersive, multi-user, cross-platform MR applications, and is intended to run on anything from an average smartphone or tablet to Microsoft's HoloLens2 for more immersive experiences.
An impressive promotional video (linked below) shows real-time holograms of people being beamed in to work alongside others, and 3D data materialising in mid-air. Mesh will be delivered over time, but no timescales were provided in Microsoft's announcement. In fact, it's unlikely we will see such a product for some time - some of the necessary technologies, like 3D imaging, are still in development.
Source: Microsoft