Richard tells us what it's like to work as a Capability Area Leader, Directed Energy and Weapon Systems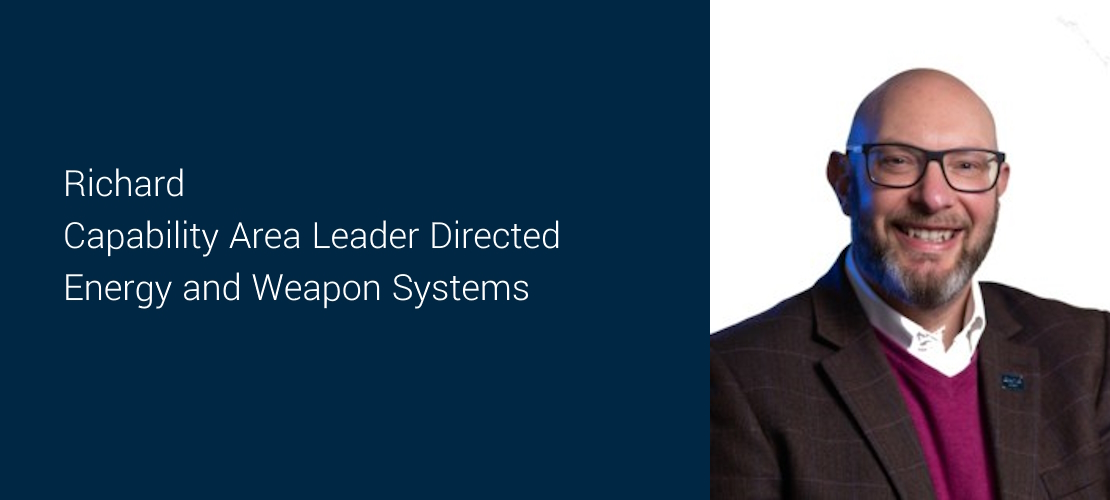 How long have you worked in your current role at QinetiQ?
2 years 6 months in my current role but I have held many different roles in QinetiQ over several years. Part of the appeal of a career in QinetiQ is the opportunity to develop and/or changes roles within the organisation.
Where do you work?
My home site is Cody Technology Park, Farnborough, Hampshire, UK. It is a technology park, campus with a lot of open green spaces which provide a very nice working environment. I also work from home and travel to other QinetiQ sites. Through my role I have had the opportunity to attend technical meetings and conferences at some fantastic overseas locations including China; Japan, South Korea; Australia, the Middle East and the United States.
What do you like most about your role?
I am at the stage in my career where I have a high degree of personal autonomy and I am empowered to do what I think is in the best interest of the organisation – with appropriate checks and balances of course. I have received internal recognition for the value I bring to the organisation and was recently given the accolade of Senior QinetiQ Fellow.
What has working within this role at QinetiQ taught you?
I continue to learn new things and even new skills everyday at QinetiQ. We have some very talented people who often have to form into dynamic teams to solve difficult customer challenges. I have learned that a successful team is often made up of diverse skill sets with the team members from diverse backgrounds and cultures.
What have you achieved in your role so far?
Through my career in QinetiQ I have been encouraged and empowered to develop my skills and experience to the point where I am now recognised internationally for the technical work I have done. I have received awards and accolades from within and from outside of QinetiQ. I have also developed close friendships at QinetiQ.
Why would you recommend a career at QinetiQ?
QinetiQ is a diverse organisation and we deliver many types of outcomes for our customers in Defence and Security sectors. This means that you have many options or career pathways open to you. An individual who joins QinetiQ can be supported to become a deep specialist or to broaden out and try different roles even in different countries in which QinetiQ operates globally.