Sophie tell us what it's like to work as a Change and Communications Manager.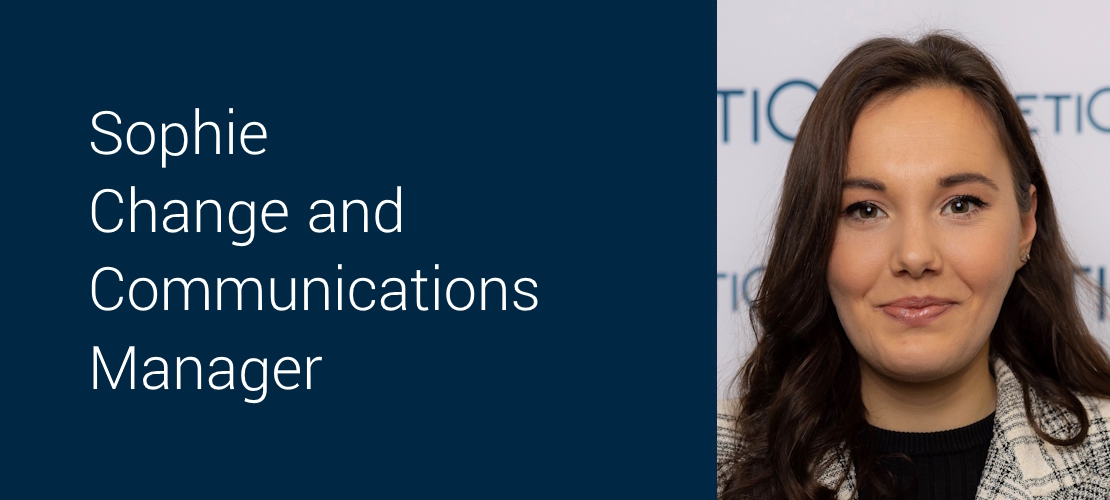 How long have you worked in your current role at QinetiQ?
Three years
Where do you work?
I joined QinetiQ in 2020 as a Graduate Project Manager. Within my Graduate scheme I was seconded in to work with our Chief Executive Officer (CEO) which has lead me to where I am today.
I am now a Business Change and Communications Manager within Programme Excellence, working on delivering our Project Management Improvement Programme (PMIP). My role within this is to promote the change initiatives within the programme through stakeholder engagement, provide ongoing support to our Project Management Community through this exciting phase of Global growth, as well as owning the initiative to develop and improve our Project Management Global Community. I am based in our home site of Farnborough. Being located at the hub enables me to connect and collaborate face-to-face with more people across our business which is hugely valuable to our programmes success.
What do you like most about your role?
No day is ever the same in my role, I love the variety my work has to offer which keeps me busy. I enjoy supporting our Programme Excellence Director with our monthly stakeholder drumbeat meetings which is critical to our success. My role enables me to collaborate and work across all of our Business Units, Functions and Countries to ensure our Improvement Programme supports and is being supported by all areas of our business. I am incredibly passionate about our Project and Programme Management Community. My day-to-day job allows me to engage with our community, listen to their feedback and to develop ways of improving our processes, and make it easier for our community to successfully deliver our project and programmes. My role can be challenging at times as we often receive pushback, however this is outweighed by the hugely rewarding feeling I get from supporting our people through (what can seem like) a lot of change.
What has working within this role at QinetiQ taught you?
One of the greatest lessons I have learnt (and continue to learn) is the importance of Stakeholder Management when it comes to implementing change to a large and diverse audience. I have learnt to adapt to different communication styles and methods depending on who I am engaging with across the Group.
Working within very tight deadlines can be challenging, particularly within turbulent periods, or when priorities within the business change. I have learnt how to juggle multiple deadlines at one time, and learnt to adapt to changes in pace while using an Agile approach to the delivery of our PMIP.
Finally, I have learnt the art of perfection and attention to detail to all communication. I am responsible for the release of all Global communications that are releasing on behalf of Programme Excellence. I learnt the importance of proof reading, reviewing grammar, adapting to different terminology across our Sectors, and having incredibly high standard of what presentations are being released to our Stakeholders (including Board Presentations, monthly QLT presentations etc).
What have you achieved in your role so far?
Throughout my role so far I have taken ownership of one of the very important themes within our overall Project Management Improvement Programme (PMIP). I own the initiative of growing our Project Management Community. Within this, I have designed and launched numerous Knowledge NetworQs, an initiative to bring together our community to support the sharing of best practise and lessons learnt. I have presented this initiative at multiple virtual and in-person events to grow the community.
Supporting our Group Director, I organise multiple key stakeholder engagements to help drive the PMIP, to gain buy-in, and update key stakeholders on the progress against our baselines. I work directly with our Heads of Project Management Offices (both UK and in Australia and the US) to help drive the programme, provide support to our Sectors, as well as engage with other Change and Communication Managers to share best practise and learnings to incorporate in to our Programme.
Why would you recommend a career at QinetiQ?
One of the best things about working for QinetiQ are the people. Everyone who I have had the privilege of working with all live up QinetiQ's values and behaviours, a quality which I live by both inside and outside of the work environment. QinetiQ has given me so many opportunities to develop my Project Management skills and competencies, as well as grow my personal qualities. The work I deliver can be incredibly challenging, but rewarding at the same time.
Our safety and wellbeing is at the heart of how we operate through delivering for our customers to our internal ways of working. At QinetiQ, I feel empowered to make decisions and know I have a great support network around me.