We deliver innovative solutions to meet Airborne Delivery Equipment challenges.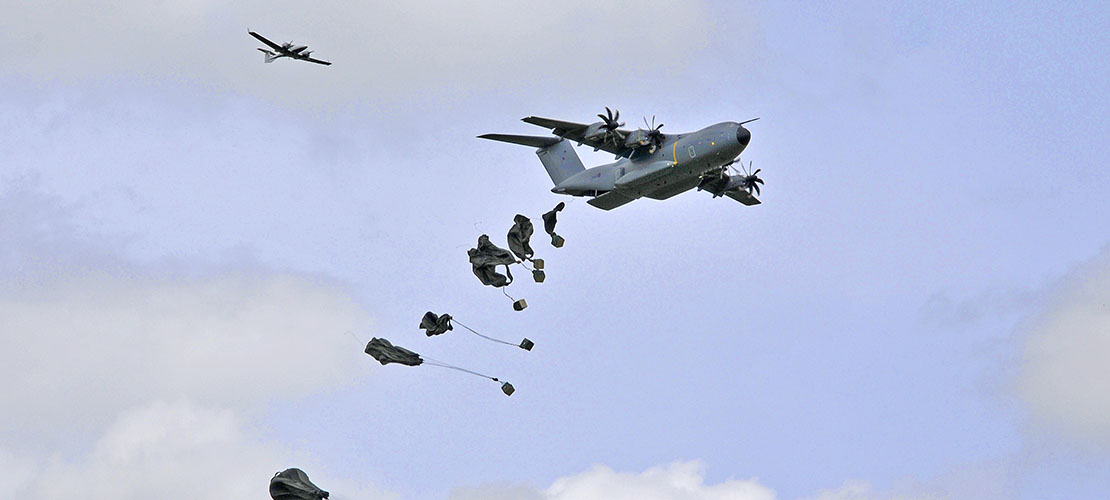 Our team of established test experts have a wealth of front-line experience, and a long and successful track-record of working for the UK Ministry of Defence and with other nations. Providing independent multi-discipline expertise, specialist facilities, flight test and technical support, we ensure and assure the development and integration to service of airborne delivery equipment systems that are airworthy, safe, and fit-for purpose in specified peacetime and operational environments, including:
Cargo Handling Systems
Dispatch of airdrop loads
Installation and use of GPS-aided guidance kits
Static Line and Freefall personnel parachute system types
Integration with Airborne Forces Equipment (such as altimeters, parachutist oxygen systems, parachutist equipment loads, night vision goggles (NVGs))
As a result, our customers can be confident that the Air Delivery and Airborne Forces Equipment is airworthy, safe and fit-for-purpose in the specified peacetime and operational environments.
Unique selling points
Our team of Airborne Forces Equipment specialists is drawn from both operational and academic engineering backgrounds. This balance and diversity allows us to assist our customers in procuring systems that are technically safe, while taking account of operational demands and working conditions. We also have experience in air and ground photography, trials instrumentation, and subsequent analysis of trials data.
With extensive knowledge of personnel parachute system design modifications we can improve safety or performance, and our specialist test techniques include multi-stage dummy parachute deployment rigs to test equipment performance prior to live use.
Computed and Calculated Air Release Point (CARP) capability includes following loads and Drop Zone Safety Trace specialists, and we can integrate all ancillary equipment, such as altimeters and parachutist oxygen systems.