QinetiQ apprentices celebrate graduation as training school announces record intake
29/09/2016
Twenty-three apprentices have celebrated their graduation from QinetiQ's apprenticeship schemes at a ceremony at MOD Boscombe Down, Wiltshire.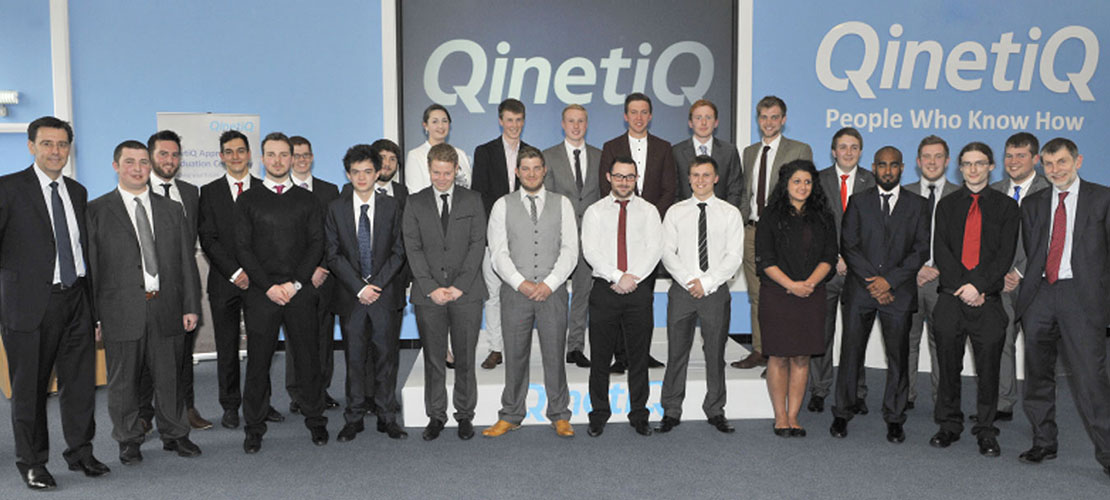 The apprentices, who graduated in aeronautical engineering, mechanical manufacturing, electrical engineering, IT, and facilities management, have all kick-started their careers by earning full-time positions at QinetiQ.
Facilities Management apprentice Carl English received the CEO Award at the ceremony, in recognition of his outstanding professionalism, ability and exceptional standard of work.
Ian Beresford, Group Director Engineering & Operations, QinetiQ, said: "I wish this year's graduates the best of luck as they set out in what I'm sure will be long and rewarding careers. These young people have a great head-start, entering the job market with skills already developed and put to the test in the workplace. As an employer we know just how valuable this is, and recognise the importance of apprenticeships in addressing the skills gap in UK industry. Our commitment to developing young talent is underlined in our membership of The 5% Club, which encourages employers to ensure 5% of their workforces are apprentices, sponsored students, and graduates on formal programmes."
Record intake
The graduation ceremony coincides with the start of the school's academic year, in which a record number of 47 apprentices have joined the ranks.
Twenty join as QinetiQ apprentices, including one in the newly introduced discipline of logistics and procurement, alongside 21 Defence Science and Technology Laboratory (Dstl) apprentices, who QinetiQ will train at the school.
For the first time, six National Crime Agency (NCA) apprentices join the four-year Electronic Apprenticeship Training programme. The contract with NCA to train its apprentices marks the school's first commercial contract, won through its first competitive tender.
Melanie Jackson, Head of QATS, said: "The invitation to compete for the NCA contract followed a recommendation from one of QATS existing customers and marks the start of exciting new opportunities for the school. We are delighted to welcome all those who have joined us this year and look forward to another productive and enjoyable programme."
The QinetiQ Apprentice Training School is a fully accredited City and Guilds centre and its courses are approved by the Sector Skills Council for Science, Engineering and Manufacturing Technologies (SEMTA). The school's pass rate and the number of its students entering work after completing the course are both well above the national average.
Notes for Editors:
Listed on the London Stock Exchange (LSE: QQ.L), QinetiQ is a leading science and engineering company operating primarily in the defence, security and aerospace markets. Our customers are predominantly government organisations including defence departments, as well as international customers in other targeted sectors.
For further information, please contact:
QinetiQ Press Office on Tel: +44 (0) 1252 39 3500
Email: PressOffice@QinetiQ.com