Trainee Opportunities Encouraging Diversity in the Defence Industry
10/06/2021
Office Administration Trainee Shieyanne Copley-Morgan has joined our Brisbane team as part of the AFL SportsReady Indigenous Traineeship program.
As part of our commitment to provide Indigenous Employment Opportunities under our Reconciliation Action Plan, QinetiQ Australia has partnered with AFL SportsReady to create Indigenous Traineeship opportunities for Aboriginal and Torres Strait Islanders wanting a career in the Defence industry.
The Traineeship positions offer certificate-level study, on the job training, mentoring and employment pathways to future permanent roles within the business.
"We partnered with the AFL SportsReady traineeship program as they had established a fantastic program where they matched candidates to our specific requirements and provided ongoing support to make this a successful initiative," said Jo Burns, a Talent Acquisition/People & Capability Business partner at QinetiQ Australia.
In March this year, Shieyanne Copley-Morgan, known by her teammates as Shy, started as QinetiQ's first Business Administration Trainee in the Brisbane Office.
Shy is working as part of the People and Capability team under the guidance of QinetiQ's People and Capability Employee Services Manager, Angie Fisher.
"Shy is doing incredibly well and has adapted quickly to our office environment. She is learning something new every day and is getting to understand and be exposed to all the different facets of HR and Office Administration. Shy brought with her fantastic customer service skills and has been a great support to our team by taking on a number of important administrative functions and providing support to our growing business," said Angie.
Jessica Ciccozzi, General Manager People and Capability said "The partnership arrangement with AFL SportsReady has been a very positive experience for the business. The support and education provided by the team during the process was exceptional and enabled us to find a fantastic candidate in Shy who is already adding real value to our business. I would encourage other organisations to consider dedicated Indigenous Traineeships as an opportunity to increase diversity within their organisations and create meaningful employment pathways and training for future generations of Indigenous Australians."
Job Opportunity
Following on from the success of the partnership with AFL SportsReady, QinetiQ have expanded the Traineeship program to create a new opportunity for a Business Administration Trainee to join their Canberra team. QinetiQ are excited to be offering this role as either a Full-Time or Part-Time role, providing flexible hours to attract the right candidate.

To Apply
For more information about this Traineeship opportunity or to apply please contact Jo Burns directly at: jburns@qinetiq.com.au
2022 Graduate Program
In addition to this current Traineeship opportunity, QinetiQ have also opened applications for their 2022 Graduate Program and encourage Aboriginal and Torres Strait Islander candidates to apply by contacting Jo Burns directly at: jburns@qinetiq.com.au
About QinetiQ
QinetiQ employs more than 6000 people in 51 locations around the world, offering customers premier expertise in advice, services and creative technology-based products. QinetiQ Australia, part of the global QinetiQ group, provides technological and scientific expertise to help customers protect and advance their vital interests. As an innovative science and technology company, we help solve some of our customers' most challenging problems. Our determination to deliver and improve today and anticipate and shape tomorrow, makes QinetiQ a very exciting, rewarding and respected place to work and learn.
Why Now?
As the defence industry in Australia grows, now is an exciting time to join QinetiQ. What the company looks like today will be different to that of tomorrow as we navigate an ever changing world. To innovate for our customers' advantage, we value the need for diversity of thought in everything we do. We provide a flexible and inclusive environment where our people can bring their whole selves to work, meaningfully contribute and have equal opportunity to succeed. We actively seek applications from people who come from diverse backgrounds and experiences. Aligned with our Gender Equality Strategy and Reconciliation Action Plan we also encourage applications from women, Aboriginal and Torres Strait Islander people.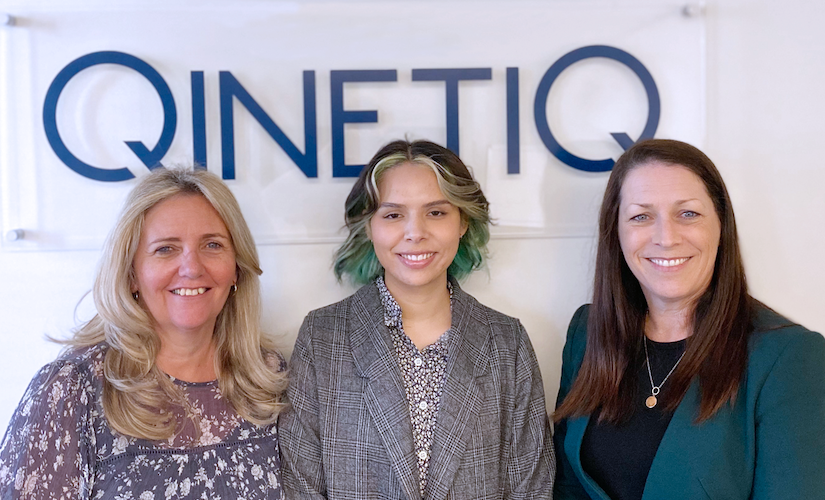 Pictured: Employee Services Manager Angie Fisher, Trainee Office Administrator Shieyanne Copley-Morgan and General Manager Commercial Clare Little