The Early Careers Development Programme supports our Early Careers Community in their initial working years. It is important for us to create a talent pipeline of subject matter experts, innovators and leaders for the future of our company. The Early Careers Community bring new perspective and ideas, different approaches to work and an abundance of energy, whilst we equip them with the knowledge, skills and experience they need in order to succeed.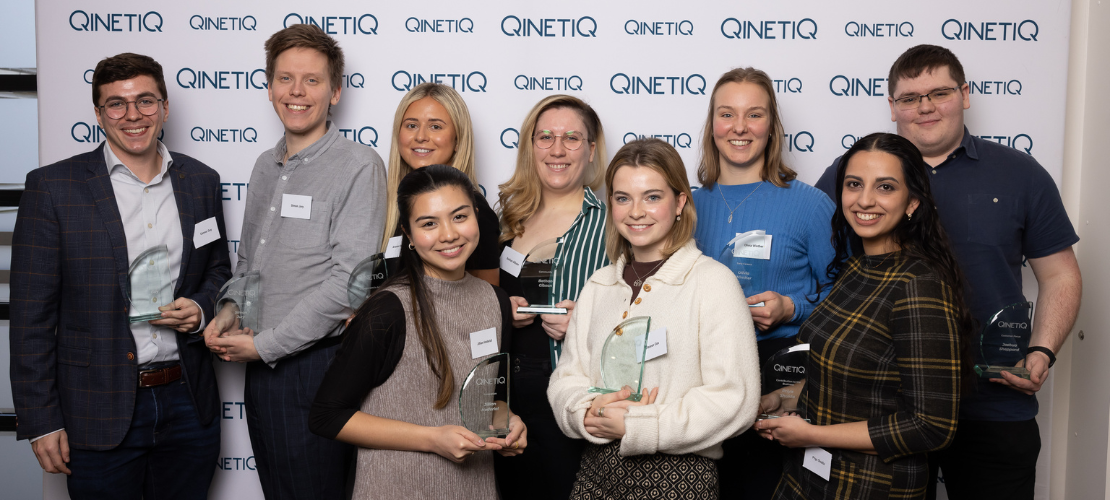 On the 18th January, we came together to celebrate those who completed their apprenticeship and graduate programmes in August 2022. We were joined by members of our leadership team and business colleagues to recognise their achievements and offer their thanks and continued support for the cohort in their new roles here.
Early Careers are also supporting the National Trust 'Plant a Tree' campaign by buying 1000m² of woodland to celebrate each employee graduating from Early Careers Programme. It's a fitting way to celebrate the growth of our Early Careers employees by helping to grow trees and having a positive effect on the environment.
The plant a tree fund will help create beautiful green spaces for people and wildlife including the red squirrel, song thrush and red kite to thrive. Planting trees for future generations that will absorb carbon (for the Next cohort we aim to buy the woodland to offset their carbon emissions during the programme) and enable nature to thrive, a reflection of how we are investing in our future and those early in their Careers to thrive.
As part of the event, we recognised high performance with awards being distributed for outstanding achievements, celebrating those who excelled and really stood out for their contribution to the business.
Here's what our winners had to say.
Eleanor (Elly) Cox:
'I work in the Human Behaviour and Systems team as an Associate Human Factors Consultant. During the graduate scheme, I had some brilliant opportunities to work with great people who are experts in their field. Whilst working with the Applied Physiology team, I worked on two large human trials: one in the altitude chamber and one in the thermal chamber. I received a Safe for Life award for these two projects at the Early Careers celebration. I was nominated for the work itself but also for supporting my colleague's wellbeing during very long and tiring trial days. The trials gave me great scientific insight and also helped me to really feel part of the team, despite the days being quite tough! Thank you for the award and for all the support over the graduate scheme. It was great to have a celebration at the end of the programme as we got the chance to see other Early Career's members and celebrate each other's achievements.'
Olivia Winther:
'I am an Associate Scientist with the Applied Physiology Team at QinetiQ. During my time on the graduate scheme I have had the opportunity to experience how the theoretical physiology I learned at university can be applied in real-life settings, such as understanding the thermal protection abilities of military clothing. At this year's Early Careers Celebration, I received the Early Careers award which was a lovely surprise and a wonderful way to mark the end of the graduate scheme. The award recognised my creation of the Applied Science Day and contribution to STEM activities with the University of Leeds. Hearing all the descriptions for the other award winners was a wonderful way to find out about the amazing work done by those in the 2020 cohort, and a reminder for the breadth of knowledge at QinetiQ.'
Connor Guy:
'I came into QinetiQ through the early careers programme a little while ago now so I am really proud to now be receiving an award as a functional manager from the early careers programme. I was very fortunate with the leaders and experienced colleagues I had around me in the start of my career and hopefully this means I am someway to following their example. As a manager, I've always tried to focus on the wellbeing of my team members and it was really great to hear that reflected in the reason I was nominated. I'd like to also use this opportunity to say a big thankyou to everyone in the early careers team who work so hard to make the graduate programme a success!'
Josh Sheppard:
'As an apprentice, my past 3 years with QinetiQ have been very busy from studying at university, going on various placements, completing coursework, then in my third year all of these coalescing at once along with a small dissertation project. This was only achievable because I had the support of my teams during placement who gave me the freedom to work on projects but take time to focus on my studies. Particularly when working with CADT & the SOC, who helped not only further my placement with freedom to undertake custom reporting and intelligence generation, but also aided in answering a large and drawn-out questionnaire for my dissertation with insightful viewpoints that I otherwise wouldn't have been exposed to. The Early Careers Celebration was a great way for me to draw these 3 years to a close so that I can look forward to new projects and opportunities.'
Simon Jury:
'I joined QinetiQ in September 2020 as an RF, Secure Networks and Comms Graduate. The first work I did upon joining was as part of an iRAD project in the area of acoustic communications supporting the development of a novel channel modelling tool. Following this I worked to support the design and build of the UK MODs Acoustic Performance and Assessment Facility. For one of my graduate scheme placements I was given the opportunity to work with the Ionospheric Weather Team based in Malvern, supporting the development of ionospheric propagation models. Since completing the graduate scheme I have begun work as a communications scientist in my home team at PTP. I will be forever grateful to my team for being so supportive. They have been incredibly welcoming to me ever since I joined and have always encouraged me to ask question and explore. I have been given the opportunity to lead and been pushed out of my comfort zone, but I knew that support and advice was always there if I needed it.'
Priya Shukla:
'I joined QinetiQ as a Systems Engineering Graduate in September 2020. Since then I have worked mostly out of PTP for the RCS (Radar Cross Section) Programme – one of the LTPA's largest investment programmes – as well as supporting a sustainment project for the Funtington site facilities and work on the RJ100 ATD at Boscombe Down. I'm honoured to have won an award at this year's Early Careers Graduation Ceremony for Contribution to Business for seeking out new work and tasks that add high impact value to the RCS Capability Programme. This included providing technical progress metrics and helping to advance key system equipment design activities, whilst also managing our Jira and Confluence Toolset to support delivery. The Graduation ceremony was such a fun day out and a lovely opportunity to reconnect with all the fellow grads and apprentices I've met throughout my journey with QinetiQ so far. The highlight has to be playing Uptown Funk in the style of Guitar Hero with slap sticks!'
Arianne Ward:
'I joined QinetiQ in September 2021 as a Commercial Graduate, joining during Covid-19 gave little opportunities to meet with the rest of the cohort so when I saw the invited for an early careers celebrating event I was excited to re-connect with colleagues I had not seen since the Outdoor Leadership Trip in April. On the day, I received an award for Engagement in Action which was a great surprise. I am grateful for the support my functional manager and the early careers team have provided across the scheme and it was amazing to be recognised for my contribution to my teams.'
Jillian Hoderial:
'I joined the Novel Materials team in September 2020 as an Applied Science graduate. During my time on the programme, I've been involved in a wide range of projects, supporting various teams across AS&P. I was able to be involved in projects such as the synthesis and characterisation of anti-viral nanoparticles, the production of smart functional materials, supporting on night vision trials on military aircraft, and the testing of CBRN protective systems for aircrew. During the last year of my programme, I had the opportunity to be involved in the Engineering Biology space within QinetiQ. I was very excited to be a part of this capability, which aligned well with my interests and allowed me to draw knowledge and experience from my degree in Bioengineering. At the Early Careers ceremony, I received an award for my contribution in Innovation in Engineering Biology. To receive recognition on my personal contribution towards this growing area was extremely rewarding and a big surpise! I'm really enjoying my current role and very excited to see what the future holds for me during my time at QinetiQ. The Early Careers event was a blast – I was tired out from all the drumming and slapping by the end though!'
Linzi Horstmann:
'I feel very grateful to be receiving the "Engagement in Action" award as a Functional Manager for our Project Management Early Careers. I started my career in QinetiQ over 26 years ago and am very passionate about ensuring my knowledge and experience is passed onto our Early Careers. Engagement is so important and I always ensure that all our Project Management Graduates have a strong network of support and awareness for them to excel. I would like to extend my sincere thanks to everyone that I engage with who supports me with the Project Management Graduate Programme. It is a great honour to receive this award. Thank you!'