CES 2023: The Road to the Open Metaverse
21/02/2023
David Taylor - Senior Principle Systems Engineer, QinetiQ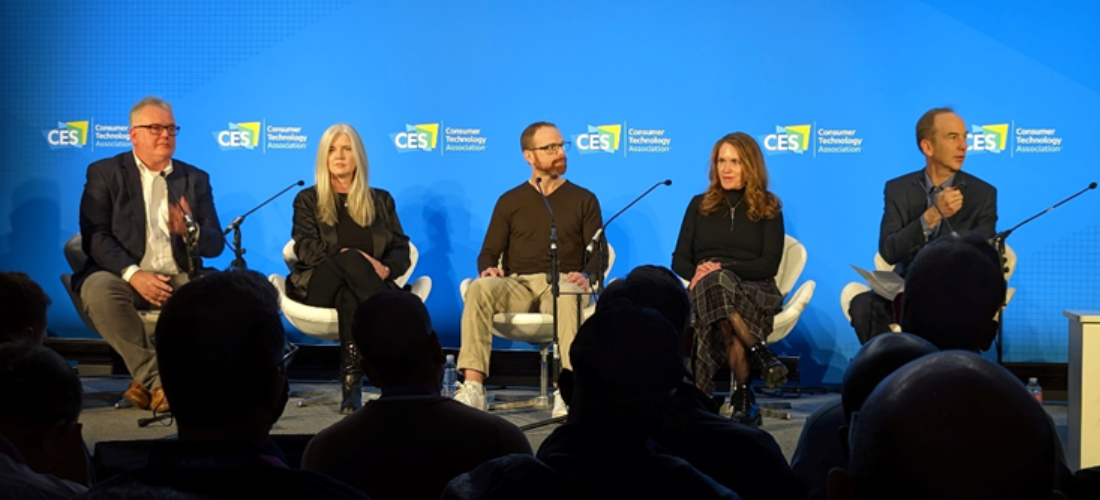 Attending CES is not just an opportunity to see new technologies and services arriving this year; the event also hosts a wide variety of panel sessions where industry leaders come together to provide opinion and insight.
One such session titled "The Road to the Open Metaverse" featured an expert panel answering questions from the audience. Whilst the topic of the metaverse still generates a lot more hype than concept, this session started to show that industry is committed to making real progress.

The metaverse today
The session was kicked off with the panellists answering which definitions and applications we are currently seeing in the metaverse space. Neil Trevett, Chair of the Metaverse Standards Forum, felt that describing the metaverse as "web + spatial computing" is about as close to a definition as you can get presently. Edwina Fitzmaurice, EY Global Chief Customer Success Officer, observed that businesses are using metaverse technology for consumer collaboration such as concerts, games and entertainment; whilst from an enterprise perspective, businesses are training employees using digital twins and utilising metaverse technology in onboarding activity and recruitment. Peggy Johnson, CEO of Magic Leap, suggested that although there was really positive growth in the consumer sector, the enterprise space was more valuable to them until headset prices can reduce.
The various components required to build metaverse experiences are at varying levels of maturity, and the panellists were asked what the current big blockers to progress are. One key area that the panel agreed was strongly lacking was the presence of 'Killer Apps' that encourage take-up of metaverse technology. They also noted that the delivery of radically different, human-centric experiences isn't seen in the current market, and that privacy, safety and the ethics deployed for those using these environments is immature and needing work.
Patrick Cozzi, CEO of Cezium, flagged interoperability as another key blocker. Businesses are presently building siloed experiences – the opposite of what the metaverse concept aims to achieve. The Metaverse Standard Forum has been building cooperation with many third parties to tackle this:
"Whilst not a standards organisation, this collaborative approach is coordinating technical approaches for longer term assessment and discussion" - Neil Trevett, Chair of the Metaverse Standards Forum

The metaverse tomorrow
When asked for their opinions on what might be seen at CES this year and beyond, the panel was able to speculate on what they expect of Metaverse technologies in the future.
Peggy Johnson suggested that augmented reality (AR) technology (such as Magic Leap 2) would provide additional support in operating theatres, giving surgeons 3D visualisations during medical procedures. This follows Magic Leap's recent announcement that they recieved IEC 60601 certification for safety and effectiveness as medical electrical equipment.
Patrick Cozzi brought a different view, commenting that he was confident that on-site use of digital twins would accelerate collaboration, design work, and customer visualisations. Edwina Fitzmaurice possibly speculated on the arrival of an Apple AR device, suggesting: "this year might be the year I think we're going to see AR glasses coming for the first time in a meaningful way, supported by some really good apps".
Neil Trevitt provided some final views whereby he said if he had the opportunity to sit down with a CEO to give advice, he would provide these key points:
• Don't get left behind the metaverse hype cycle – you need to be part of it
• Keep abreast of the rapid advancements in metaverse technologies and examine them in terms of disruptive threats to your business
• Don't be dispirited about speculation that the metaverse future is dystopian and disastrous – human nature will likely leverage the technologies in positive ways yet to be conceived.
In summary, this session indicated that real progress is being made with metaverse technologies, and enterprise use is increasing. It's clear that there is a need for businesses to embrace the current capabilities and prepare for what is expected to be an incredibly disruptive capability as maturity is reached.
Read more about CES 2023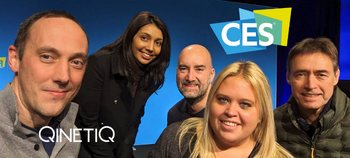 Welcome to CES 2023: Tech trends to watch out for
Our innovation team are back in Las Vegas for CES 2023. This blog explores some of the key global challenges and how technology trends can help to mitigate these. It also addresses how defence, security and critical infrastructure sectors might learn from, exploring their potential value to industry customers.