Charlotte's story
10/03/2023
A graduate placement in the CEO's office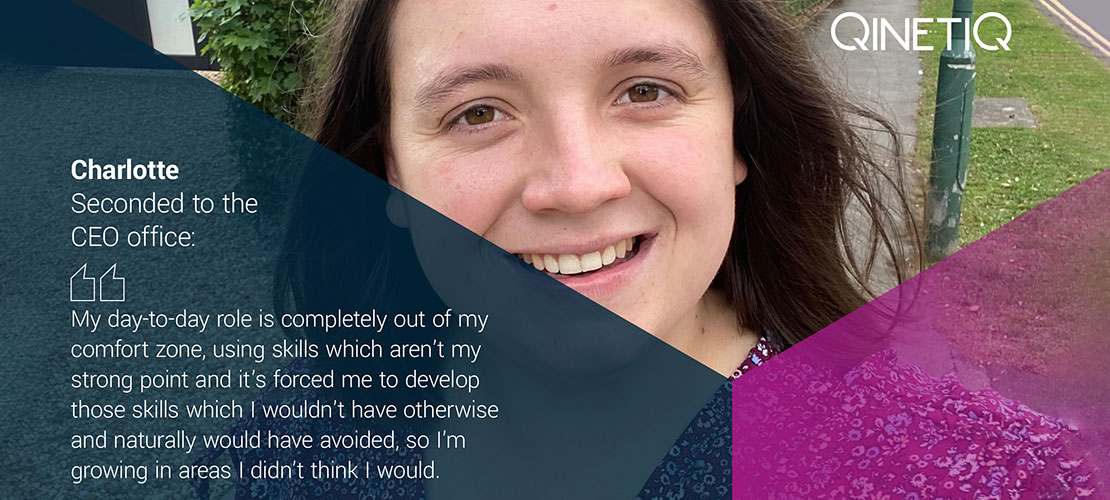 As part of our Early Careers Programme, we provide graduates with the opportunity to complete placements across all areas of our company. Knowledge sharing and networking is important in any business and we want to ensure our graduate and apprentice colleagues, as part of their learning and development, are able to experience the different areas of QinetiQ; expanding their experience and network. As part of our programme, we are proud to offer the opportunity to complete placements with members of our QinetiQ Leadership Team, including the Group CEO.
Charlotte, an Analysis Modelling & Simulation Graduate, is currently completing a placement within our CEO office, working side by side with Group CEO, Steve Wadey, and Chief of Staff, Gordon Barr.
We asked Charlotte about her experience and the advice she has for others who would like to be part of a similar placement.
Charlotte, why did you apply for a placement in the CEO office?
I joined QinetiQ as a technical graduate, working in Mission Systems particularly on Sensor Fusion and the Typhoon. After university I wanted to do something technical but I have also always had a passion for business.
I applied for the position in the CEO's office because I thought it was a great opportunity to shadow a member of the leadership team. In particular, being in the CEO's office, I would get to work with the CEO himself and the rest of the QinetiQ Leadership Team (QLT) so it was a placement where I could see what every member did in their roles. My other reason was to gain a top-down view of the company and to learn how the technical project teams fit into the wider organisation.
What have you been working on during your placement?
The CEO Graduate Placement is incredibly varied, so every day I'll be working on something completely different. However, I would say there are two main areas of focus. Firstly, I prepare material and presentations for internal and external events, including the internal Global Employee Roadshows, and externally the Investors Results presentations. I'm also working on the CEO's employee engagements visiting our different sites this year, so that involves setting up working groups and preparing the material for his visits to Malvern, Ashford, Inzpire, and recently to Australia.
What has it been like working so closely with the CEO and other members of the QLT?
I think the first thing that you realise, and it sounds silly to say, is that they are just normal people who are really passionate and driven. It's quite easy to not see them as that, especially coming from a graduate level, but actually once you start working with them you just realise they are normal people.
It's interesting to see how they tackle different problems and challenges and see the amount of thought and preparation that goes into events and sending out the right messages.
It's also been surprising just how welcoming and prepared they are to answer questions and explain how things work, and also how interested they are in your opinion. That's something that I didn't realise, how much my opinion would be valued and respected.
What have you learnt so far during this placement?
This placement is very different from what I was doing before. Naturally I'm a maths geek who loves problem solving and studying numbers, but this placement has allowed me to fill my need for learning about the company.
My day-to-day role is completely out of my comfort zone, using skills which aren't my strong point and it's forced me to develop those skills which I wouldn't have otherwise and naturally would have avoided, so I'm growing in areas I didn't think I would.
It's also given me greater confidence. Having to speak to senior stakeholders, has meant that I have had to get better at communication and portraying the right message. This placement has also allowed me to grow my professional network, both in regards to senior leaders across all areas of the company, but also through working on the site visits I have been able to expand my network across sites. I would say I've developed in every single area.
What advice would you give to someone who is thinking of applying to this placement?
I would say it's a really valuable experience and opportunity, no matter where you are in the company, whether you are studying in a lab, or a project manager, I think it's a perfect opportunity for anyone to learn and develop.
You can make the CEO placement what you want it to be, so I've been able to focus in on the skills I want to focus on. Because the job changes every day, you can tailor it to what you want to do and get stuck in with the projects that you are personally interested in, which I think is a special opportunity.
I'd say go for it, and I think this is a great opportunity for anyone who wants to learn about QinetiQ or business generally.
We'd like to thank Charlotte for taking the time to share her experience with us and we wish her the best as she continues her develop on our Graduate Programme. Could this be you? To search and apply for an Early Careers role at QinetiQ, visit our web page: Early Careers.