We've arrived at the end of day one of DSEI 2021 and the relative normality of a live event – observing discretionary social distancing, of course. Our team at the show have rounded up some of today's highlights, as well as our some of our own news you'd have missed unless you were here in this
(5 minute-read)
blog
.
We'll be doing one of these each day of the show, so make sure you come back to our blog pages each day of DSEI.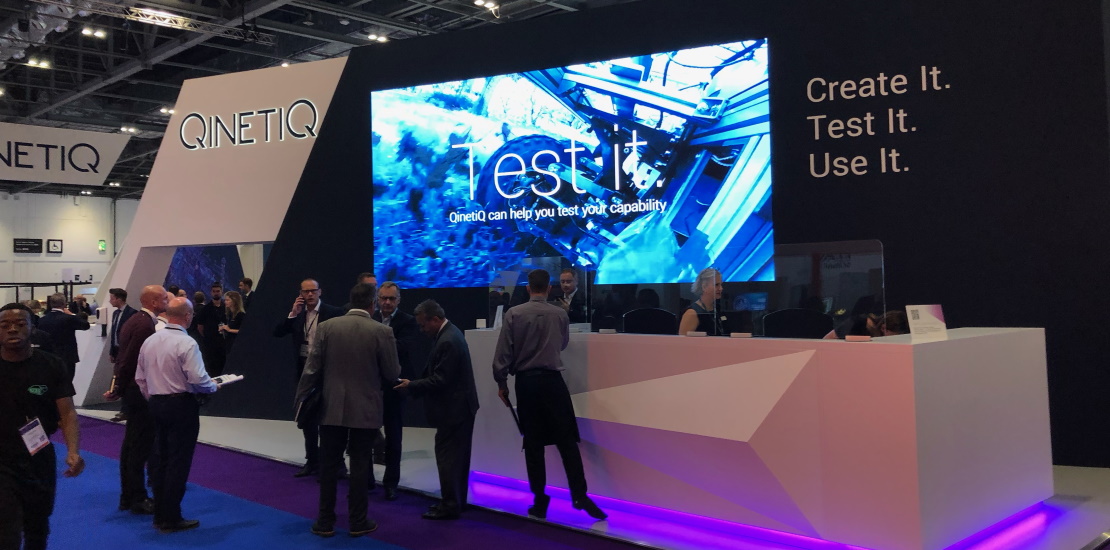 Multi Domain Integration
General Sir Patrick Sanders kicked-off the day with his keynote address. Here he directly set out the challenge facing national military services the world over: how to integrate systems, and intelligence across not just three but five domains: air, land, sea plus space and cyber to achieve:
Persistent national strategic advantage

Integration by design and instinct
More efficient use of defence resources
Faster, better decision making
Culture change
But why? The world has changed, and while we've been in the information age for a long time, our military forces are fighting the same way they did in the era of industrial warfare. This is presenting an ever increasing challenge for our defence services. Sir Patrick quotes General Gerasimov:
"The very rules of warfare have changed. The role of non-military means of achieving political and strategic goals has grown and in many cases they have exceeded the power of force of weapons in their effectiveness".
Faced with adversaries embracing this new way of warfare, the UK and other nations are ill-equipped to defend themselves against a foe whose goal is to win without fighting. Sir Patrick directly calls them out: "let's name them, Russia and China" who persistently and continually engage using "grey-zone" cyber and information and statecraft techniques (see our Grey Zone report here), that don't fit current definitions of warfare.
What's the solution? In the UK, the challenge of integrating across domains is a multi-year effort spanning the defence ecosystem with plans for change being drawn to complete in 2030. And as Robert Turnbull Hall, Global Business Development Lead, Maritime Information Advantage, will talk about in his session streamed on Thursday from our very own virtual event running alongside DSEI, QinetiQ Virtual View at DSEI (sign up here), QinetiQ is proud to support the MOD-industry working group facilitated by Team Defence Information.
Sir Patrick leaves us with a few positive thoughts and plans for action: we have had an historic funding settlement in the last 12 months that will allow us to modernise, the mandate to radically adapt our acquisition model in DSIS and in the Integrated Operating Concept, the source code for how we will integrate and fight as a whole across domains. With this framework in place we have to work to operationalise multi domain integration – with initiatives to proactively engage across social media platforms, to be prepared to conduct precision 'soft strikes' or hard strikes where necessary using a pervasive ISR architecture across all five domains. And of course this will be underpinned by technology and people which the Integrated Review lays the foundations for us to achieve: A force that harnesses pervasive sensors, resilient networks, cloud and edge computing. One that applies Machine Learning and AI to exploit data, support decision-making and enable expendable autonomous systems and swarming. It will be more about drones and missiles, than manned platforms.
Collaborating for Success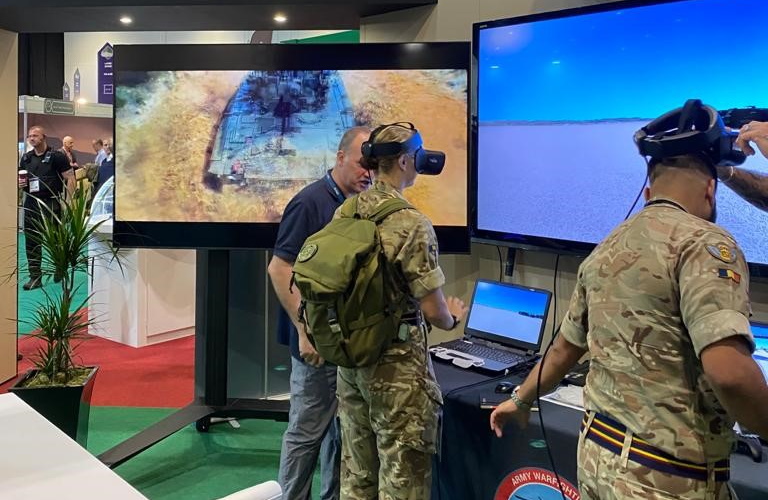 A strong theme this year has been collaboration. Indeed, achieving the multi domain integration goal will require an unprecedented level of collaboration across the military, government and commercial defence ecosystem.
Specialists from our training and simulation centre of excellence were supporting their partners in uniform, and flexing their technical expertise, on both the Army HQ and Defence Intelligence Training Group exhibits.
Putting hi-tech hardware onto the heads and into the hands of distinguished visitors, members of our training delivery teams are assisting the Army in showcasing its evolving understanding of Virtual Reality and the technology's potential to support future collective training.
Guests to the stand have been given a digital tour of forthcoming warfighting experiments using elements of QinetiQ's Unit Based Virtual Training (UBVT) system, which entered core military service in 2017 and since been used to immerse close to 12,000 troops in tailored high-fidelity synthetic environments at locations across the UK Germany, Cyprus and Brunei.
The united military and industry front at the show reflects the relationship in practice at the Defence Intelligence Synthetic Training Environment facility at Chicksands in Bedfordshire, where a team of our embedded experts are working closely with tri-Service trainers to develop and deliver synthetic exercises that accurately reflect the critical role coherent intelligence plays in mission-focused decision making.
Technology Focus
DSEI is the place to find out about the latest defence technology innovations. Those of you who know QinetiQ will be aware of our quarterly Techwatch report. We're stepping up the pace during DSEI for this quarter's edition by going Live. Each day and across the week of DSEI we'll have a technology-specific deep dive for you with a digital-only mix of videos, podcasts, blogs and infographics spotlighting new technology and trends exhibited at the show and from beyond. Make sure you visit TechWatch Live each day to find out the latest from the show.
UK's approach to National Cyber Defence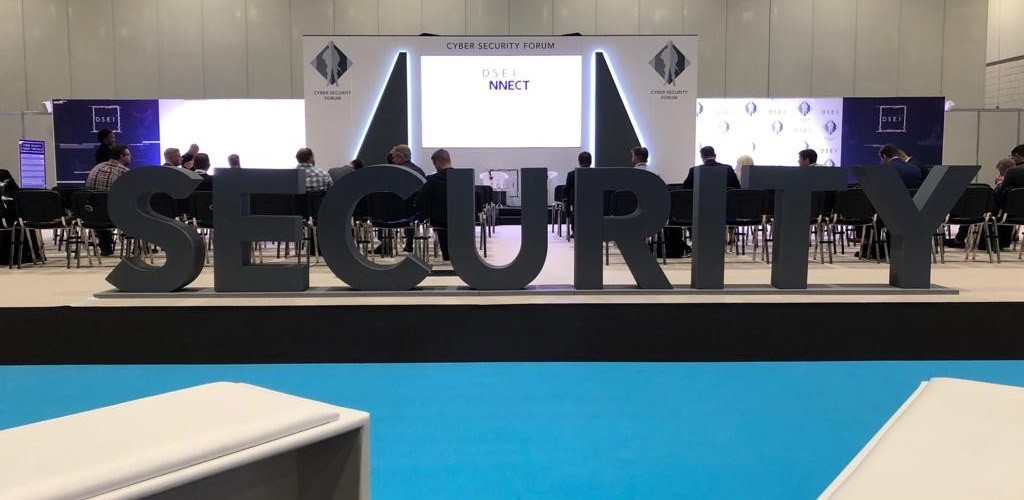 What is the UK's approach to Cyber Security? Over in the Cyber Security Zone of DSEI a panel discussion led by Robert Black, Deputy Director, National Cyber Deception Laboratory with Pete Cooper, Deputy Director, Cyber Defence, Cabinet Office and Julian Meyrick, Managing Partner & Vice President, Security Strategy Risk & Compliance, Security Services, IBM, quickly focused, rather than on what we are doing, to what we need to do in order to succeed in architecting an effective National Cyber Defence force for the future. Going to the heart of the challenge, Pete Cooper commented
"The best technology in the world without people and processes will gather dust."
And while that may seem self-evident, the panel identified that a clear skills gap is opening up in the UK with the soft skills of problem solving under pressure and pattern matching being highlighted. Asking the audience, consisting of 100-odd cyber professionals, who has a formal background in 'cyber'? only two people raised hands. It's clear that we have a challenge in recruiting cyber skilled people and defining what qualifications a cyber professional should have.
"It's a business problem." Another theme that emerged is the fragmented way cyber is perceived as a critical business or organisational function. Examples were given where a lack of leadership's engagement and awareness of the impacts of poorly implemented security create an environment where cyber security professionals are seen as a weakness rather than the vanguard of an organisation's security. To succeed, this has to change and leaders have to take part in cyber health checks or exercises to understand the size of the challenge facing their organisation. Only with this, will they be able to drive the cultural change necessary to ensure the security of their organisation.
Finally, a strong message from Pete "no one has the luxury of learning through failure anymore". We all need to collaborate and proactively plan across MOD, government and industry as one ecosystem to fully insulate ourselves from ever-increasing, ever changing complex cyber threats. A point Julian reinforced with a supply chain case study: a client he's worked with that had a base of 50,000 suppliers, found that 3,000 of those had been taken out in the previous year by ransomware attacks.
With the UK's Cyber Strategy due for publication at the end of the year, we can expect the success of that to stand on a new level of collaboration and skill and technology within UK organisations across MOD, Government and commercial sectors.
For other highlights, listen to Mike Sewart, our Chief Technology Officer's, Wrap up of Day 1 in the video below.