A real visit highlight was seeing one of the projects we delivered in the past: the Foton spacecraft – with one of our instruments on board! Of course, we couldn't help but stop for a picture with the Foton capsule and our hardware inside! Pictured below are Jim Graham (MD for our Space business), Erik Masure (Belgium site MD), and Peter Holsters (Business Development and Sales Manager, Satellites), and of course me. If you look closely at the hardware, you can even see our name stamped on it! It's not as if we didn't know the hardware was there, but it was a privilege to take the time to appreciate it. If you touched the Foton, you could even feel the scorch marks in the heat shield from atmospheric re-entry. The Foton is a Russian-made un-crewed capsule that was used to fly experiments to Earth's orbit for a certain period of time before returning to Earth. The capsule has a similar design to the Vostok spacecraft, which took the first man – Yuri Gagarin – into space.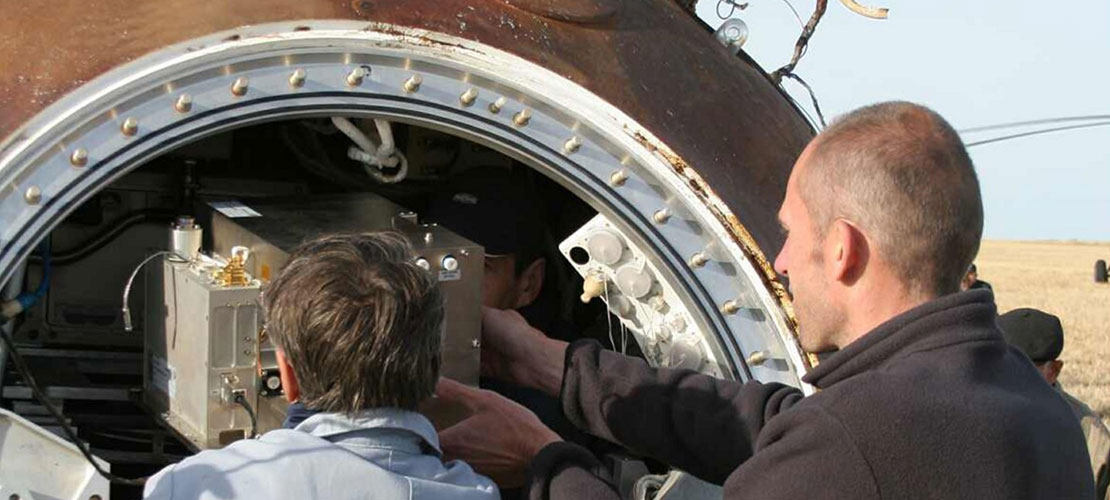 The capsule in the top picture is the Foton 12, which was launched to space in September 1999. Foton 12 carried one instrument made by us: FluidPac (Fluid Physics Facility), a very complex and autonomous facility for fluid physics research in microgravity, which provided scientific data during the almost 15 days that the spacecraft stayed in space.
Later on, we had more experiments onboard other Foton capsules. The Foton M3 mission was launched in September 2007 from the Baikonur launch site in Kazakhstan with a Soyuz rocket. It spent 12 days in space after which it landed in the Kazakh desert. It carried 400 kg of European instruments to perform various scientific experiments. Among these were three instruments built by QinetiQ:
Soret Coefficient in Crude Oils (SCCO)
The Soret Coefficient in Crude Oils instrument investigated the diffusion effects in liquids, which would enable us to determine whether it is worth exploiting an oil reservoir when new oil fields are discovered.
FREQBONE
This biological experiment investigated the decalcification of bones in microgravity. Doctors were looking into more effective ways of combating osteoporosis, and this experiment shed some light on what the options would be.
GRADFLEX
This GRADient-Driven FLuctuation EXperiment contained two experiments in fluid science during microgravity.
It's always nice to look at the past in search of inspiration and to remind us why we do what we do. Finding one of your projects exhibited at the technological centre of the European Space Agency certainly boosts your spirits!