Getting to know Q: Michelle Bulford
21/03/2023
Meet our new Group Culture, Diversity & Inclusion Lead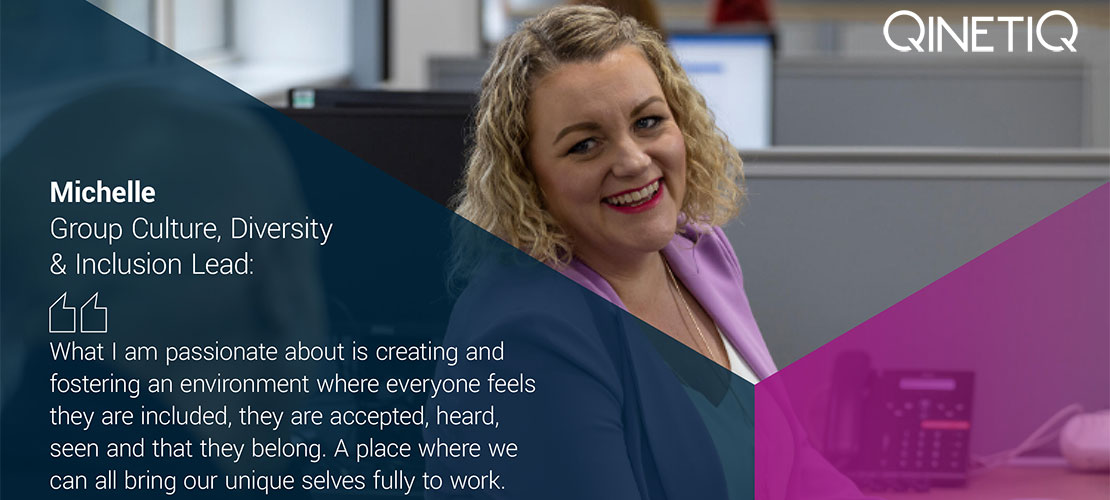 At QinetiQ we are committed to creating a workplace that is inclusive; where our differences are not only embraced but make us stronger. A place where we can connect with each other and benefit from the experiences and thinking from people with varied backgrounds, and at different stages in their careers.
We believe in a workplace where everyone feels like they belong, one that provides a sense of inclusion across the entire company regardless of background, culture or identity.
Michelle Bulford has recently taken on the role as our new Group Culture, Diversity & Inclusion Lead, based in Adelaide, Australia. As we welcome Michelle into her new role, we were excited to find out more about her background, her approach to Diversity & Inclusion (D&I), and her ambitions for QinetiQ.
Michelle, can you tell us a bit about you and your career up until now?
I joined QinetiQ about 18 months ago and am based in Australia. I have spent most of my career in the defence and engineering sector, previously working for BAE Australia and Naval Group Australia. I have also worked in retail and investment banking, not-for-profit and agriculture.
In terms of my career to date, I describe my pathway as 'non-traditional'; I had aspirations to follow my family into the world of numbers and started my working life in Finance. Before being told I was "too bubbly for Finance and perhaps I should consider a career in HR". This was one of those defining moments in life, it was probably one of my first experiences of bias and not feeling included in the workplace…and little did I know it would spark something deep inside of me that would serve me in later years. And by the way, for all those Finance people out there, I totally disagree that you can be "too bubbly" for Finance!
Whilst I loved numbers and spreadsheets I knew I had other interests that I wanted to explore. In my Finance role I managed a number of projects and transitioned into the world of Project and Change Management, which suited my organisation skills and keen interest in human behaviour just fine.
I had a desire to move into HR and I undertook study and worked very hard to secure a role. After many knockbacks being told "I didn't have enough experience", it wasn't until a very senior manager saw the transferable skills I possessed and brought me into an Employee / Industrial Relations role. It was there I built a very strong foundation in HR and was given the space to grow, learn and fail…yes that's right fail……but safely. On reflection it was a place that provided psychological safety, that I could make mistakes, ask questions, challenge thinking and take risks. I experienced firsthand what it felt to be psychologically safe and importantly how much a leader could impact its team's ability to feel that way.
After many years of working in HR I made the transition to specialise in Organisational Development, where my focus has been on talent & performance management, diversity & inclusion, culture and leadership & executive coaching.
What does Diversity & Inclusion mean to you, personally? And how would you describe your approach to Diversity & Inclusion?
Despite the rapidly changing and complex world we find ourselves in, what I see is an opportunity for unprecedented transformation and embedding of systematic changes to the way society works and thinks.
I really think about diversity quite differently these days, the thing about diversity is it assumes there is a nucleus or normal and everyone else is diverse. But we are all unique, with differences and by nature diverse. We are not the categories that society or others might put us in and we can and will identify with lots of different characteristics and dimensions both visible and not visible. The world has changed so much and will continue to change, so for me diversity isn't different is the new normal.
For this reason what I am passionate about is creating and fostering is an environment where everyone feels they are included, they are accepted, heard, seen and that they belong. A place where we can all bring our unique selves fully to work. The more we can be ourselves, the more we can bring to any situation, which is a win for individuals and a win for organisations.
I feel privileged to work in the space of D&I it is an opportunity to be a change maker, where you can leave a legacy and make a positive difference for the generations to come on such an important topic. I encourage anyone that wishes to, to get involved, a great way to do that is through one of our seven our employee led D&I network groups or through allyship.
In what direction do you hope to see D&I at QinetiQ go?
In QinetiQ we have created a solid foundation in D&I from which to progress and the next 12 months will focus on the fundamental pieces we need to have in place in order to accelerate our progress. Fostering an inclusive environment and culture will be crucial in achieving diversity. If we do not have that culture piece right, we run the risk of not being able to retain and attract diverse talent within our organisation.
To achieve this I often talk about the inclusive systems and behaviours, essentially this is the ecosystem; it's looking at all of the practices, behaviours, habits, micro habits, cultural drivers, leadership, and processes that exist and ensuring that there is inclusiveness in all of them.
Since commencing this role, I have been working at defining our inclusion, diversity and belonging Strategy and roadmap which will see us into the next phase of D&I and I am excited to share this with you all very soon.
In the meantime, I leave you with this; we all have an opportunity to contribute to fostering an inclusive organisation where everyone can thrive. It can be the small daily things we do that make a big difference, for example; inviting different perspectives into a conversation, being mindful of the language we use, displaying small symbols that show allyship (like adding pronouns on your email signature) or spending time getting to know people that might be different from yourself. As the Australian artist, Paul Kelly sang "From little things, big things grow!"
We would like to thank Michelle for speaking so openly about her approach to D&I and we look forward to watching her progress in her new role. In the meantime, we will be launching our new strategy soon, sharing our ambitions for Diversity & Inclusion.