New £2.3 million contract award to expand Dstl's Urban Canyon project
18/12/2019
Jerry Sollick & Steve Mannings
Working collaboratively to inform the next generation of ground combat systems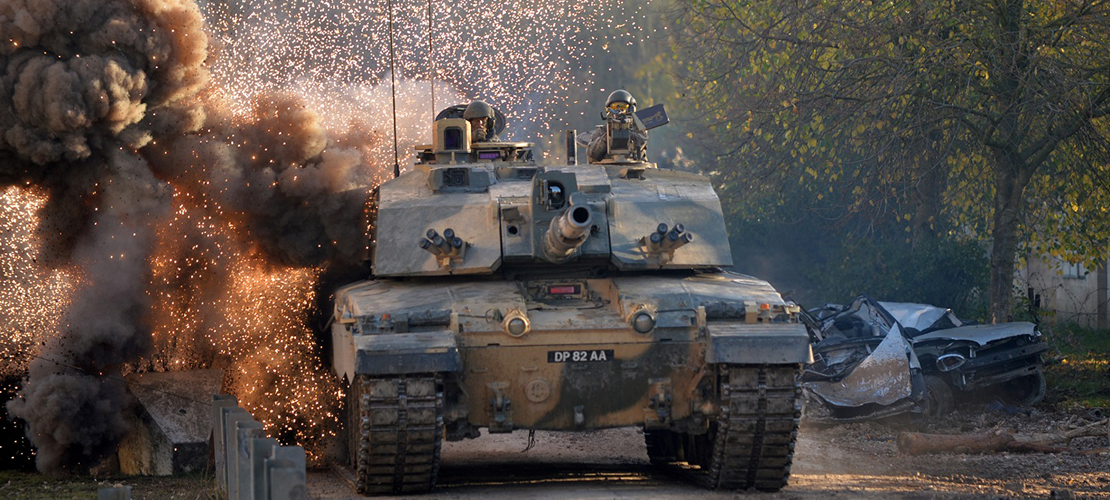 Image: Crown Copyright
Maritime, Land and Weapons has been awarded the Dstl Urban Canyon Sixth Sense project to build on work that we and Thales delivered under the earlier Urban Canyon Situational Awareness project.
Urban Canyon Sixth Sense is a £2.3 million package which, over the next two-and-a-half years, will help develop understanding of how artificial intelligence (AI) and machine learning can assist military vehicle crew information management and decision making in an urban environment.
Historically, operating in close combat has always been hugely confusing; witness this plaque at the Tank Museum, Bovington, attributed to a British Tank Commander at the Western Desert in 1942:
"The 75mm main gun is firing, the 37mm secondary gun is firing, but it's traversed round the wrong way. The Browning machine gun is jammed. I'm saying: 'Driver advance' on the A set, but the driver – who can't hear me – is reversing. And as I look over the top of the turret and see 12 enemy tanks just 50 yards away, someone hands me a cheese sandwich."
Well, you get the picture! Only in today's world of increased technology, sensors, and huge data sets, it's even more confusing. The Sixth Sense programme aims to cut through this confusion. A continuation of what we did in the Situational Awareness project, there will be more emphasis now on management of information onboard the vehicles to help crew make optimal decisions.
As a pan-QinetiQ team, we bring a combination of skills and expertise to the project, not least a real understanding of the tasks and workload that the crew in a military fighting vehicle are subjected to and what happens when a vehicle enters the close combat battle. Things happen so quickly and change so dynamically; understanding the many technologies and sensors that go into the vehicle, we can put in place processes and artificial technologies that will simplify the confusion, allowing the crew to see what's important in the short term, and focus sequentially and efficiently on doing the most critical things.
It's about presenting key information, in a timely fashion, to affect the behaviour of the vehicle crew, which in turn can change the outcome of the battle; in effect we're giving the vehicle commander an autonomous application that will draw logical conclusions from big data sets.
This important piece of work will help inform the next generation of ground combat systems. Accordingly, we've drawn on industry expertise in AI and machine learning, concept visualisation, sensor and information management, vehicle architectures, synthetic environments, safety critical platform systems, and cost-benefits analysis. Teaming again with Thales, we'll also be supported by a wider pan-industry team, including Rheinmetall BAE Systems Ltd (RBSL), Frazer Nash Consultancy, and SMEs Catalyst Corporation and Arke Ltd, as well as the University of Glasgow.
Alan Hart, Director Programmes, Land & Weapons, says: "Key for us in terms of continuing our support to Urban Canyon research is helping our customer understand how Artificial Intelligence and Machine Learning may benefit crews of the next generation of Ground Combat Vehicles. In essence, how can information management and information exploitation reduce crew burden and improve decision making, thereby increasing survivability and probability of mission success?"
There's an aspiration to run an international demonstration, which is yet to be funded, but there will also be a follow-on programme to Sixth Sense – Urban Canyon Prophesy – that will explore using data to foresee precisely what is likely to happen next, e.g. 'if I drive around that corner, I may be ambushed'. We're in a great position to bid on that work, as well as the major technical demonstrator programmes that will support the next generation of Ground Combat Systems.