Postcards from Space: Ion thrusters
Elaine Greaney, Chief Engineer, QinetiQ's Space business
When developing truly pioneering technologies, the ability to rise to new challenges is just half the story.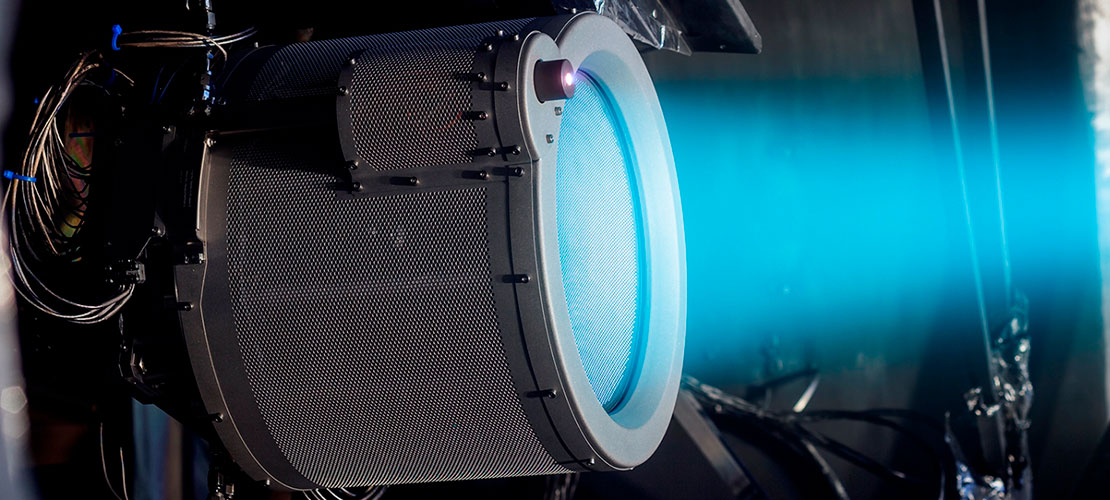 Painstaking research, the application of scientific insight and exhaustive testing are all prerequisites for turning a bright idea into a practical reality. This is especially true in the area of space exploration and research. However, the real sense of achievement comes with the successful application and performance of the technology.
Following our initial development of the ground-breaking T1 ion thruster in the late sixties, QinetiQ is now a world leader in electric propulsion systems. It is with a sense of great pride, therefore, that we see our ion thrusters being used to enable a mission that will study the mysteries of the Solar System's innermost planet.
The QinetiQ-engineered Solar Electric Propulsion System (SEPS) is powering the BepiColombo spacecraft as it makes its way across the solar system to Mercury following its launch in October 2018. This is the most powerful electric propulsion system ever flown. The QinetiQ T6 thrusters accelerate the joint ESA/JAXA spacecraft with a propellant of charged particles from xenon gas, powered by electricity generated by solar panels. This advanced form of propulsion minimises fuel consumption and addresses key mission challenges – such as the enormous gravitational pull of the Sun – while also maximising the quantity of scientific equipment being transported to Mercury.
A total of 23 ion thrust arcs are planned to ensure the spacecraft follows the correct interplanetary trajectory to arrive at Mercury in late 2025. This will entail no less than nine flybys of Earth, Venus and Mercury and 18 loops around the Sun. On arrival, the Mercury Planetary Orbiter and the Mercury Magnetospheric Orbiter will be deployed from the Transfer Module to gather unprecedented data and insight of the least explored inner planet during a year-long mission.
Significantly, the in-flight performance of the propulsion system is continuing to fulfil all objectives and the second thrust arc for BepiColombo has now been completed successfully. Having stayed dormant for eight months, two of the ion thrusters were switched back on to complete the manoeuvre and take the spacecraft from its furthest point from the Sun on the correct trajectory to achieve an Earth flyby in April 2020. It was gratifying to receive congratulations from the customer on the stable performance of our thrusters during such a critical stage in the mission.
To commemorate this success we sent delegates to last year's International Electric Propulsion Conference in Vienna, with presentations on the qualification and early flight data of the BepiColombo T6 electric propulsion system. The team who attended the event also took the opportunity to highlight the latest system developments including our smaller T5 thruster and larger T7 thruster, which are expected to feature prominently in a diverse range of space missions in the coming years. There can be no doubt that electric propulsion is set to transform the efficiencies and capabilities of space transport in the years ahead.