Robotic Enhanced Air Assault Force
13/07/2022
Peter Christie and Robert Marshall under the Futures Lab Contract
The Challenge
Robotics and Autonomous Systems (RAS) is an emerging domain with significant challenges, not least of which is understanding how RAS can deliver human advantage on British Army operations. Technical challenges, trust in the system(s), and an understanding of the 'art of the possible' all contribute to the need for expert advice to identify innovative RAS uses and explore these through a programme of experimentation. Pivotal to the implementation and utility of these systems will be the Early Human Factors Analysis (EHFA).
The Futures Lab Robotic Enhanced Air Assault Force (REAAF) Challenge was launched to explore how novel and innovative technologies can be best utilised to increase the effectiveness of an Air Assault sub-unit on Operations, to deliver the Human Advantage Supporting Concept (HASC) and short-term operational capability as defined in the British Army's approach to RAS.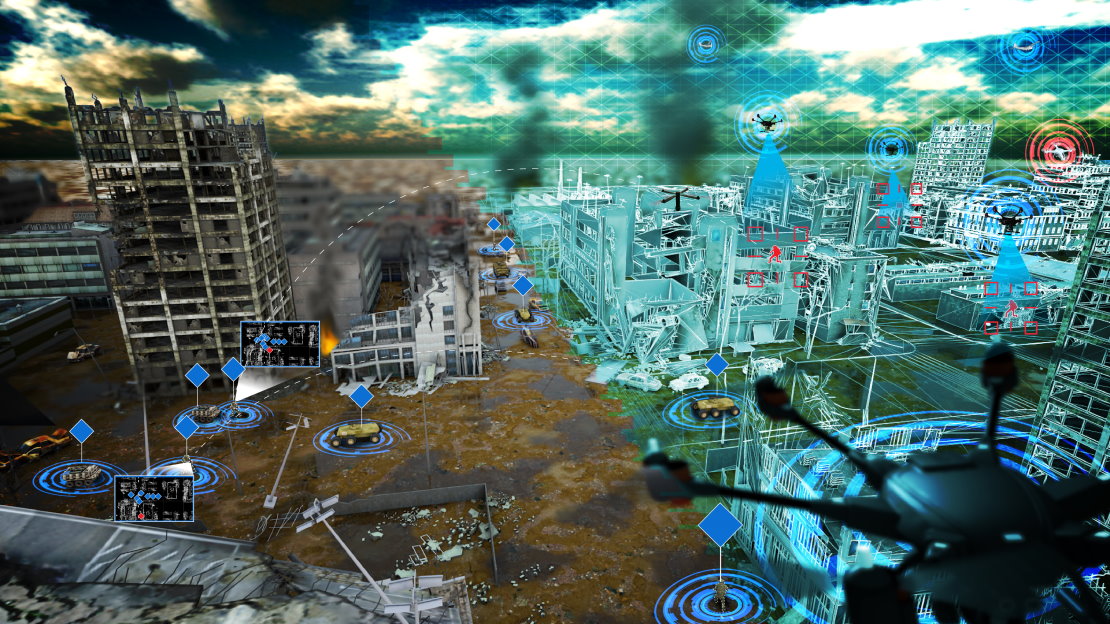 Facilitating a pan-industry view
Futures Lab facilitated a truly pan-industry team of Technology and Human Factor expertise from organisations of all sizes to undertake the challenge, supported by DE&S Internal Technical Support, and AHQ. The Team consisted of 15 organisations from micro to large-scale, including Robotic and Autonomous System specialists, Human Factors SMEs, Facilitators, Analysts, Professional Drone pilots, Tactical Network SMEs, including those with Military Experimentation and Reservist experience.
Approach
The task approach was based around a series of SME workshops covering Early Human Factors Analysis (EHFA), Concepts of Employment (CONEMP), Experimentation, and Use Cases followed by a series of agile engagements with specific SMEs and the end customers. It resulted in the development of the REAAF CONEMP, REAAF Experimental Use Cases, Human Advantage(HuAd) Experimental Outline, HuAd Data Collection and Management Plan in less than 3 months.
Benefits
The following benefits have been realised through the successful REAAF project:
Accelerated delivery of key products (CONEMP, Use Cases, Experimental Outline, Business Case) through agile approaches to the task.
The implications of REAAF are understood across organisational, system and technology levels, with the ability to move through these layers.
Improved awareness of the wider initiatives in which REAAF and Human Advantage must fit. This ensures REAAF and Human Advantage are not being conducted in stovepipes, but as part of a coherent RAS and Human Machine Teaming (HMT) perspective.
A refined understanding of the scope and focus of Human Advantage that ensures deconfliction with seemingly similar (but different) activities in this domain.
Deliverables and recommendations that contribute to delivery against RAS strategy in Epochs 1 to 3.
Industry-perspective and experience on REAAF, RAS and Human Advantage gained by Army HeadQuarters, Future Capability Group (FCG), Futures Lab and Dstl.
Improved coherence between D Pers, FFD, 16X and industry on REAAF and Human Advantage experimentation.
Provision of auditable and traceable evidence trail to support future activities and submissions.
Customer Feedback
"This project will set 16X up for success by providing the initial conceptual foundation from which they can build their integration of robotics."
"Futures Lab way of working was fundamental to the success of this project. This project has exceeded our expectations."
Contributing Organisations include: AACE, BMNT, DE&S, Digital Concepts Engineering, DSTL, HuSys, Malloy Aeronautics, Maranis, Rowden, SDE, Sirus, Soteria, Thales, QinetiQ