Engaging our local communities through the STEM Outreach Programme.
Committed to being a responsible and sustainable business, we enable our people to participate in and make a positive difference to the communities where we live and work.
We do this through our Employee Volunteering Programmes through which we use our skills to make a positive difference in our local communities and through our Science, Technology, Engineering & Maths (STEM) outreach programmes, providing our people with the opportunity to inspire the next generation of scientists and engineers.
Ryan, a Senior Project Manager for NCSISS, based at Portsdown Technology Park, has been volunteering his efforts through our STEM Outreach programme, running enrichment sessions with his colleague Meera at a local school in Portsmouth. Ryan and Meera have attended UTC (University Technical College) School once a week since last September, setting the students projects and teaching them about the work fulfilled by the Royal Navy and their colleagues at QinetiQ Portsdown Technology Park.
We are really pleased to see our people engaging with our local communities and wanted to take this opportunity to find out more about Ryan's experience.
Why did you decide to get involved with STEM Outreach programme?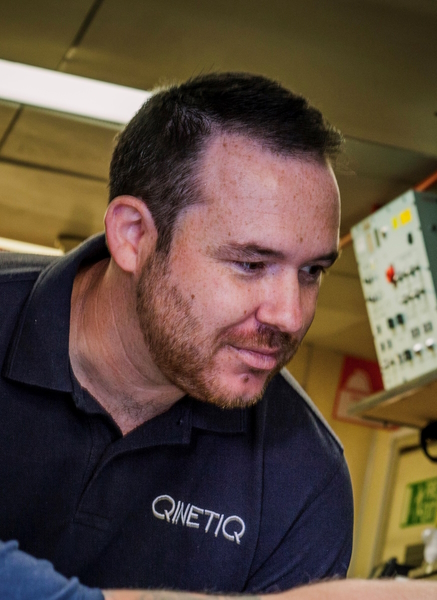 Within our team, I'm responsible for delivering the Type 31 Shore Integration Facility to Portsdown Technology Park. We've been working on designing where it's going to go, how it will look, and various activities like that. One of the Installation CAD (Computer-aided design) Engineers produced a 3D model of the room to show what it will look like, and we had the idea to get involved with schools from joking in the office that we could bring our cereal boxes in from home and make a 3D model for the customer. Then, with my colleague Meera, we said that we could actually ask a local school to help.
Tim, the Integrated Delivery Team (IDT) Lead at Portsdown Technology Park is actually on the Board at the UTC school in Portsmouth and he put us in touch so we went down there and spoke to them and decided on a challenge for the students.
UTC are unique in that they are a STEM School, so their curriculum focuses only on Science, Technology, Engineering and Maths. They do two enrichment sessions a week and we try to attend at least one of them.
What activities were you able to give the students?
We tasked the students with building their own Operations (Ops) Room on a platform, but we didn't quite appreciate how clever the students were and we had to expand our sessions to make them more challenging. Now the students are designing their own platforms or naval ships to join what we referred to as the UTC fleet and on completion of this task they are invited to come and present it at Portsdown Technology Park.
It's not just presenting to me and Meera, they also present to Tim the IDT Lead who sits on the UTC Board, and to Gary Merrett who is our local STEM Ambassador. We've also brought in combat System Engineers, Project Managers, one of the Lieutenant Commanders within NCSISS, and most recently the Commander took time out of his day to come in and give them a brief. Everyone at QinetiQ talks to the students about what we do and we give them a tour around site and they have an opportunity to ask questions.
How have the students responded to the sessions?
The majority of the students get really into it and it's refreshing to see that those who haven't done CAD before will get support from other students who have, so it's a different feel from other school that I've been to.
Every session that we have had we've had someone from the previous one sign up again, because once they have got a good understanding of it they want to come back and give it another go to make their model even better.
I've had various conversations with one student who was enquiring about apprenticeships and I've had lots of students asking about work experience, so it is quite encouraging.
And how have you found the experience overall?
Personally I love going down there, it's a great place to be, and the feel is different to any other school.
I've got a good relationship with some of the students so that when I go down there they stop me and speak to me which is really nice. My son goes to that school and he's been along to the enrichment class which was a bit weird for us both but he is quite proud of me and he actually likes it.
It's nice to feel like we are giving back to the community and doing stuff locally. I would definitely recommend it to anyone.
We would like to thank Ryan for speaking so openly about his experience.
To find out more about our commitment to responsibility and sustainability, visit our Life at QinetiQ webpage.