Sustainable Procurement Guide
11/05/2022
Hannah Cowley, Group Supply Chain Lead - Sustainable Procurement
Our new sustainable procurement guide is now live and available to view.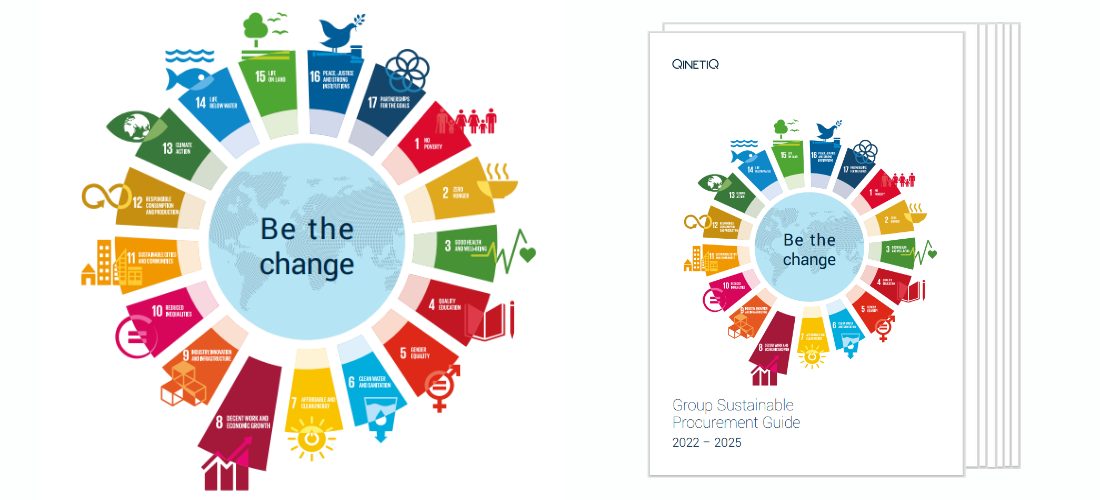 Sometimes referred to as responsible procurement, ethical procurement or green procurement, simply put, sustainable procurement is when a company balances the need to embed corporate social responsibility principles into its procurement process while also meeting the needs and requirements of the company.
It's the consideration of how a procurement decision could improve social, economic or environmental well-being and how through the procurement process, one may act in securing such value.
Sustainable procurement is all about working in Partnership, to secure Peace and Prosperity, whilst protecting the Planet and its People, collectively known as the "5Ps". This focus underpins the 17 UN Sustainable Development Goals, and is endorsed by governments and encouraged through legislation and policy, directed through Shareholder investment reporting of Environment, Social Governance (ESG) and expected by customers, suppliers and employees.
"Supporting QinetiQ's commitment towards achieving sustainability within our supply chain is instrumental to my role, and influencing on the 5Ps allows me to operate as a change agent across our industry. This guide presents the work the team at QinetiQ are doing, as we strive to positively impact wherever there is an opportunity for improvement within sustainable procurement" – Hannah Cowley MCIPS, Supply Chain Lead – Sustainable Procurement
At QinetiQ, sustainable procurement forms part of our wider corporate responsibility and ESG Strategy and the purpose of this new guide is to assist our supply chain to work collaboratively in a sustainable partnership for the benefit our customers, supplier and company.
Our Sustainable Procurement Strategy defines our objectives and initiatives, and highlights the same commitment we are looking to be flowed down through our supply chain.