Teachers skip school for STEM
18/08/2016
Andy Walker
Local teachers have joined us for a week to widen their understanding of Science, Technology, Engineering and Maths (STEM) careers.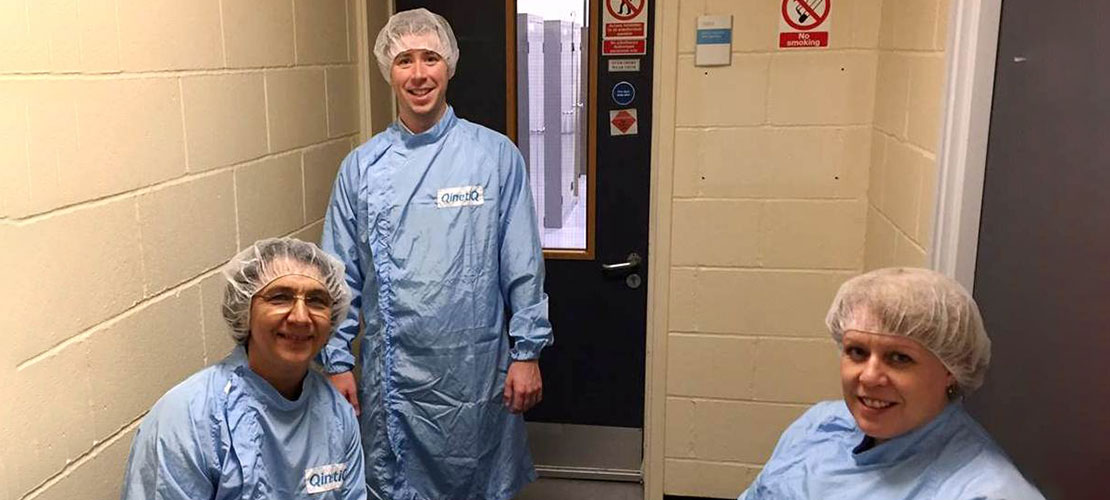 In a new initiative, QinetiQ's Farnborough site welcomed teachers from Farnborough Sixth Form College as part of the STEM Insight industrial placement programme. The programme is run by STEM Learning, (recently merged with STEMNET) and is supported by face-to-face and online Continuing Professional Development.
Teachers play a vital role in supporting and encouraging students throughout their education; being well informed about the range of career and further education paths is crucial to help them inspire students' enthusiasm for their subject. However, a recent report from the Association of Colleges showed that 82% of teachers think they lack the knowledge to effectively advise young people.
The STEM Insight placement addresses this by offering teachers a real-world insight into STEM companies and a better understanding of the skills young people need to be successful in industry. They can then share these messages with colleagues and enhance the learning experiences of their students. The placement lasts for one week, and schools are offered financial support towards the costs of participating in the programme by Project Enthuse.
Organised by a team of our graduates, the programme saw Physics, IT, Maths and Careers Advice teachers spending a very busy week with us; their timetables included presentations from graduates, robotics, business development, wind tunnel, early careers, corporate responsibility, environment, centrifuge, OptaSense, space laboratories and vehicle technologies. They were even put through mock interviews and an assessment centre to help them understand the strengths that QinetiQ values in its potential future recruits, both apprentices and graduates.
Rebecca Rhodes, Assistant Principal of The Sixth Form College Farnborough, said: "Sending enthusiastic teaching staff to QinetiQ for a week has been absolutely invaluable due to the amount learnt by both parties. It is extremely clear that we have much to offer each other – QinetiQ has an infinite supply of passionate people who are working on such diverse projects whilst we, as a sixth form college on your doorstep, have a constant supply of passionate students in not only STEM subjects but other areas such as Business and the Arts."
Lucy Channon, Curriculum Manager A Level ICT, said: "As a teacher I think it is important to keep one foot in the 'real' world as well as the academic one, and my week at QinetiQ has given me a much better insight into what opportunities my students could have in such a diverse organisation."
One of the requirements of the STEM Insight programme is for the college and host company to agree an action plan of how they'll work together towards certain objectives; QinetiQ, with the College, has agreed three for the next academic year, based around:
encouraging girls to take up STEM subjects
promoting apprenticeships
linking with their careers department as a local employer
Everyone involved in the placement week contributed to giving the visiting teachers a memorable experience and we look forward to taking part in the programme again in the future.
QinetiQ Teachers Week
Teachers skip school for STEM! Local teachers join us for a week to widen their understanding of Science, Technology, Engineering and Maths (STEM) careers