QinetiQ's AS3 COMINT system ready to fly on Watchkeeper
11/09/2017
QinetiQ's AS3 communications intelligence (COMINT) system is ready to fly as a payload on Thales's Watchkeeper unmanned aerial vehicle (UAV).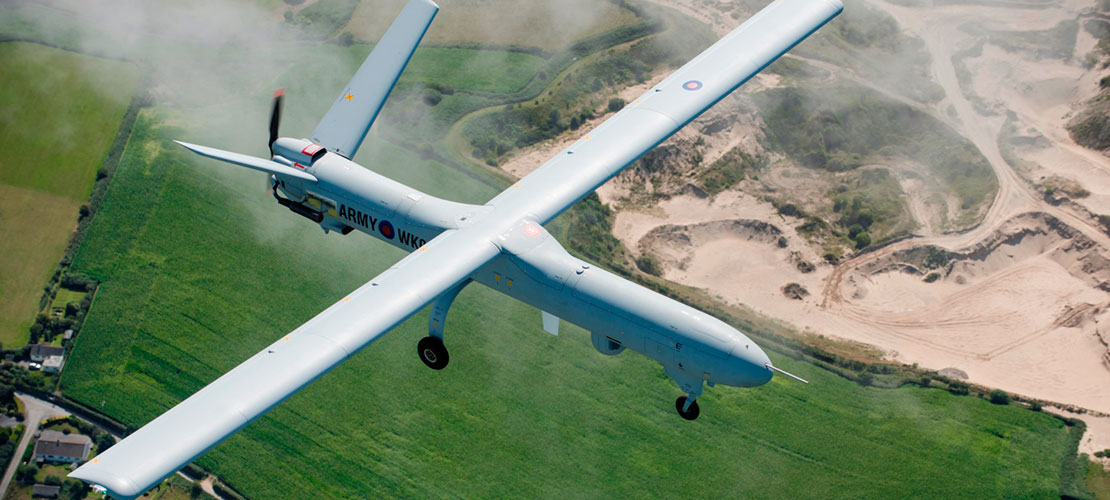 Part of QinetiQ's ASX family, AS3 is designed specifically for UAVs and small manned platforms. It enables the operator to detect signals from military communications devices and then locate, identify and listen to the individuals using them.
Fitted to Watchkeeper, AS3 is designed to increase the UAV's sensor footprint and enable it to work with ground-based systems, such as QinetiQ's MEWS, to locate military communications with greater precision. It allows the platform to undertake communications intelligence missions that would normally be carried out by larger more strategic platforms, such as multi-engine business jets.
AS3's integration into Watchkeeper is the culmination of a jointly funded collaborative project between Thales and QinetiQ, with its roots in a contract with Defence Science and Technology Laboratory (Dstl). The achievement follows a rigorous programme of engineering and safety case activity, which saw QinetiQ design, test and manufacture a bespoke chassis to hold the AS3 payload in place.
Ian Fuller, Campaign Lead for Airborne Surveillance in QinetiQ said: "We are proud to be working with Thales to increase Watchkeeper's potency as a world-leading intelligence, surveillance, target acquisition, and reconnaissance (ISTAR) solution. Having combined our technologies and expertise to enhance the platform, we look forward to demonstrating the new capability in its first flight trials. By ensuring vital intelligence can be gathered, analysed and distributed securely, we deliver proven advantage to customers."
Mark Stead, Director for Intelligence, Surveillance and Reconnaissance at Thales in the UK, said: "We are very pleased to be working with QinetiQ to demonstrate the flexibility and modularity of the Thales Watchkeeper Unmanned Aircraft System. Achieving such interoperability and positive results is a testament to the joint collaboration and respective expertise. We look forward to flight trials of the joint capability in the near future to demonstrate this additional utility it brings to unmanned intelligence, surveillance, target acquisition, and reconnaissance (ISTAR)."
The AS3 payload will appear on the QinetiQ stand, S2-550, at Defence and Security Equipment International (DSEI), from 12 to 15 September 2017. At the Thales stand, S6-110, the software will be displayed on the Watchkeeper console.
To arrange an interview about QinetiQ's COMINT capability at DSEI, please contact the QinetiQ Press Office on +44 (0)1252 393500, or email pressoffice@qinetiq.com