A blog by Harriet Bartlett, Supply Chain Manager at QinetiQ
On Thursday 5th May 2022, the first in-person DPRTE event in 3 years due to the pandemic, took place at Farnborough International. It was a fantastic day, with a real buzz of activity around meeting new people and being back out in the hustle and bustle of a tradeshow.
The event kicked off with a Ministerial Address in the Keynote Arena from the Minister for Defence Procurement, Jeremy Quin, which was standing room only. There were 5 different zones for speakers and an additional area for Prime Contractor and Supply Chain Pavilion for 1-2-1 meetings with Prime Contractors, including participants from our very own Paul Ruden and Jon Speed. By all accounts they were busy all day!
Later in the afternoon, Hannah Cowley, our Supply Chain Lead in Sustainable Procurement led our QinetiQ Collaborate Live interactive panel debate on Maximising SME Engagement and Innovating On-boarding. We were lucky to be joined by Andrea Hough from DSF, Scott Cattaneo from ADS, Tom Maund from Hellios and John Kite from the MOD. Topics covered included how to facilitate hearing SME's during on-boarding, Framework experiences and reducing administrative burden on SMEs at on-boarding.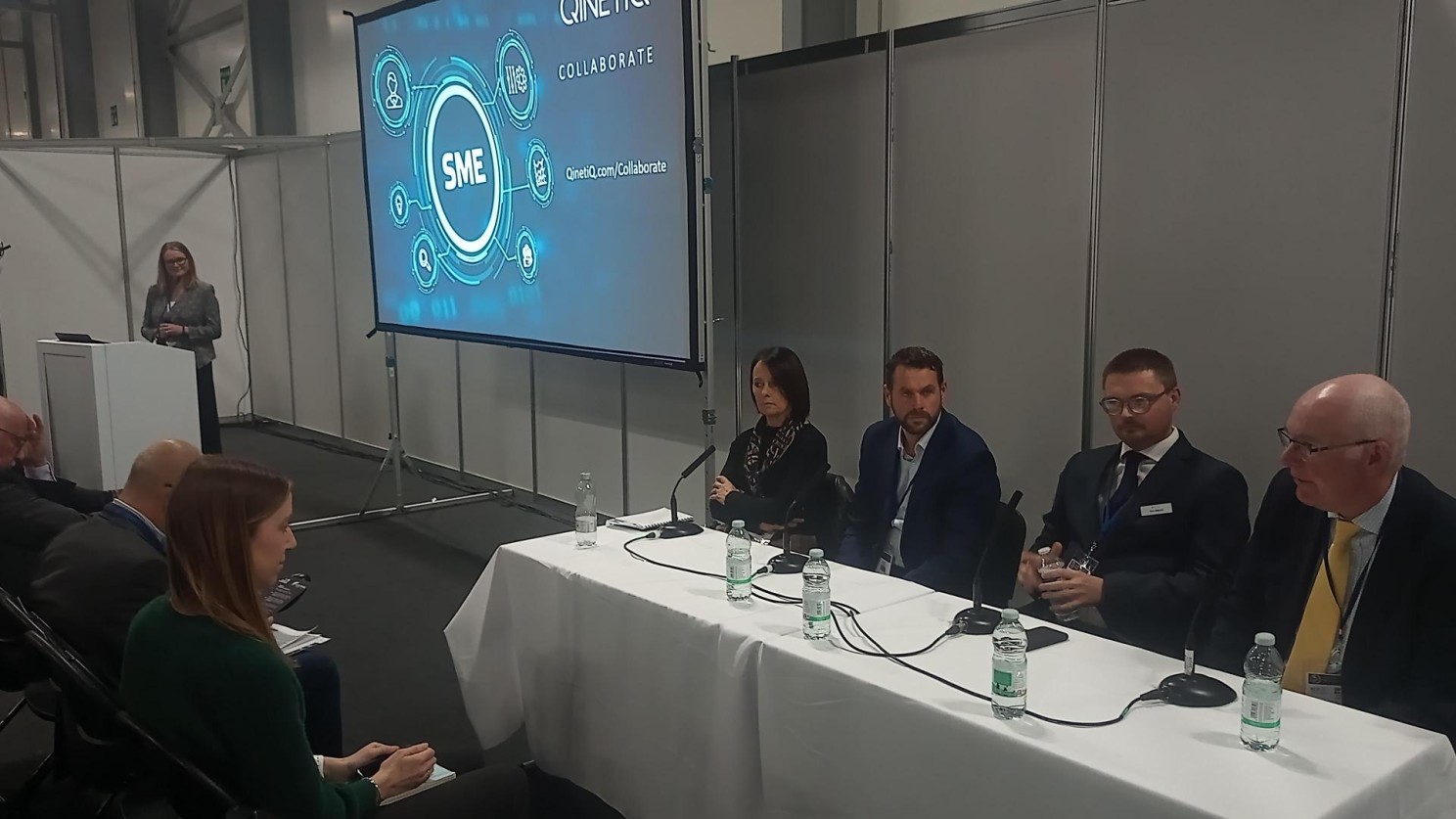 (Panel left to right, Andrea Hough, Scott Cattaneo, Tom Maund and John Kite, image courtesy of Matt Brown at Defence Online)
This was a poignant anniversary, as we launched our QinetiQ Collaborate series at DPRTE in 2018 and since then they have gone from strength to strength, even going virtual through the pandemic. It was great to be back and live in person.
For the rest of the day the QinetiQ team chose to visit talks from different speakers. There were over 35 to choose from, covering topics ranging from infrastructure, procurement reform and innovation, alongside around 80 trade stands to view.
It was exciting to see the range of products and services being offered by the exhibitors, highlighting how the defence industry represents opportunities for diverse suppliers. It was also reassuring that this year's event had several presentations and discussions on environmental and social governance (ESG) topics including decarbonisation and social value.
Read more in DPRTE's blog here.