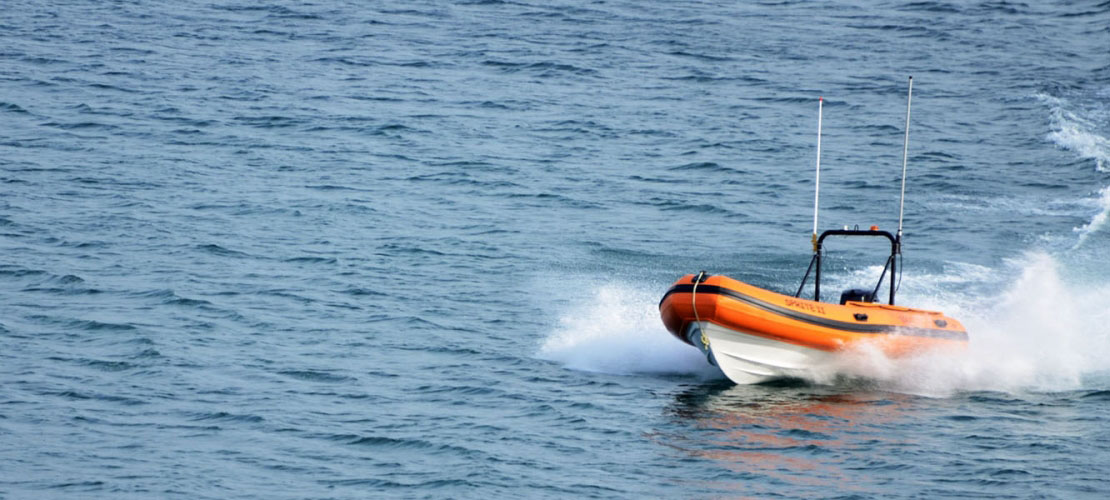 The Sprite II system can be supplied as a fully working, turnkey system, or as a kit to convert a user's existing vessel of these sizes to remote control. The Sprite II system has been designed to allow operation of the selected vessel by either a crew on-board or by remote control.
Petrol (gasoline) powered outboard engines are generally used. They are selected to suit the size of the hull to which they will be fitted in order to meet the desired performance. As an example, the smallest vessel offered is fitted with a single 40 HP engine which provides a typical maximum speed in excess of 30 knots whilst a 7.5 metre long vessel will generally be fitted with one or two outboard engines providing a total power output of approximately 160 horse power.
If required, multi-fuel outboard engines may be fitted. Typically these engines are able to operate on F44 (JP5), F67 (petrol) or F76 (NATO diesel) fuels. Vessels of over 6 metres in length may be fitted with a diesel-powered inboard engine and out-drive unit.
This Maritime Surface Target is typically used by customers to represent threats posed by Fast Attack Craft (FAC), Fast Inshore Attack Craft (FIAC) and Close Quarter threats to commercial shipping and Naval vessels and has been used to test the effectiveness and operational readiness of weapon systems including:
Surface-to-Surface Missiles
Surface-to-Air Missiles (in Surface-to-Surface mode)
Air-to-Surface Missiles
Naval Guns/Cannon & Close In Weapon Systems
Key Features
Proven speed of 36+ knots
Easily towable
Low-cost and expendable
Patented skeg design for high stability