Large Unmanned Ground Vehicle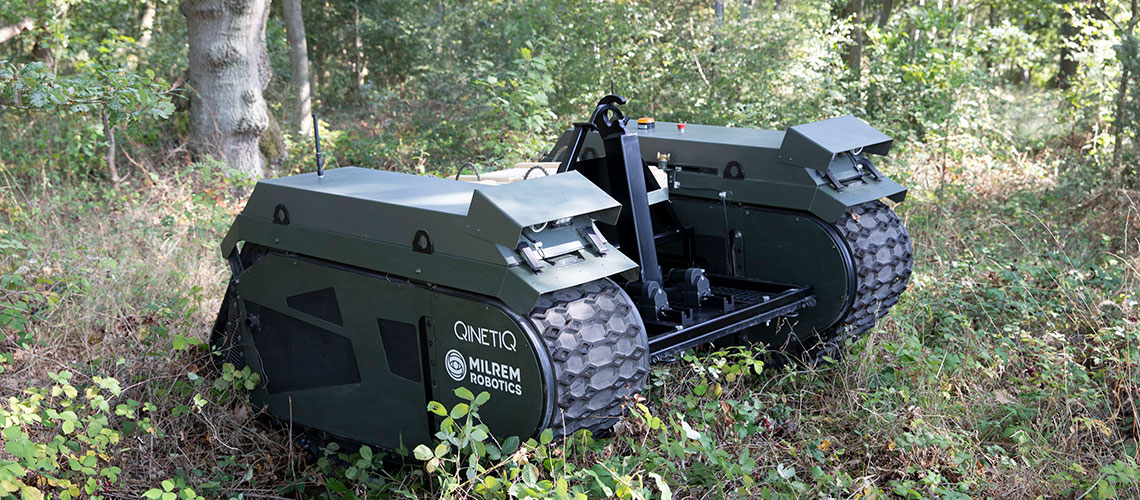 TITAN is a large Unmanned Ground Vehicle (UGV) that provides safety and support for small dismounted military operations. Developed by QinetiQ and Milrem Robotics, TITAN features a multi-mission, reconfigurable platform that increases soldier safety and mission effectiveness.
TITAN consists of QinetiQ combat-proven robotic systems and controller and Milrem Robotics' THeMIS mobility platform and modular mission payload. The vehicle platform features a pair of diesel-electric hybrid tracked drive modules providing all-terrain long-range endurance with run-silent capability.
Load Carrying Capabilities
TITAN's load carrying capabilities provides force multiplication and greater mobility. These capabilities ensure off-route manoeuvrability resulting in a safer and more successful mission.
Flexibility
TITAN's open architecture platform supports a wide range of operations. It features two track modules linked by a mission specific payload frame that supports a wide range of warfighter requirements.
TITAN also interfaces with third party payloads for a wide variety of mission fits, including CBRN reconnaissance, route clearance and direct fire support roles.
Utilising a combination of in-house and partnered technology, QinetiQ can integrate a selection of autonomy packages appropriate for the intended operating environment.
Key features
Increases soldier safety
Reduces soldier carry load
Increases mission endurance
Multi-mission modular payloads
Modular autonomous behaviours reduce cognitive load
High mobility / all-terrain operations
Multiple controller and camera options
Operable in manned or unmanned modes
Open architecture
Designed with combat-proven technology
Wide variety of payloads and accessories
Tactical run-silent mode
Power-off-load capability