Becoming a mentor through KPMG's Cross Company Allyship Programme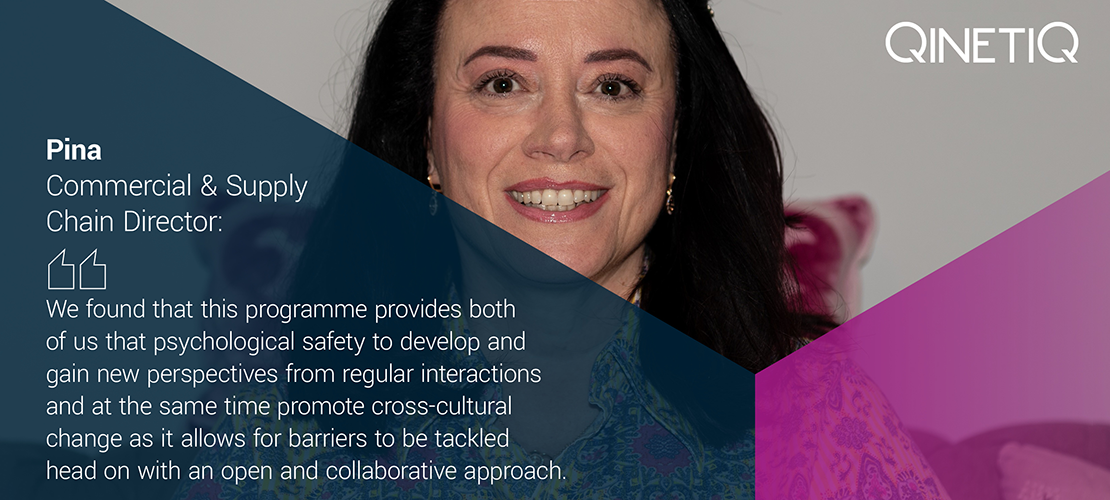 As part of our commitment to supporting the learning and development of our people, we are proud to be taking part in KPMG's Cross Company Allyship Programme (CCAP). The programme aims to address the under-representation of Black Heritage and Ethnic Minority individuals at senior level and promote inclusive leadership attributes by facilitating the creation of mentoring partnerships across companies.
The CCAP pairs two individuals, one acting as a mentor, the other a mentee. In each pairing is an individual from KPMG, the other from one of 21 companies taking part in the programme (QinetiQ included). All mentees must be from Black Heritage and Ethnic Minority backgrounds.
At QinetiQ, 35 of our people have volunteered to take part in the year-long programme, with an equal split of mentors and mentees. Pina, our Commercial and Supply Chain Director, has offered to share her experience on the programme.
Pina said:
I joined QinetiQ two years ago and from the start, I have been really pleased to see that we are committed to creating a diverse and inclusive QinetiQ, where our differences are not only embraced but make us much stronger as individuals and as a team.
Last year, I was given the opportunity to take part in an external, cross company mentoring programme and I decided to apply for it. I was excited and at the same time intrigued on what this meant for me and how this could help me to learn about mentoring but also help my mentee by providing them with a fresh perspective and acting as a sounding board by sharing my own experiences with them.
In October I was paired with Nana, my mentee, a very talented Transfer Pricing Manager at KPMG. Nana and I have had three sessions to date, and I must say it's an absolute joy to connect and build a new relationship with such a talented individual. It's definitely a two-way learning process and we both were keen to meet one day in person, so we did just that last month when we had our session at Nana's offices in Canary Wharf. Not only did we thoroughly enjoy our conversation and continue to get to know each other, we were finally meeting in person too!
We are both committed to this programme and we have scheduled dates in to meet again, both virtually and in-person. We found that this programme provides both of us that psychological safety to develop and gain new perspectives from regular interactions and at the same time promote cross-cultural change as it allows for barriers to be tackled head on with an open and collaborative approach.
I look forward to our next meeting next month as this is more than just mentoring, it's creating also a new friendship.
Thank you, Pina, for sharing your experience with us, we are very pleased that your partnership has been valuable for both you and your mentee.
To find out more about the Allyship programme, visit KMPG's website: Cross-Company Allyship Programme - KPMG United Kingdom.