Progressive investment sets new standard in Training, Test and Evaluation
19/04/2021
Three new helicopters join the QinetiQ fleet at MOD Boscombe Down to deliver unrivalled capacity and industry-leading capabilities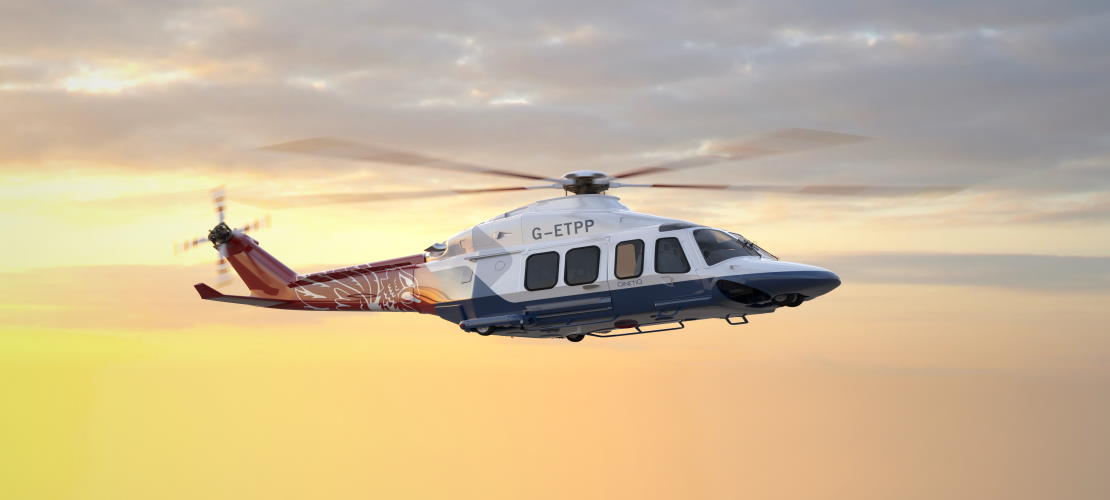 Providing test pilots and flight test engineers with cutting edge resources and the very latest learning tools has helped to keep ETPS at the forefront of flight test training for both military and civil customers for over 75 years. Our latest £multi-million investment in three new helicopters will further extend the fleet of aircraft available to ETPS and trials customers and give talented pilots, engineers and aircrew access to the most advanced and systems-rich helicopters of any test pilot school.
Due to achieve initial operating capability this summer (2021), the new aircraft comprise two Agusta A109S Grand helicopters and a Leonardo AW139 helicopter fitted with an integrated Electro-Optical and Infra-Red (EO/IR) camera turret and a modern, complex avionics suite. Every airframe in the QinetiQ fleet, based at MOD Boscombe Down, will also benefit from additional enhancements including comprehensive Flight Test Instrumentation suites.
The latest expansion to our fleet takes the investment in new training, test and evaluation capabilities to well over £100 million over the past three years and, significantly, will provide unprecedented operational capacity and service capabilities for our customers training at ETPS or in delivery of test and evaluation projects. Representing the shift towards the modernisation of Test & Evaluation, this latest investment highlights our commitment to ensure capabilities match frontline training requirements through new technologies and facilities.
Delivering such advanced Test and Evaluation capabilities will be of particular value to customers from both the military and civil sectors. They will also offer considerable benefits for the Defence Science and Technology Laboratory (DSTL) and form a key part of our one stop shop for Aviation Special Mission Services through the Aircraft Engineering Centre (AEC) and the QinetiQ Civil Flying Organisation (QCFO) capabilities.
Staying ahead of the curve is absolutely vital in the challenging world of Test and Evaluation – both here in the UK and on the international stage. This substantial new investment will ensure we do just that. And it will provide all ETPS customers and students with the additional assurance that comes from using the very best learning resources available. We are now also in a position to deliver a complete Test and Evaluation solution for customers by providing aircraft, design, production, installation, test and evaluation training, as well as ongoing flight operations for any Intelligence, Surveillance and Reconnaissance (ISR) mission. That all amounts to a very significant service and capability advantage for mission-led innovation and operational agility.
As the world's first test pilot school, ETPS has trained over 1500 students from 32 different countries over the past 75 years. Building on its heritage as the premier school for military flight test professionals, it is now also providing dedicated and fully accredited courses for civilian customers. We are proud to be a world leader in the field of test and evaluation as we continue to work with the Air Warfare Centre (AWC) under the Long Term Partnering Agreement with the UK Ministry of Defence (MOD) to deliver ETPS.
All courses at ETPS comply with EASA regulations and is one of only three flight test schools in the world – and the first in the UK – to be recognised as an EASA Approved Training Organisation.