Steve Wadey, QinetiQ CEO said: "As we continue to deliver on our strategy, Nic is an industry leader with a proven track record in building customer relationships and delivering growth in complex environments. I am very pleased we have appointed a leader with such considerable experience to our Executive Committee and am confident he will make a significant contribution to our future growth." Dr Nic Anderson is joining from Babcock where he is currently MD of Land Defence, a business with 3,000 people, and also leads the Corporate Safety Steering Group. He joined Babcock as part of its acquisition of VT Group in 2010, and in 2014 also led the company's acquisition and integration of the Ministry of Defence's Defence Support Group.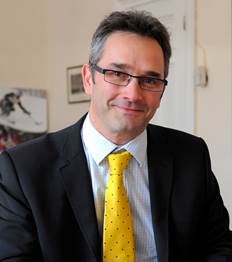 Between 2006 and 2009, he was the UK MD of CAE Inc, a Canadian Modelling, Simulation and Training company, where his successes included leading the creation of a Civil Aviation Authority certified civil flight training centre. He began his career at BAE Systems following a degree in Electrical and Electronic Engineering and was also awarded an Engineering Doctorate whilst at BAE.
Dr Nic Anderson will join QinetiQ in May 2018. He will succeed John Anderson as MD for Air & Space who will be retiring from QinetiQ at the end of April, having spent 42 years in the Defence Industry.
Steve Wadey continued, "John has been with QinetiQ since its inception and has been a major part of its success, building strong relationships with industry and Government. It has been a pleasure working with him and we wish him all the best for his retirement."