QinetiQ Fellowship Scheme recognises Dr Nazifa Tahir
25/07/2022
QinetiQ Australia is proud to announce the award of its fifth Fellowship to Principal Engineer, Dr Nazifa Tahir.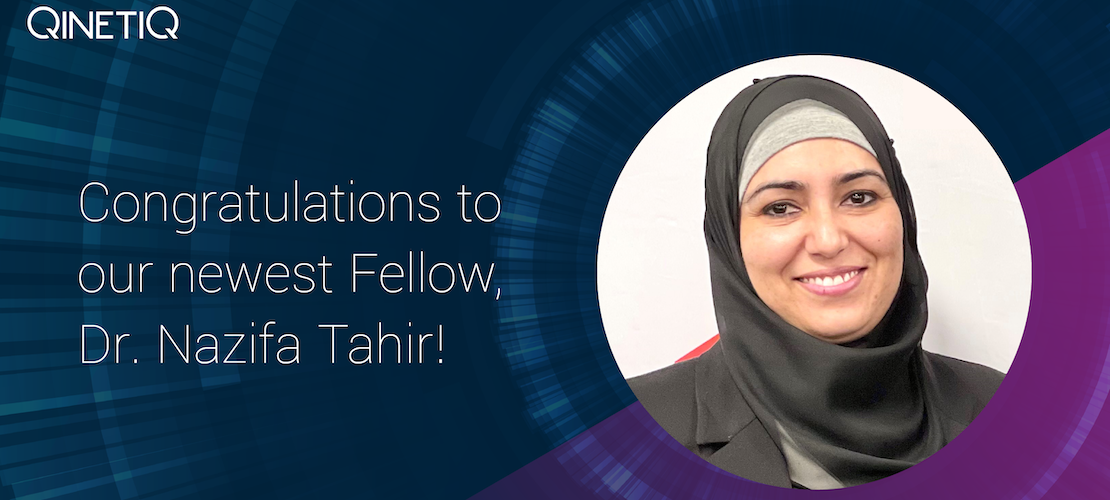 Nazifa's significant contributions to QinetiQ, our customers and the broader defence industry have seen her recognised by QinetiQ's Fellowship Scheme, which seeks to reward top scientists, engineers and technical leaders.
The QinetiQ Fellowship Scheme forms part of QinetiQ's ongoing commitment to enabling cutting-edge innovation by empowering the industry's brightest minds.
As an expert in RF front-end systems, radar technologies and data/signal processing, Nazifa is Technical Lead for a wide range of challenging and innovative projects for customers including Defence Science and Technology Group (DSTG), Royal Australian Air Force (RAAF) and Royal Australian Navy (RAN).
Nazifa completed a doctorate in 2013, is the author of a number of technical papers and has been a reviewer for Institute of Electrical and Electronics Engineers (IEEE) technical journals for many years.
More recently, Nazifa has been involved in the design and integration of an RF transmitter on the QinetiQ Hammerhead maritime target, as well a significant contribution to the concept design of an RF payload for a satellite based Synthetic Aperture Radar for low earth orbit satellites.
QinetiQ Australia's Chief Engineer, Craig Fallshaw congratulated Nazifa on her well-deserved Fellowship recognition:
"Nazifa's trusted expertise and deep technical knowledge has seen her establish strong customer relationships and advise on the adoption of new technologies within Defence. Her leadership has been critical in supporting Defence's implementation of key technologies to meet future operational requirements."
Nazifa's passion for engineering and relationship-building has also seen her mentor junior engineers at QinetiQ and DSTG Sydney, promoting initiatives such as International Women in Engineering Day and winning her various awards, including being a finalist for the Australian Defence Industry Awards (ADIA) '2020 Rising Star of the Year' award.
"I am honoured and will continue to contribute with excellence to the growth and development of both QinetiQ and the Engineering community, especially Women in Engineering," said Dr Nazifa Tahir.
Nazifa joins four other Fellows of QinetiQ Australia: Tim Cooper, Alex Kolodin, Feng Rice and Colin Cockroft.
"This is a significant recognition of Nazifa's technical excellence and standing as a professional, one of which she can be very proud. I think it is fair to say that one who is awarded a Fellowship, is already conducting themselves as a Fellow should. I look forward to hearing of Nazifa's plan for the future with the additional resources and network that comes with the Fellowship," said QinetiQ Australia's International Engineering Director, Michael Houston.
Fellows are appointed by a committee of senior leaders following a rigorous process featuring a formal submission against the Fellowship criteria, internal and external references, and an interview by a panel including the Dean of Fellows, an independent external technical specialist of standing and a business senior technical leader.
To be appointed a Fellow, individuals must have achieved exceptional technical standing, typically to a nationally or internationally recognised level.
Through innovation, technical leadership and demonstration of QinetiQ's values, Fellows must have delivered significant impact for our customers and QinetiQ.
All Fellows receive a stipend of hours and funding that they use to help them stay abreast of their technical field and progress their innovative work.