QinetiQ to launch the Rattler Ground Air Launched Supersonic Target at CANSEC
29/05/2018
New product shapes portfolio of low-cost, end-to-end realistic aerial threat representation.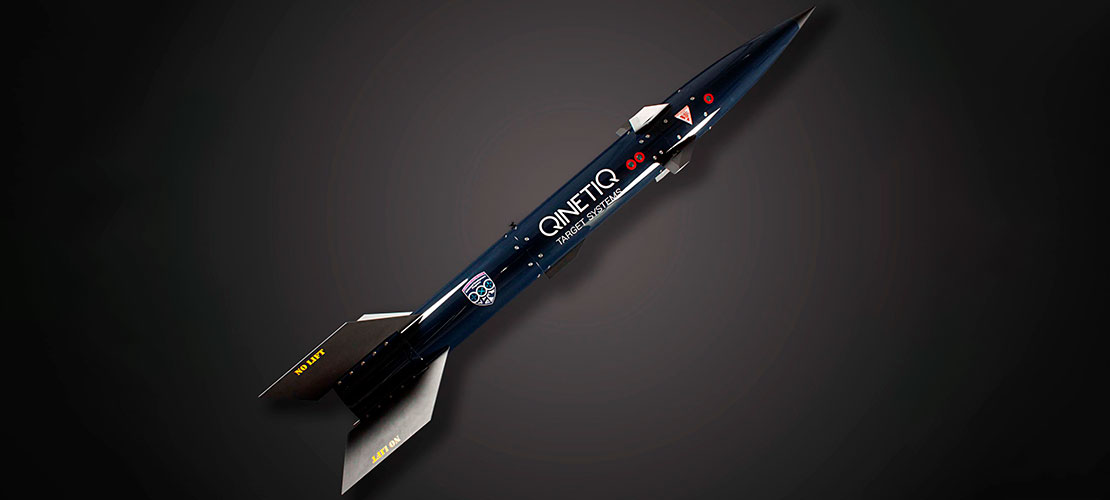 Canada, May 30 - QinetiQ has launched the latest member of its aerial target family – the QinetiQ Target Systems (QTS) Rattler Ground Air Launched Supersonic Target (GAL-ST) – at CANSEC, 30-31 May 2018. The Rattler is a low-cost supersonic target used to accurately replicate anti-radiation missiles (ARM) and supersonic/high-diving threats suitable for use over land and at sea.
The Rattler is the latest addition to the QTS aerial target portfolio, which also includes Snipe, the Banshee family including Vindicator and the Mosquito and Snyper helicopter systems. No other provider in the world is able to offer such an extensive and comprehensive multi-domain portfolio using internally manufactured targets. The platform offers high speed kinematic performance at a very low cost compared to the currently available manoeuvrable supersonic targets.
Carried under the Banshee Jet 80, which has a range of >100km, the Rattler has achieved ground launch speeds in excess of 1.85 Mach in tests carried out in March 2018. Plans are in place for an air launch capability that will see the target reach speeds well in excess of those already proven from the ground. The Rattler follows the same design to cost philosophy employed by the QTS family of aerial targets and will satisfy several existing target requirements.
QinetiQ will operate the Rattler for weapon system Research Development Test & Evaluation (RDT&E), Operational Test & Evaluation (OT&E) and training-oriented air defence scenarios.
Peter Longstaff, Managing Director for QinetiQ Target Systems said:
"The Rattler GAL-ST provides a significant enhancement to our target capability. The unique combination of the Rattler and the Banshee has been designed and engineered to realistically emulate supersonic missile threats, enabling highly effective testing of weapon systems and training of personnel. This new product further supports the global QinetiQ strategy to continue to modernize the test and evaluation offering."
The Rattler launch is commanded from the ground control station, after which the target follows a pre-programmed flight trajectory under the careful monitoring of the ground control and telemetry station. The operator remains in positive control and always has the ability to terminate the flight.
The Rattler transmits TSPI (time, space and positioning information) and target status telemetry data in real time for the monitoring of range safety and operational requirements, and can accommodate active radar augmentation for specific weapon system requirements. Safety during all phases of flight is assured with a flight termination system.
For more information visit stand 414 at CANSEC or find out more here.