Students explore the possibilities of science and engineering at QinetiQ event
13/05/2015
Ninety local pupils have tried their hands at robotics, programming and computer simulation at a schools event hosted by QinetiQ.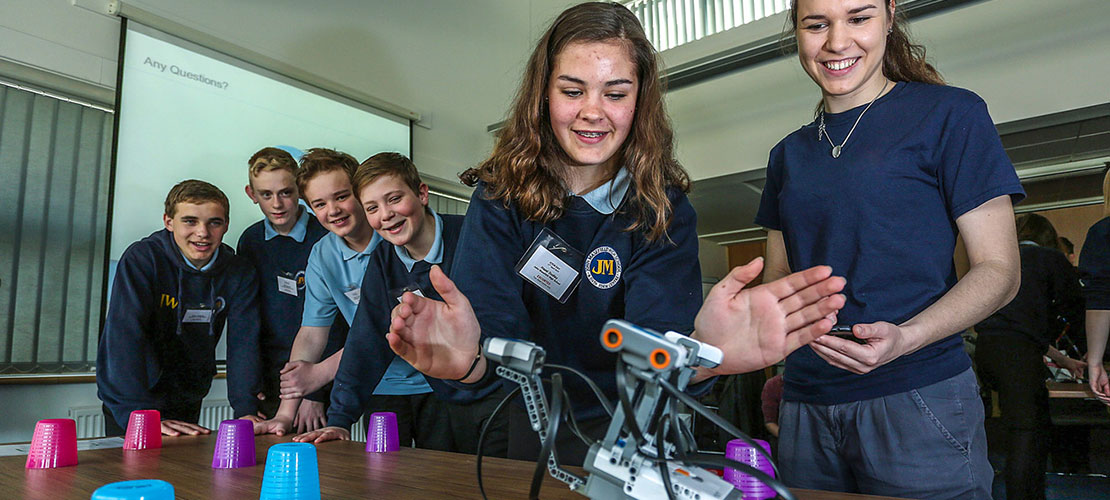 The year-eight and nine students visited the Malvern site to discover some of the exciting possibilities created by studying the STEM subjects: science, technology, engineering and maths.
Participants embarked on a series of challenges, including building autonomous Lego robots and guiding them through a course, programming airlocks, developing apps, and using behavioural modelling software.
Jeremy Ward, QinetiQ Chief Technology Officer based in Malvern, said: "These young people excelled in the activities, so I hope this will inspire them to study the STEM subjects and pursue the exciting careers they make possible.
"This event is part of our wider programme incorporating careers advice and mentoring aimed at encouraging young people to study the STEM subjects. The skills are in high demand across industry and integral to the UK's economic success."
QinetiQ is a member of The 5% Club, an industry-led initiative to tackle youth unemployment with over 70 members. Each member is committed to ensuring at least 5% of employees are apprentices, graduates or sponsored students.
Notes for Editors:
Participating schools:
Hanley Castle High School
The Chase School
Dyson Perrins Church of England Academy
John Masefield High School.
A FTSE250 company, QinetiQ uses its world class knowledge, research and innovation to provide high-end technical expertise and advice, to customers in the global aerospace, defence and security markets. QinetiQ's unique position enables it to be a trusted partner to government organisations, predominantly in the UK and the US, including defence departments as well as other international customers in targeted sectors.
Follow us on twitter @QinetiQ
Visit our blog www.QinetiQ/news-and-events.com