Operational Readiness
We manage and operate the UK Ministry of Defence's (MOD) core land, sea and air Test & Evaluation (T&E) capabilities under the Long Term Partnering Agreement.
We can offer these capabilities to UK MOD, industry and international clients, and will tailor a solution to meet your specific needs. Services include:
Air ranges
including provision of targets, data analysis, and mobile instrumentation.
Land ranges
including environmental testing and static or dynamic firing of General and Complex weapon systems and sub-systems.
Sea ranges
including torpedo and weapons tests, acoustic and electromagnetic signatures, compass calibration and radar cross-section measurements.
Target services
including aerial targets, maritime dynamic targets, instrumented barges and land targets, all tailored to your individual needs.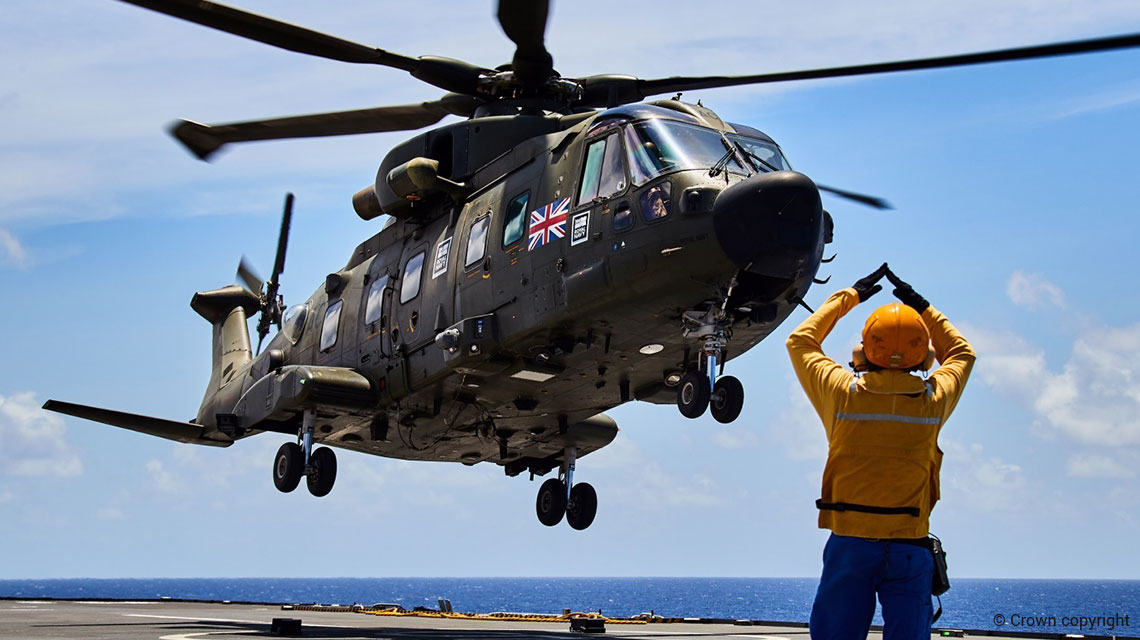 We can provide differing levels of layered realism, from a simple controlled experience to a complex, realistic 'fight-in fight-out' scenario. Our independence and expertise allows us to deliver exactly what you need with complete impartiality, confidentially and security.
The ranges we operate for UK MOD offer safe and secure spaces in which to conduct your operational and tactical training exercises. The experience can be further enriched by combining simulated and real-world events. From maintaining safety and security, through to the provision of complex target scenarios, supported by high integrity performance measurement and replay systems, you can rely on us.
We can also validate simulated data using information derived from a real event. Whatever your weapons training requirement, we can tailor a solution to meet it.
Simulation & Virtual Reality
Preparing the joint forces in a realistic testing environment is critical to mission success. Our high-fidelity simulations for live mission training enable customers to train personnel in operational planning and analysis, so they're ready to develop courses of action, tactics, techniques and procedures before they are deployed.
The use of virtual and constructive simulations allows personnel to train with scarce or high value assets, and means that live training capabilities can be adapted to meet evolving operational needs.
Taking a technology-agnostic approach, we integrate training systems, simulators and equipment supplied by different manufacturers to build the most effective synthetic representation possible.
Training using virtual reality is cost-effective, and boosts learning and retention rates. 'Rehearsing' operations in a realistic environment leads to increased operational efficiency and production, and cuts downtime required to carry out maintenance.
Case Study: xCollective Innovative Training Environment
We've harnessed our immersive, adaptive and gamified learning capability to future-proof defence training, using internal investment to explore innovative concepts and address an area of real customer need. Together with award-winning technology providers and academic expertise, we offer blended, immersive and interactive 24/7 training. Our xCollective Innovative Training Environment (xCITE) introduces layers of innovation, including gamification and adaptive learning, alongside team virtual reality scenario-based learning, so content and progress is personalised for each learner.
Read our case study for an example of how xCITE worked for the UK Royal Navy.
Target Services
QinetiQ Target Systems is a world-leading provider of unmanned air, land and surface vehicle targets for live-fire training and weapon system test and evaluation.
We design and develop threat-representative targets and special mission platforms at our manufacturing facilities in Ashford, UK and Alberta, Canada. We support these platforms with a field service capability that has been developed over 30 years of providing leading edge target capabilities on military ranges worldwide. Core capabilities include:
Aerial targets
Our world-renowned Banshee® is available in a variety of configurations, ranging from our propeller driven Banshee® to our dual jet turbine powered Banshee®. Over 6,500 Banshee® systems have been sold to date and it continues to be the aerial target of choice for many militaries worldwide.
Rotary wing targets
We offer a proven low-cost threat representative helicopter target. Due to the growing threat of commercial multi-rotor aircrafts we also now offer a threat representative multi-rotor target that utilises the core technology across our other target platforms.
Land targets
We have a variety of versatile, remotely operated land targets to simulate moving vehicle and pop-up helicopter threats.
Naval targets
Our naval target offering ranges from a complete breadth of remotely operated systems to secondary towed targets that replicate the Fast Attack Craft, Fast Inshore Attack Craft and the piracy threat.
Special mission vehicles
Leveraging core and common technology across our target platforms, we are able to cost effectively customise these systems to meet bespoke unmanned vehicle missions for our customers.
Command and control
Our advanced and cost-effective command and control systems provide our teams and customers with the capability to meet basic and advanced customer mission requirements.
Scoring systems
Our scoring systems meet a range of training requirements such as naval gunnery training and radar and acoustic scoring systems for aerial, land and surface targets
Launcher systems
Our launchers are manufactured to support aerial targets of the QinetiQ Target Systems business, as well as supporting the aerial targets of our clients.
Services
We offer turn-key services using our full range of products and qualified Field Services teams, while adopting a flexible approach in order to meet the changing requirements of our customers.
For more information, please visit the QinetiQ Target Systems website.