Happy World Intellectual Property Day! This week we have been sharing a series of blogs and content to celebrate Intellectual Property (IP), both tips and best practice and a showcase of our IP.
For 2020, World IP Day puts innovation – and the IP rights that support it – at the heart of efforts to create a green future as the actions we take today will shape our tomorrow. QinetiQ is primarily known as a defence and security company. But its technology often finds application outside its traditional markets. One such area is in support of the wind power industry, as explained in this blog by Alan Wilkinson, QinetiQ Intellectual Property (IP) Specialist.
This article describes the stories behind the discoveries that contributed to such growth in the industry. It demonstrates the power that wind energy plays in delivering climate goals globally and how IP has been fuelling that from the outset.
Wind energy: a snapshot
11% of the world's population is currently vulnerable to climate change impacts such as droughts, floods, heat waves, extreme weather events and sea-level rise. Burning fossil fuels still remains a dominant cause for this via the warming effects of their greenhouse gases. They are non-renewable and currently supply around 80% of the world's energy.
Already the average global temperature has increased by 1 °C. Warming above 1.5°C risks further sea level rise, extreme weather, biodiversity loss and species extinction, as well as food scarcity, worsening health and poverty for millions of people worldwide. The IPCC warns that fossil fuel emissions must be halved within 11 years if global warming is to be limited to 1.5°C.
Renewable energy sources are a widely acknowledged solution. Wind energy is one of the most popular globally. From 2000 to 2015, cumulative wind capacity around the world increased from 17,000 megawatts to more than 430,000 megawatts, according to the National Geographic.
Industry experts predict that if this pace continues, by 2050 one third of the world's electricity needs will be supplied by wind power (Nat Geo). QinetiQ technology supports the lidar systems and radar stealth solutions required by wind farms that will help deliver this pace.
Uncharted territory
Finding suitable locations for the production of wind energy is dependent on many factors, including electromagnetic interference considerations and wind resource assessment.
Wind turbines cause electromagnetic interference with weather radars because the signals reflected off the tower and moving blades are indistinguishable from objects such as rain or hail that they are designed to detect. This means that wind farms have been largely prohibited near to weather stations and air traffic control systems which are affected in a similar manner.
EDF Energies Nouvelles, the renewable subsidiary of EDF, wanted to find a way to enable the coexistence of a wind farm, made up of 35 turbines, and a weather radar located 22km away.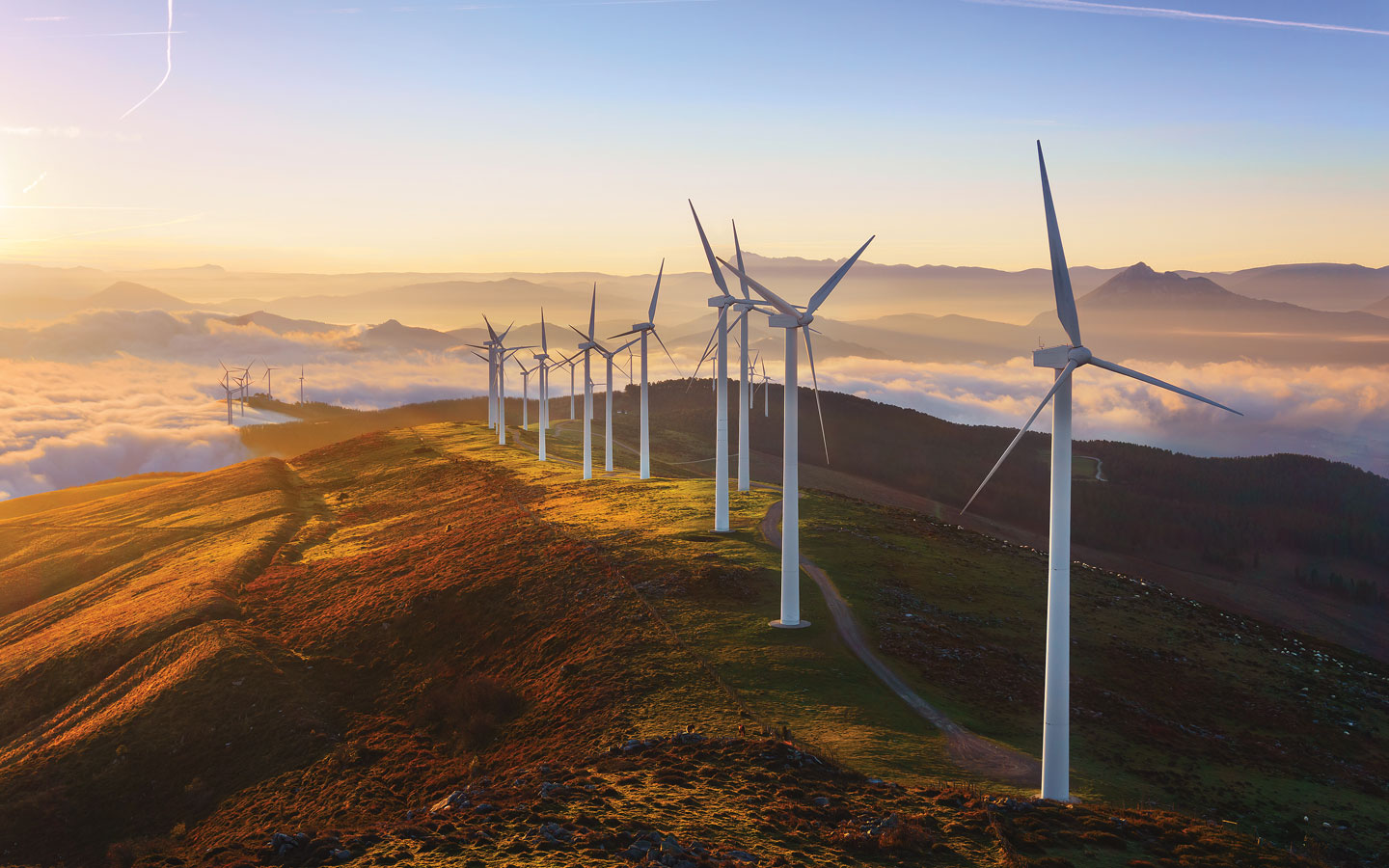 Scientists at QinetiQ analysed the radar cross section of the wind turbine, and came to the surprising realisation that a turbine blade contributes significantly to the interference of radar systems. They then concluded that localised application of a radar absorbing material can give good radar cross section reduction at a lower cost than treating the whole structure. Cue a lightweight, radar-absorbing solution, which could be integrated with the turbine without significantly altering the turbine physical characteristics or manufacturing process.
QinetiQ's patented technology represents a breakthrough for the wind energy sector, and demonstrated excellent enhancement and application of what was originally defence technology.
The application of QinetiQ's stealth technology to these turbines achieved a reduction of up to 99% of radar interference. As a result, the Ensemble Eolien Catalan wind farm was able to be installed near Perpignan in June 2016 with minimal impact. This 35-turbine wind farm is the largest in France, and generates power equivalent to the annual electricity consumption of 120,000 people.
Stealth wind turbines now had a chance to thrive in what were previously unobtainable areas.
World-firsts
Wind resource assessment is yet another hurdle for seeking out the best locations for wind farms. It typically includes a meteorological survey, which is complex and expensive when conducted using traditional methods. Scientists working at QinetiQ in the early 2000s realised they could solve this problem by using a novel, compact and portable lidar wind speed sensor.
Originally developed for aerospace applications, such as determining relative airspeed of aircraft, lidar wind speed measurement works by monitoring the movement of airborne particles such as aerosols, dust and pollen. The technique relies on the assumption that such airborne particles will be moving at the same speed as the air in which they are suspended. Wind speed may therefore be inferred by measuring the laser light reflected from the airborne particles passing through a particular volume of air.
QinetiQ's laser research, combined with the emergence of new technology in telecommunications, lead to a series of world-first achievements, including the first installation of a wind lidar on a wind turbine.
Development of the ground-based wind lidar continued apace, culminating in QinetiQ's ZephIRTM 150 fleet of ground-based wind lidar systems.
QinetiQ was aware that long-term exploitation of its wind lidar technology would rely on a strong portfolio of intellectual property rights (IPR). Through the dedication and expertise of its technical and legal teams, QinetiQ has been able to secure over 40 granted patents for its wind lidar technology and to obtain registered trademark protection for the ZephIR mark.
The IPR portfolio was to prove instrumental in subsequent commercialisation when, in 2007, QinetiQ exclusively licensed its wind lidar technology for exploitation within the wind energy market to UK based company Fred Olsen Limited. ZephIR Limited was also founded in 2007 by Fred Olsen Limited to manufacture wind lidars under the licence.
Since its inception in 2007 ZephIR Limited and successor company ZX Lidars have continued to develop QinetiQ's patented technology to provide a diversified range of wind lidar platforms for a variety of applications.
Achieving our goals
These technology innovations continue to fuel what is recognised as the fastest growing renewable energy resource. Renewables themselves are projected to account for more than a quarter of electricity production by 2040, according to BP.
Not only do they fulfil the Paris Agreement – a United Nations agreement signed by 194 states and the EU – but renewables are crucial to reducing air pollution, improving health and wellbeing, whilst providing affordable and accessible energy.
Whilst also being commonly cited as the most efficient renewable energy, the global wind industry drives the creation of new jobs and could employ over six million people worldwide by 2050, compared to about one million currently, according to the International Renewable Energy Agency (IRENA).
To fulfil climate goals outlined in the Paris Agreement, annual investment in onshore wind needs to triple from 2018 to 2050, totalling $211 billion globally, whilst offshore wind investment would need to more than quintuple, to $100 billion, according to the same report from IRENA.
QinetiQ is proud to have had an impact on the beginning of this important journey. Find out more about our unique IP past and present in our series of IP blogs this week.