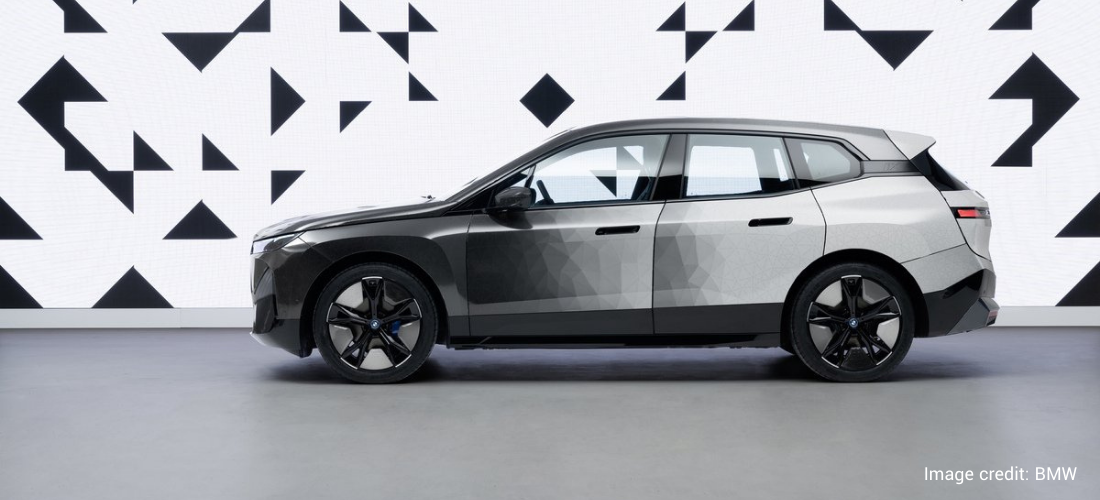 BMW's new colour changing concept car
One of the most talked about technologies from the Consumer Electronics Show (CES) this year was BMW's iX Flow concept, with every exterior panel of the car wrapped in colour-changing E-Ink sheets.
We have seen E-Ink technology exist for around twenty years, with e-readers such as Amazon's Kindle a major application. Now, German automotive manufacturer BMW has taken the technology and applied clear-coated monochrome E-Ink sheets to its futuristic looking, all-electric iX SUV. Currently limited to two colours – white and dark grey – future owners of the iX Flow can operate the change of colour at the touch of a button.
The colour change effect occurs by applying an electrical charge to millions of microcapsules, containing white and black pigments within a liquid encased in the vehicles wrap. The colour changes due to applying either a positive or a negative charge. While the current iteration can only swap between a pair of colours, future iterations are likely to expand to display a rainbow of differing shades.
The BMW iX Flow is still in concept state and early in development, but the benefits of E-ink technology provide a multitude of applications. A driver could make the car flash to locate the vehicle in a crowded environment, while differing colours could display the electric-vehicles battery capacity externally. In the defence industry, camouflage is a clear and obvious opportunity, yet there are more subtle applications, such as changing colour to control sunlight reflection and a vehicle's thermal properties – also supporting climate control and saving energy.
New ways to project information
LG's transparent OLED technology
LG Display unveiled their 'Smart Window', designed specifically for the office of the future. Using OLED technology, it has the ability to transform meeting room windows to display video calls, presentations and entertainment, all without compromising the natural light from or view through a standard glass window. The clear benefits of this technology include eliminating the need for large TVs or monitors and space saving.
The Covid-19 pandemic has changed the way we work, and will continue to do so for the foreseeable future. LG's innovation arrives at a time when many organisations globally are looking to better utilise their office environments, reflecting hybrid working and creating new collaboration spaces. Outside of the office, this technology could provide a useful application in the automotive and defence sectors, for example by projecting data and imagery directly onto vehicle windows, replacing the need for head-up displays.
Parity Mirror – projecting an air-floating image
The user interface, through which we interact with the digital world, has been slow to change over the years. Yet with the promise of initiatives such as the Metaverse, through which we will begin to blend our physical reality with a virtual one, we can expect to see more innovation that will result in novel forms of user interface emerging.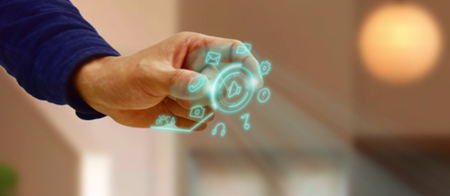 Image credit: Parity Innovation
Enter Parity Innovation, a Kyoto-based start-up that displayed their Parity Mirror, described as 'aerial imaging technology'. Comprising of a plastic plate, the imaging system projects an air-floating image of anything behind it, combining sensors and haptic devices. This enables people to create "aerial switches" and "aerial touch panels" that can be controlled by "tapping," "pressing" or "swiping" while never physically touching anything – an innovative form of user interface that has the potential to augment our future home and working environments.
Nowatch – the world's first 'Awareable'
CES remains a hotspot for wearable technology with Nowatch pitching their new product an 'Awareable'. As a health and wellbeing tracker, it has the ability to 'predict' the stress levels of an individual by calculating cortisol levels in real-time through electrodermal activity sensing.
Most wearables measure stress through heart rate. Nowatch uses a new way to measure stress through skin conductance in partnership with Philips. It is claimed to be more accurate and can enable the prediction of an individual's 'cognitive zone' up to one hour in advance. This 'Awareable' therefore has military application to monitor the stress levels of our armed forces and identify causes for concern to address.
No runway required for ultra-compact flying vehicle
Tokyo-based start-up SkyDrive revealed its ultra-light, compact flying vehicle demonstrator that does not require a runway. Designed to vertically take off and land with superb stability, this zero-emission electric vehicle enables fast and safe door-to-door transportation anywhere, including uses for emergency rescue.
Image credit: SkyDrive
This technology enables the ability to operate in reasonably confined areas across the world and within complex and challenging environments. The company's cargo drones, already employed in Japan, can carry a number of payloads, so we can expect this same capability to be applied to the flying vehicle in the near future. The SkyDrive is also expected to be used as an air taxi for the World Expo 2025 in Osaka.
Sierra Space's multi-mission spaceplane
Last year saw many space achievements and the space economy grew significantly. As a result, we continue to see new space technology emerge and CES this month was the receiver of these. Sierra Space have designed a new vehicle coined the 'Dream Chaser' – a spaceplane designed to transport crew and cargo to low-Earth orbit destinations.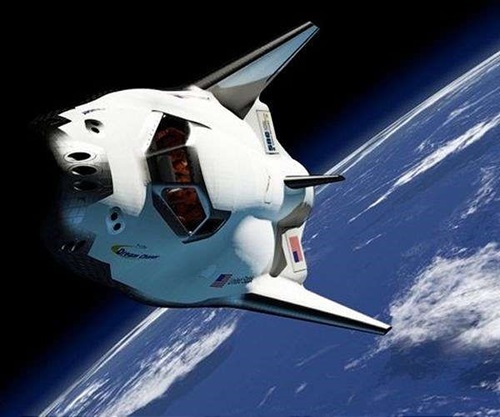 Image credit: Sierra Space Corporation
The vehicle can return to Earth using commercial runways to land, nearly anywhere in the world. Currently the company has a contract from NASA to use the vehicle to deliver cargo and supplies to the space station, but one-day plan to see flying astronauts onboard.
Sierra Space plans to have the nine-metre (30-foot) "Dream Chaser" flying missions this year, making the reusable spacecraft key to its off-Earth ambitions. Sierra space follows Elon Musk's SpaceX and Jeff Bezos' Blue Origin in a sudden surge of commercial interest in the final frontier.
Top 10 Tech Trends to shape the coming decade
To round-off CES 2022 for another year, this blog provides a flavour of a selection of key technologies showcased at the hybrid-show. Despite global attendee numbers on the ground being hit significantly by the pandemic, impressive technology continues to emerge and we expect CES 2023 to be bigger than ever.
The world economic forum shared the infographic below, derived from McKinsey & Co, during CES, expressing that we 'will experience more technological progress in the coming decade than we did in the preceding 100 years put together'. These 10 technology trends include a future of connectivity, AI, next-generation materials and a bio-revolution to name a few – set to dominate the shifting landscape.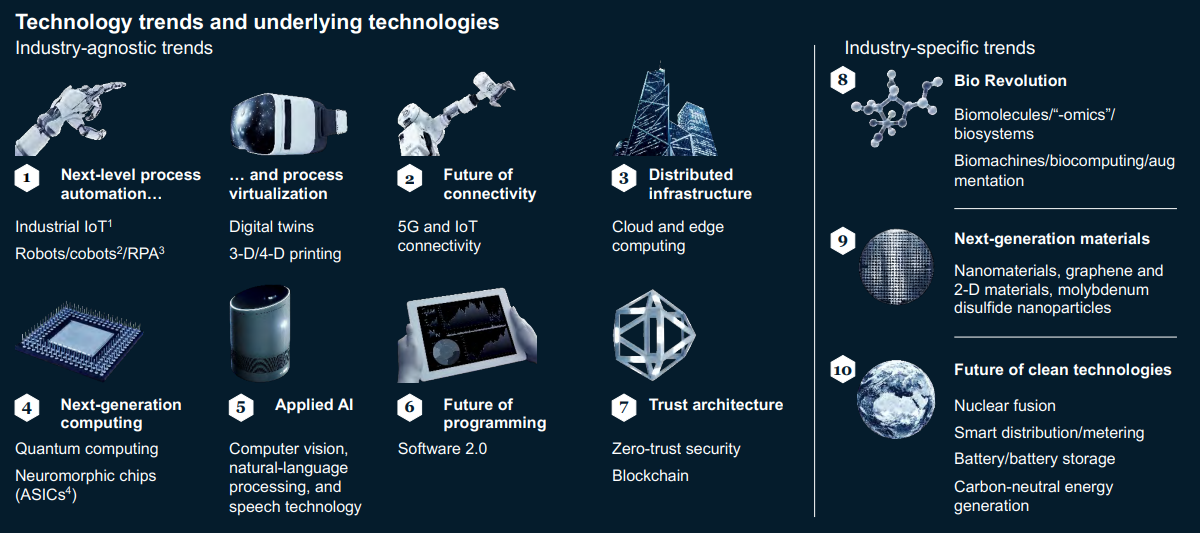 Image credit: World Economic Forum / McKinsey & Co
Liked this blog? View our other content from CES 2022: