Becoming a student again after 28 years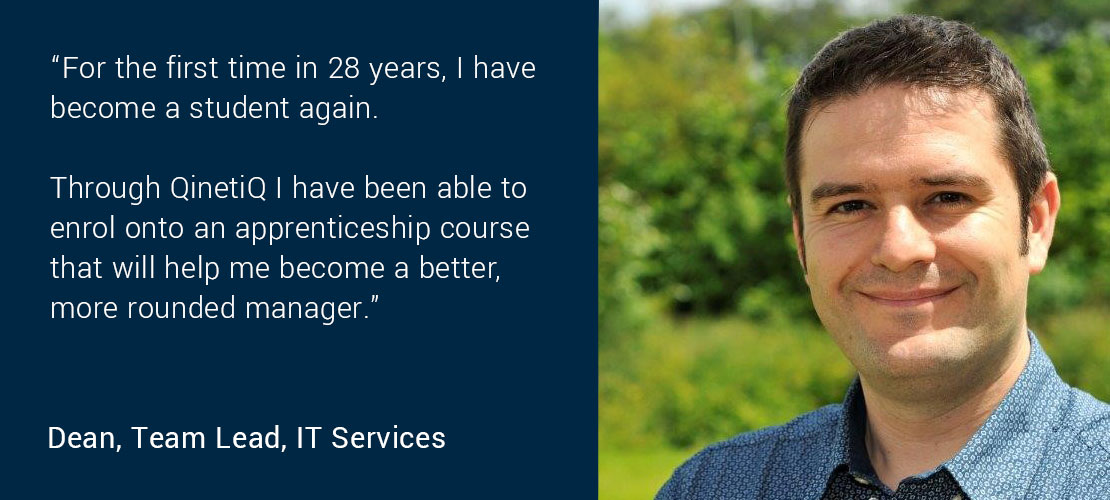 Whether early in our career, a developing manager, an established leader, or a subject matter expert, at QinetiQ we enable growth, exploration and endeavour through meaningful learning experiences.
Our approach to development is based on continuous conversations throughout the year. We set clear goals so we know what is expected of us, and receive meaningful feedback to help us be successful. We are also encouraged to talk about our development, career aspirations, the competencies needed, and the associated learning.
A great example of this is Dean, an IT Manager, who back in November 2022 enrolled on to a Level 5 Apprenticeship course, alongside his role at QinetiQ, to further his professional development.
Dean said: "For the first time in 28 years, I have become a student again. Through QinetiQ I have been able to enrol onto an apprenticeship course that will help me increase my knowledge and skills, helping me to perform better and to help others reach the best version of themselves.
Ultimately, this will help me become a better, more rounded manager and provide me with skills and knowledge to assist in the continued growth of my career."
The idea of starting an apprenticeship was introduced to Dean by our Early Careers team in Farnborough.
Dean said: "The opportunity came about following a presentation in February 2022 by the Early Careers team in one of IT Services meetings that we hold with all team members every two weeks. The team provided us with an overview of the Apprenticeship programme and the upskilling options that the scheme affords us.
As part of my responsibilities in IT Services I manage our department's development and training requirements and I wanted to understand more about how our people could make use of this opportunity so I requested to find out more. After talking in more depth with the Early Careers team and pulling a guide together for IT Services on how they can make the most of the opportunity, I realised that I could actually make use of the scheme myself."
He continued: "In the first few months following the discussion I helped one of my direct team join an Apprenticeship and then I decided to take the plunge. After discussing the idea with my manager I requested to join the Level 5 - Operations / Departmental Management Apprenticeship and I started in November 2022.
I'm thoroughly enjoying the challenge and continue to promote to our people the option of being able to utilise this huge resource available to us."
Find out more about our approach to learning and development.